BY JACQUE SMALL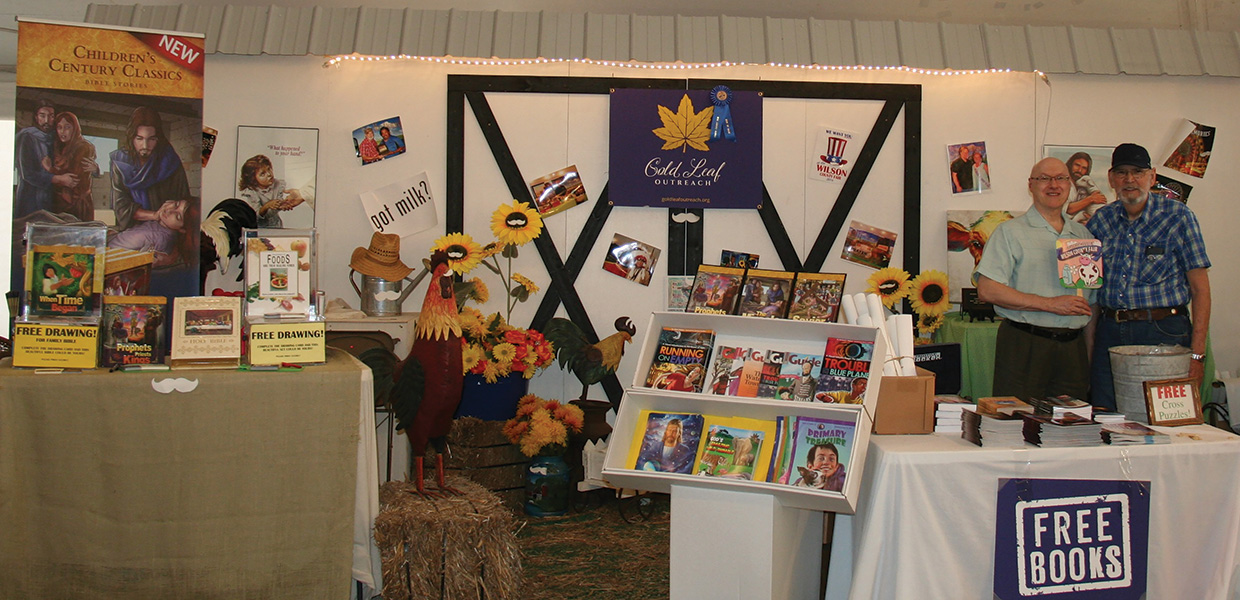 Jim Sajdecki (left) and Sam Small at the award-winning fair booth
Meeting the public at their award-winning, blue-ribbon booth was once again a successful week for Gold Leaf Outreach (GLO) at the 2018 Wilson County Fair. Through the efforts of the GLO team and Rocky Davis' carpentry expertise, the booth won "Best of Show" for the entire fair. The booth continues to be a blessing for GLO, Rocky Davis, and his literature evangelists, while witnessing to others.
This was the fourth year GLO sponsored a booth, and, as in years past, God continues to bless with books and literature to share. This year 1,565 Spirit of Prophecy books, 200 Daniel and the Revelation books, and Days of the Lord magazines were shared. In addition, 460 coloring books and magazines for the youth, as well as a popular book on prayer, were handed out. Bags were provided to carry books and fair freebies. Each bag contained 10 pieces of miscellaneous literature, making a total of 4,000 pieces of literature shared. Members of GLO prayed with those who came to the booth with an open heart. Literature evangelist Clive Hayles, and his wife, Tetrienne, worked tirelessly witnessing, and were successful in getting leads for future contacts. The six-piece wooden cross puzzles given out each year were still a big hit with yearly fair attendees and vendors. Several teachers wanted extra crosses for their classrooms.
Gold Leaf Outreach is looking forward to the blessings of a booth at the 2019 Wilson County Fair.
Kentucky-Tennessee | November 2018