Rick Greve, Georgia-Cumberland Northern Region Ministerial Director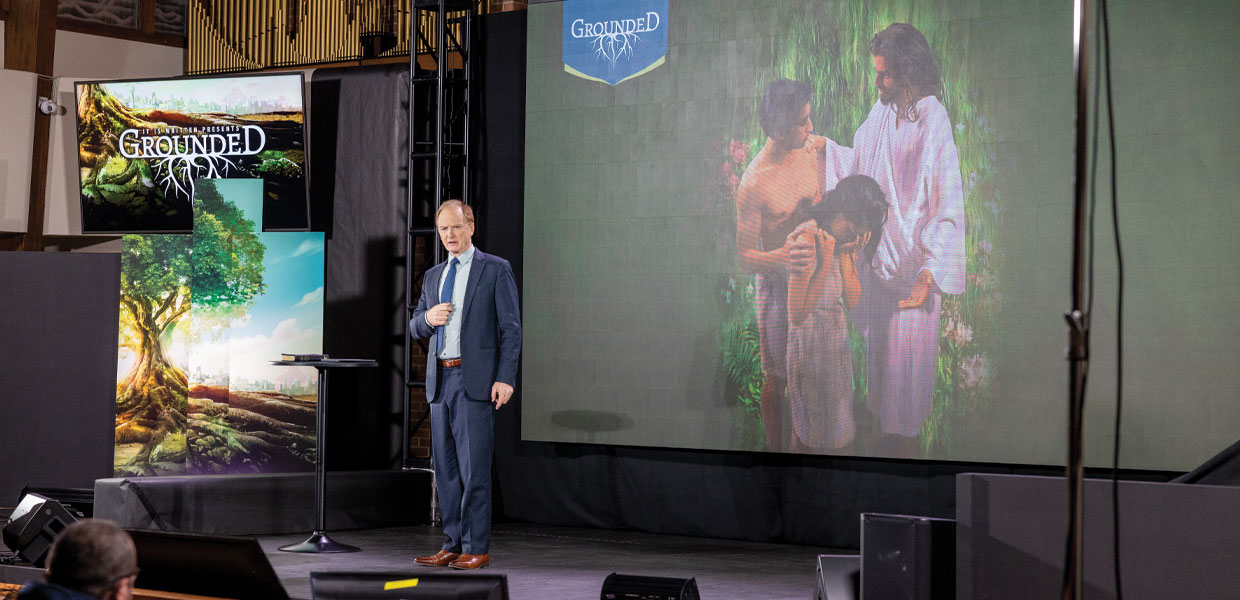 It Is Written
An exciting and innovative concept took flight October 19-22, 2022 at the Knoxville First Church, Knoxville, Tenn. Using the church sanctuary as a recording studio, It Is Written, with speaker John Bradshaw, presented a brand new series entitled "Grounded."
This five-part series was a focus on foundational Bible truths that provide the keys to living a confident Christian life. In a society that is becoming increasingly secular, "Grounded" was designed to help others build a deeper faith in Jesus, and embrace how that faith becomes real and practical in everyday life.
The five foundational truths presented included Scripture, salvation, the second coming, the seventh-day Sabbath, and the sanctuary.
These topics were presented in a practical and appealing way, so that new believers could grasp the importance and the beauty of each one, while also being presented in a fresh and innovative way, so that even lifelong church members could be encouraged in their faith.
Branden and Krystal Bruzzese, both busy nurses, felt a calling to attend this series in person. When asked why they chose to attend, they said, "We wanted to grow spiritually. We know that the search for truth is found in the Bible and not in the pluralism of society. It's not just reading the Bible that saves you, it's having a real relationship with Jesus."
More than 100 churches and host sites registered for Grounded, which included 11 sites in the Georgia-Cumberland Conference. These sites primarily participated in Grounded by watching on It Is Written TV, but the series was also broadcast on Hope Channel and 3ABN.
"We've gotten thousands of messages, hundreds of requests for baptism, and those numbers are going up every day," said Wes Peppers, It Is Written evangelism director. "Our team continues to follow up on emails and texts from those who responded to appeals during the series."
One such request came from a non-Christian woman who attended the meetings after being invited by a friend. She came every night and was struck by how simple yet profound the meetings were. The woman responded to an appeal, accepting Jesus and asking to be baptized.
Marilyn Lawrence, a member of the Oak Ridge, Tenn., Church says, "This series has strengthened my faith and given me great joy in Jesus!"
Local church members assisted in the series, serving as greeters and ushers for the live audience. They also provided delicious meals for the It Is Written crew and other volunteers each evening. On Sabbath, a lunch and supper were provided for all those in attendance, giving guests and members alike the opportunity to enjoy healthy food and fellowship.
Marcus Bates, pastor, was excited for the Knoxville First Church to host this series where members from at least six area churches participated in the program.
Peppers shares, "The people of Knoxville were truly a part of prophecy being fulfilled as the Gospel message is going from here all over the world."
Georgia-Cumberland | December 2022