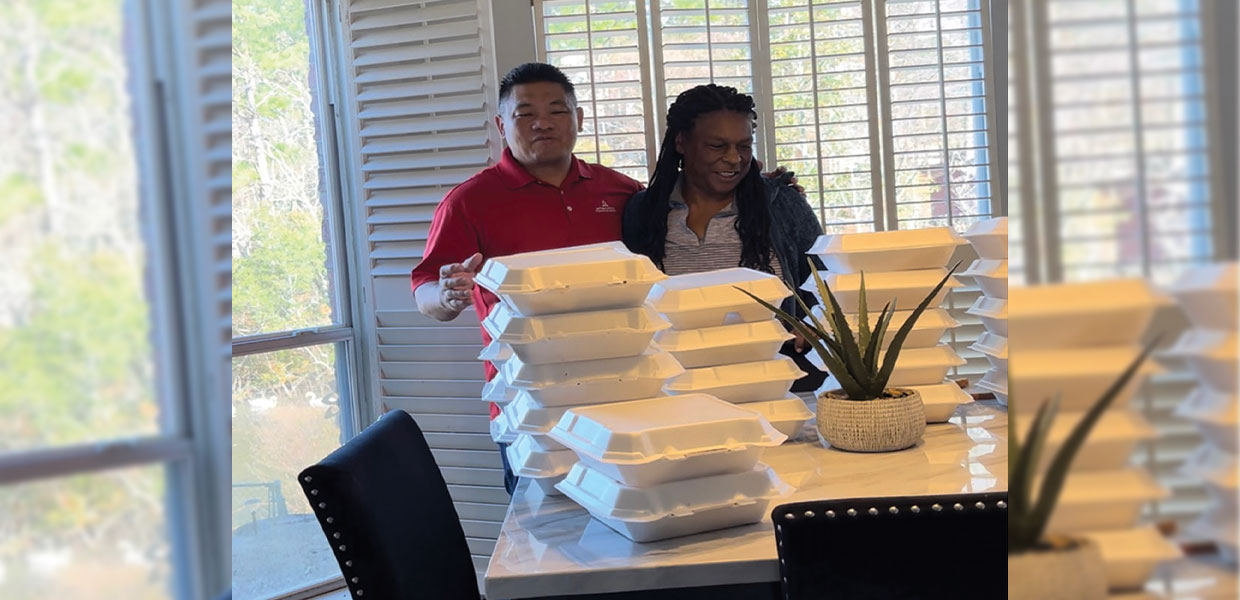 Pau S. Mung, pastor, stands with Delores Jackson after preparing meals for the homeless.
Joyce Curtis
One of the themes of the Hattiesburg, Miss., Church is community participation in empowering the poor. They believe that loving God is loving others. The members are committed to "Reaching the Unreached and Telling the Untold." "The Lord has blessed me with resources and a desire to feed the hungry. It allowed me to make friends and share the love of Jesus. My focus is on the need of others, and, while helping people, I found my purpose!" said Delores Jackson, Outreach Homeless Ministry director at Hattiesburg Church.
The church is involved in community services helping the homeless people in society through Outreach Homeless Ministry, serving 50-100 warm meals three times a week, every week. "And the King will say to them, Truly, I say to you, as you did it to one of the least of these my brothers, you did it to me," Matthew 25:40.
In the current society, homeless people are the most vulnerable people. Jackson and her sister, Joyce Curtis, moved to Hattiesburg from California to dedicate their lives to serving this community for Jesus. They believe that it is the duty of every Christian to take part in efforts to improve the living conditions of vulnerable people in society.
"I found that through the service of others, God has delivered me from all of my anxieties, and I am experiencing the abundant blessings God has in store for me," said Jackson. Because of the Outreach Homeless Ministry, many people come to know Jesus and request Bible studies.
While circumstances can vary, an individual's first choice is rarely to choose homelessness due to the inability to afford housing or other unforeseen circumstances. This is why the Outreach Homeless Ministry family we looks forward to serving the community to create a better place for all until the Lord and Savior, Jesus, returns!
Gulf States | May 2023