BY nicolas louis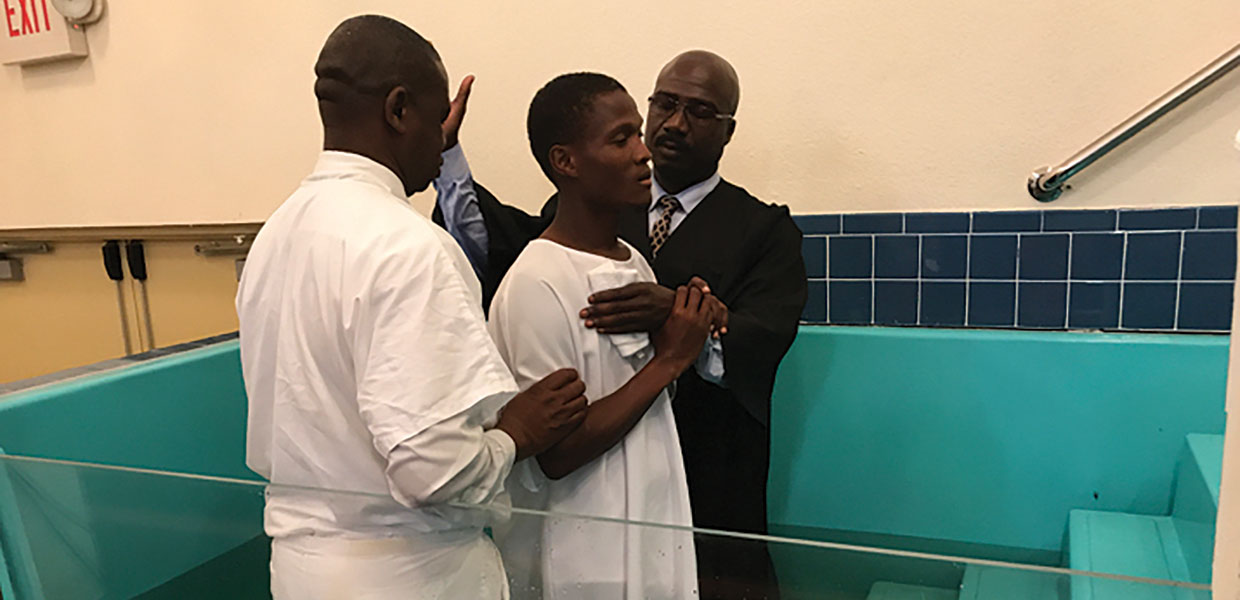 Nicolas Louis baptizes new convert. Ninety men, women, and young people joined the church through baptism during three city-wide evangelistic campaigns, sponsored by the Haitian Ministries Department. Three new churches were planted in West Palm Beach, Coral Springs, and Jacksonville, Fla.
Shem Louis
At the beginning of 2017, Southeastern administration shared an express intent to plant new congregations for and in Haitian communities throughout the Conference territory. With a sizeable financial investment and a collaborative effort from area churches, three major evangelistic efforts were planned for the year.
The first was held in West Palm Beach, Fla., led by Maxime Pape, former Southeastern Sabbath School director. After four weeks of preaching and outreach, the church added 30 new members. In only four months, this new church currently has 75 members in attendance.
In August 2017 the second evangelistic meeting was held in Coral Springs, Fla. Johnson Cesar, D.Min., pastor of the Sinai Plantation, Fla., Church, preached several nights in an 800-seat auditorium, to a standing-room-only crowd. Some people were turned away, but were encouraged to watch the meetings as they were streamed live on Internet. At the close of the meetings, 39 new members were baptized. Currently, the new Emmanuel Church has 175 members in attendance.
In October 2017 a third effort was conducted in Jacksonville, Fla. Yrvain Jean Philippe, pastor of the First Haitian Church in New York, preached, and the members and leaders of the Jacksonville area churches collaborated to add 21 new members to the church. Those, along with members from the area churches, have come together to form a third new church in Jacksonville. They plan to continue their outreach efforts, and invest in ways that will ensure that they see these new congregations grow.
Southeastern | January 2018