BY Tamara Wolcott Watson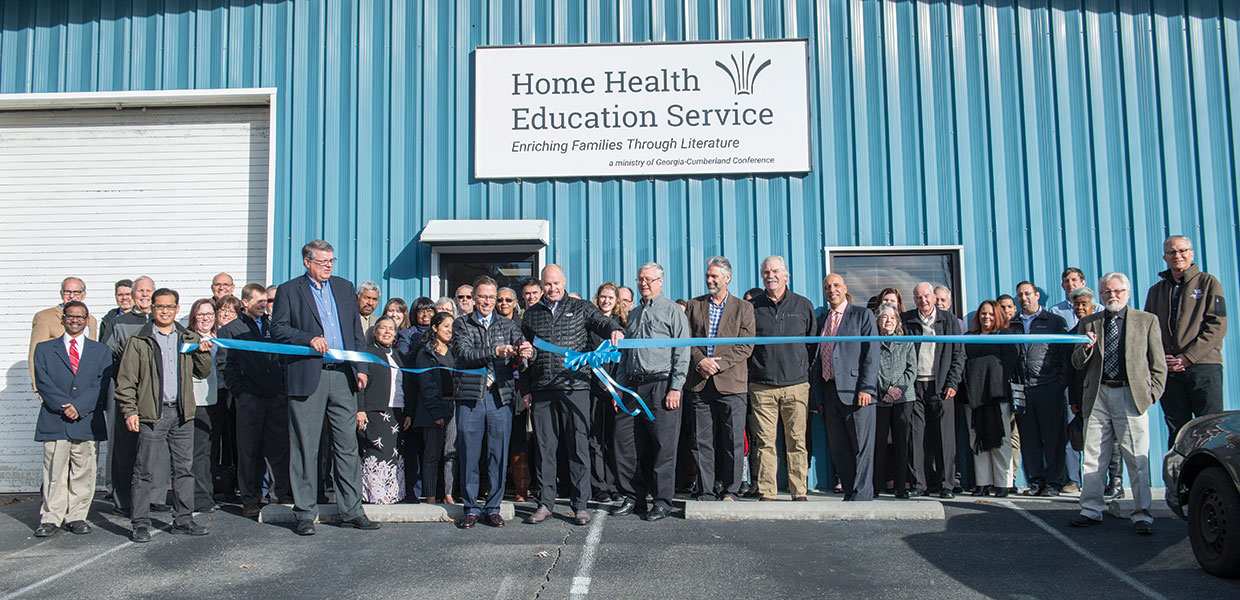 Ed Wright, former Georgia-Cumberland Conference president, cuts the blue ribbon for the newly located Home Health Education Services that services the literature needs of Georgia-Cumberland and three other conferences. Also holding the ribbon is Tim Leffew (left), Conference publishing director, and Gary Rustad (right), president of Georgia-Cumberland Conference.
Brian Young
To better serve the needs of the growing publishing ministry, Home Health Education Services (HHES) has relocated to a newly renovated 11,000-square-foot office warehouse in Dalton, Ga. They celebrated with a grand opening and ribbon-cutting ceremony on Monday, December 2, 2019. Ed Wright, former Georgia- Cumberland Conference president, led out with a devotional giving God the praise for leading and blessing.
HHES services the needs of the literature evangelists in four conferences, including full-time literature evangelists (LEs), a large group of summer student workers, a Spanish-language outreach called Light American, academy industries, and Southern Adventist University. They also ship material internationally to multiple countries, and regularly to New Zealand, Canada, England, and Puerto Rico.
The transition to the new facility reflects a new concept in literature evangelism. The new HHES facility includes several offices, and a warehouse with $2 million in inventory. Tim Leffew, Conference publishing director, stated, "We have one goal that controls our vision. That is to provide excellent service and materials to our literature evangelists, so they can reach more people for the Kingdom with the printed page." HHES has developed several new books designed to appeal to a new generation. They use technology to make the LEs' work easier, and add a new level of outreach to the public.
Though HHES operates under the Georgia-Cumberland Publishing Department, it is a partnership of the Carolina Conference, Gulf States Conference, Kentucky-Tennessee Conference, and Georgia-Cumberland Conference. Each conference partners in the ministry and share in its oversight.
One of the largest changes in the HHES operating vision has been the production and development of their own printed materials. The majority of titles the literature evangelists now carry have been developed specifically to meet their needs in the field. An example is their partnership with Remnant Publishing in 2014, to create a new children's Bible story series entitled Children's Century Classics, now in its third printing. Although first printed in English, the set has recently been translated into Spanish, and will be ready for distribution in early 2020. The new children's series has updated images, shorter stories, an audio version, online games, puzzles, and Bible studies, and refers to Ellen White's books like Patriarchs and Prophets, The Desire of Ages, and The Great Controversy. Jim Wilson, HHES treasurer and assistant publishing director, said, "With the introduction of the Children's Century Classics, we saw a 300% increase in sales of Spirit of Prophecy books because the children's set points to the adult set."
Remnant Publishing CEO Dwight Hall attended the ribbon-cutting ceremony, and said working with HHES is an answer to prayer. "They have sold thousands of these books. Number one is facelift, and number two is shorter stories."
Leffew summarized, "Publishing is the 'Go ye' of the Gospel commission. They are going to homes who will not come to us. God has blessed this ministry beyond our dreams, but the harvest is great and the laborers are few. God is in these last days laying the 'Go ye' burden upon the hearts of people who are joining the publishing team to take His message to others through the printed page."
Wright shared a quote from Ellen White's book Colporteur Evangelist, that belonged to his mom: "As long as probation continues there will be a need for the canvasser to work." Wright added, "As long as people make decisions for Jesus, there is a need for the canvassing work. HHES does not push back against other technologies; all are good, including tracts, and the Internet. Yet, all of these things cannot undo the printed page."
Georgia-Cumberland | February 2020