BY lucas patterson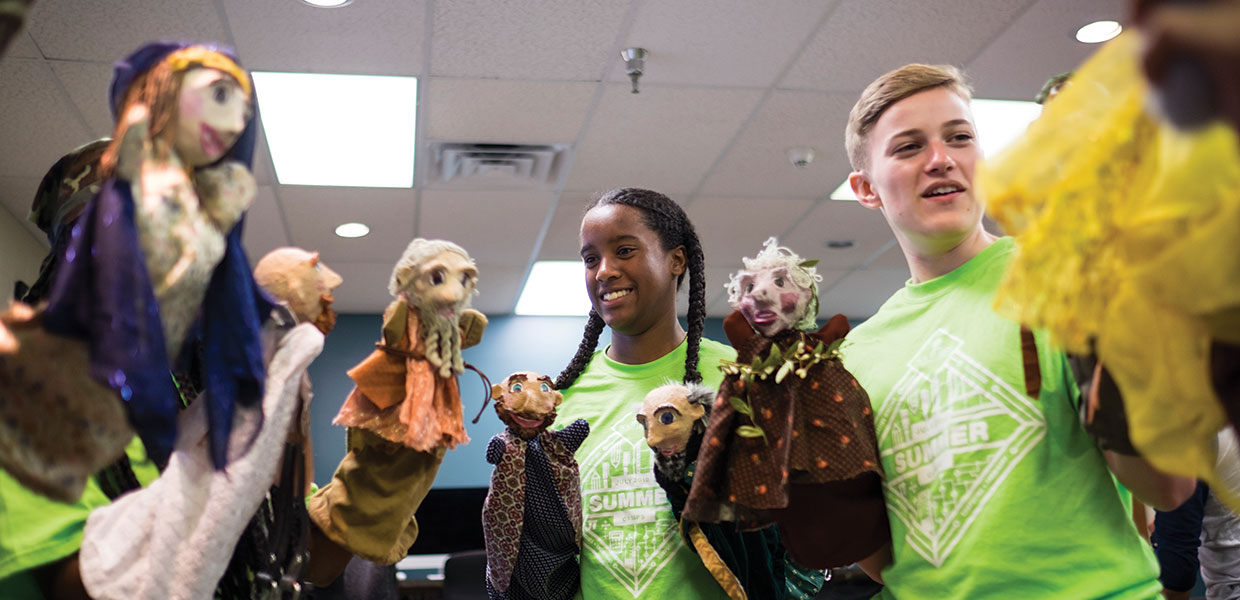 Marguerite McHenry, a ninth-grade homeschooler, attended the creative writing camp last year, where campers wrote and performed original material with puppetry.
Terry Henson
Southern is hosting 10 academic camps June 5-7, 2017, that bring high school students to the University for an opportunity to explore or sharpen their vocational focus. Each three-day camp includes a spiritual component as well, modeling for students how Adventist education facilitates the marriage of career and calling.
Approximately 80 students participated in last year's summer camps, coming from as far away as Wisconsin, Oklahoma, Florida, and Pennsylvania. Many attend Adventist academies and other private schools, but almost half had public education and homeschool backgrounds.
Campers studied chemistry, computing, English, filmmaking, photography, and math/physics/engineering while enjoying a variety of recreation activities, both on and off campus, in the evenings. Each of those topics will be offered again this year, alongside four new camps: Civil War history, graphic design/printmaking, social work/global policy/missions, and an honors institute.
Melissa Garbi, senior at Wisconsin Academy, traveled to Southern last summer for film camp.
"It was fun to meet like-minded people and learn about something we all had an interest in," Garbi said. "The atmosphere was inspiring and convinced me that I could really have a career doing what I love!"
Francine Brown, mother of twin high school seniors in Tampa, Fla., sent both her boys to Southern for a snapshot of university life.
"I thought it would help shape their decision for a college home and major," Brown said. "They gained hands-on experience and were able to network with professors and peers. Plus, the price was excellent."
Registration, including all food, materials, and activity expenses, is $150 for day students and $200 for those requiring housing. For campers coming from outside the Chattanooga area, vans will provide free transportation both to and from Southern at centralized pick-up locations in Asheville, N.C., Atlanta, Ga., Nashville, Tenn., and Knoxville, Tenn., on June 4 and 7. For more information, call 423-236-2781 or visit southern.edu/camps.
Southern Adventist University | March 2017