BY MELISSA SHOEMAKER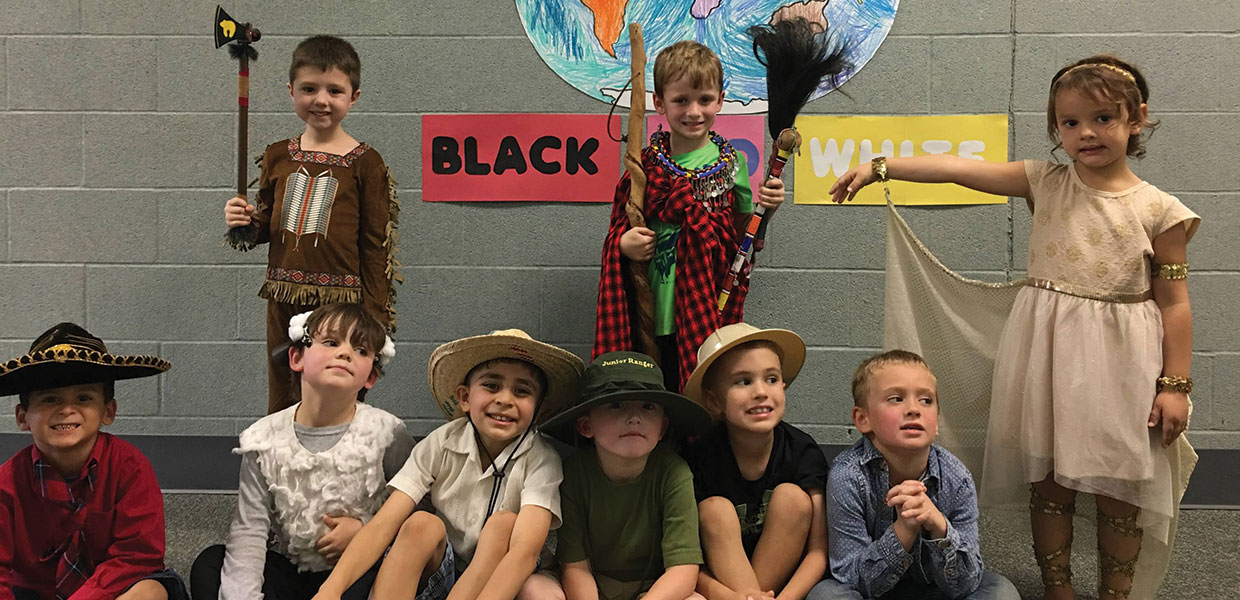 Samuel Sinclair (bottom, left), Ayden Pulley, Misael Serrano, Joshua Leggett, Sage Garrett, CB Bagshaw, Ryland LaRoy (top, left), Blake Nasarenus, Julia Ayers
It was a day full of excitement as the students entered the classroom one Monday morning late in October 2016. Students entered the doors dressed in costumes from countries all over the world, bearing food samples and show-and-tell items from around the globe. After a monthlong unit studying about life on each continent, the students enjoyed a day culminating the events by simulating one last visit to each continent. One student said, "When can we go in the airplane again, Mrs. Shoemaker? That was so much fun!" As each continent was revisited, the students took a pretend trip on Pre-K/K Airlines, traveling from one destination to the next. At each stop the students experienced food, games, and music, and enjoyed making a craft from that particular continent.
The pre-K/kindergarten program at Highland Elementary (HE) is a daily adventure. Whether it's learning about the alphabet, seeing firsthand the stages of a butterfly, or taking an imaginary trip around the world, the goal at Highland is to instill a love of learning at an early age. Students are encouraged to approach learning with many hands-on experiences, including being inquisitive, creative, and investigative, all while in a safe, nurturing environment.
The combined pre-K/kindergarten program at HE has been in place since 2007. Highland received State of Tennessee approval for pre-kindergarten in 2015, which allows for many more pre-kindergarten students to enroll. Pre-kindergarten is offered as either a part-time or full-time program to help meet the needs of the families in the community.
For the teacher, the most important aspect of each school day is the ability to weave Jesus throughout the day in everything said and done. Each day, the Adventist message and the love of Jesus are shared with the students. It is the desire of the HE staff that the students have a personal relationship with Jesus Christ, and a lifelong walk with Him.
Kentucky-Tennessee | January 2017