Shane Hochstetler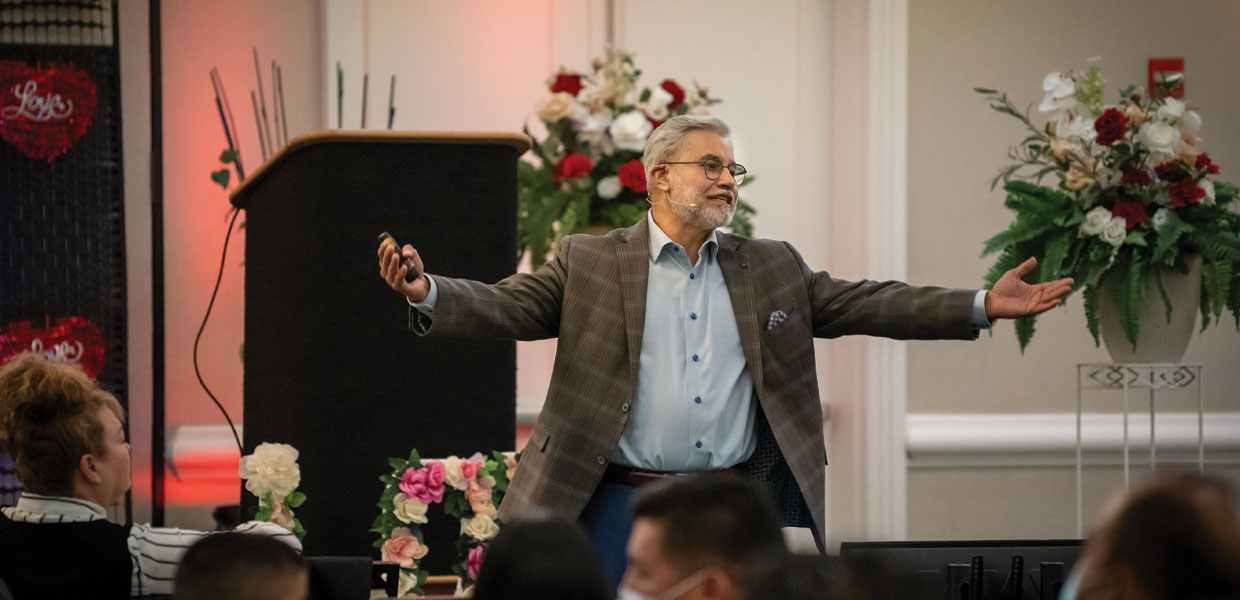 Cesar De Leon presents during the annual Hispanic Marriage Retreat in Miramar Beach, Fla.

Shane Hochstetler
Over 2021 Valentine's Day weekend, Hispanic couples reconvened on the beach in Miramar Beach, Fla., for the annual marriage retreat event. This was the first regular in-person event that the Conference has held since COVID-19 caused the cancelation of most 2020 plans.
The 2020 Hispanic Marriage Retreat was the last live event before precautions required the remaining events to be altered. In many ways, holding this event bridged the gap of all the cancellations 2020 brought with it, and the attendees on the weekend of February 12, 2021, didn't have to miss the event they look forward to each year.
Precautions were in place, following the Hilton Sandestin guidelines, masks were worn indoors at all times, and seating was grouped into two chairs for the couples, allowing the appropriate distance between each couple. Meal service was buffet style with food attendants plating each dish, and seating was in an alternate room with round tables and spaced chairs. This type of operation has become commonplace, and it didn't negatively affect the attendees' experience.
This year's theme was "Unidos por una Razón" (United for a Reason), and featured husband-wife presentation team Cesar and Carolann De Leon. Their messages struck a chord with many of the attendees, including a couple that recently developed relationship issues following the complicated birth and health issues of their newborn. De Leon worked with both during the presentation, and the couple experienced relational healing as a result. In addition to the keynote presentations, there were activities planned by several of the pastor couples who helped to get the audience engaged with the content rather than just listening. The event concluded Saturday night with a banquet and entertainment led by Hugo Gomez and his wife, Janet. Attendees were encouraged to share their own poetry and music with their spouses publicly, and prizes were given away following numerous game-show-styled activities.
Gulf States | April 2021