Nancy Vasquez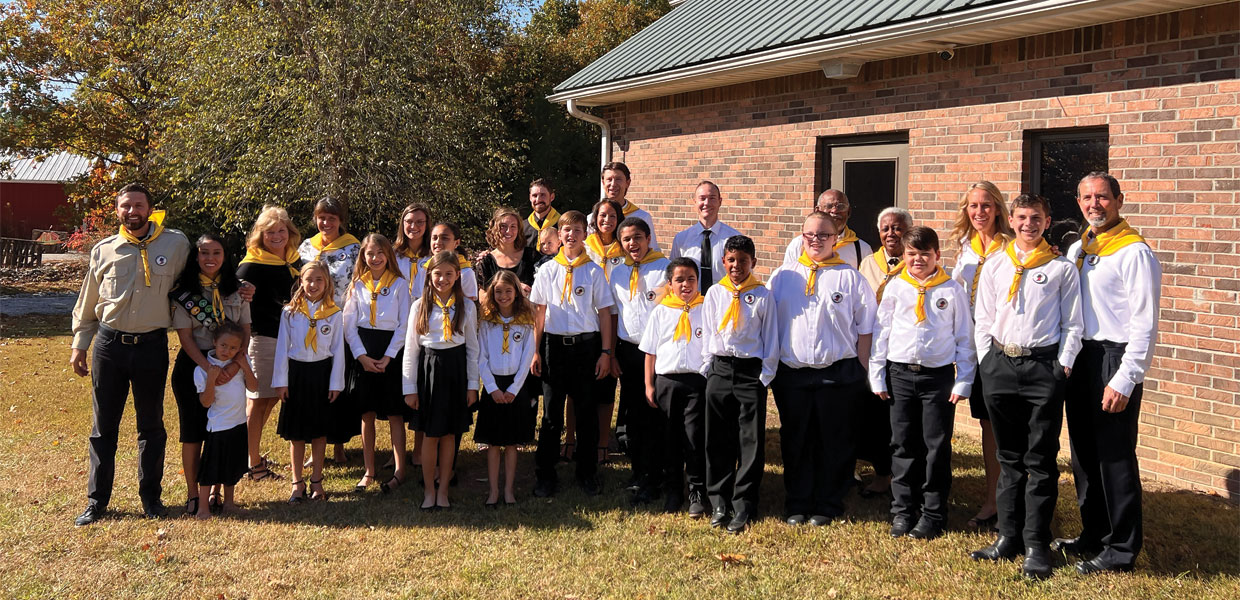 Hohenwald Seed Sowers Pathfinders and staff pose after their induction service. In the past 12 years, the Hohenwald Church went from having six children to 49. After attending the Kentucky-Tennessee Conference Pathfinder Training Weekend, church members were inspired to start the church's first Pathfinder club
Hohenwald Church Starts Pathfinder Club After Incredible Growth
In 2010, the Hohenwald, Tenn., Church had only six children in its congregation, one of which was a baby. Today, the church community celebrates having 49 regularly attending children who are 16 years old and under.
Amanda and Dylan Wagoner were heavily involved in youth ministries in Ohio before moving to Hohenwald two years ago. When they saw the number of children in the Hohenwald Church, they were convicted that they needed a Pathfinder club. Other parents readily agreed and offered to help, and the couple accepted the request to be the Pathfinder directors.
After attending the Kentucky-Tennessee Conference Pathfinder Training Weekend in August at Indian Creek Camp, the Wagoners were all fired up and ready to get their church's Pathfinder club going.
"Going into the Pathfinder training weekend, we did not think we would start a Pathfinder club this year," said Amanda Wagoner. "But, after being there and seeing the excitement in others, we were encouraged. As I went through the basic staff training, it reminded me of the great times I had in Pathfinders as a child, and I started to think of all the great times we could have with our Pathfinder group in Hohenwald."
Within a month, the Hohenwald Seed Sowers, as the group is now called, was formed with 16 Pathfinders and 12 staff members.
In a candle-lighting service, 11 boys and girls were inducted into the Hohenwald Seed Sowers Pathfinder Club on October 15, 2022, receiving their scarves and pins from the staff. Five others were inducted in absentia.
In addition, there was special slideshow featuring 10-year-old Caden Blood – a happy and well-liked junior who would have been one of the Pathfinders but tragically died last year. A pin honoring Blood was presented to each inductee along with their scarves.
Now, enthusiastic Pathfinders and staff are all geared up to begin this new adventure and are anxiously looking forward to the Gillette, Wyo., Camporee in 2024.
"I want the hearts of our club members to be won over to Jesus," said Wagoner. "I want us to make a very noticeable impact as we serve our community."
Kentucky-Tennessee | February 2023