lisa marie esser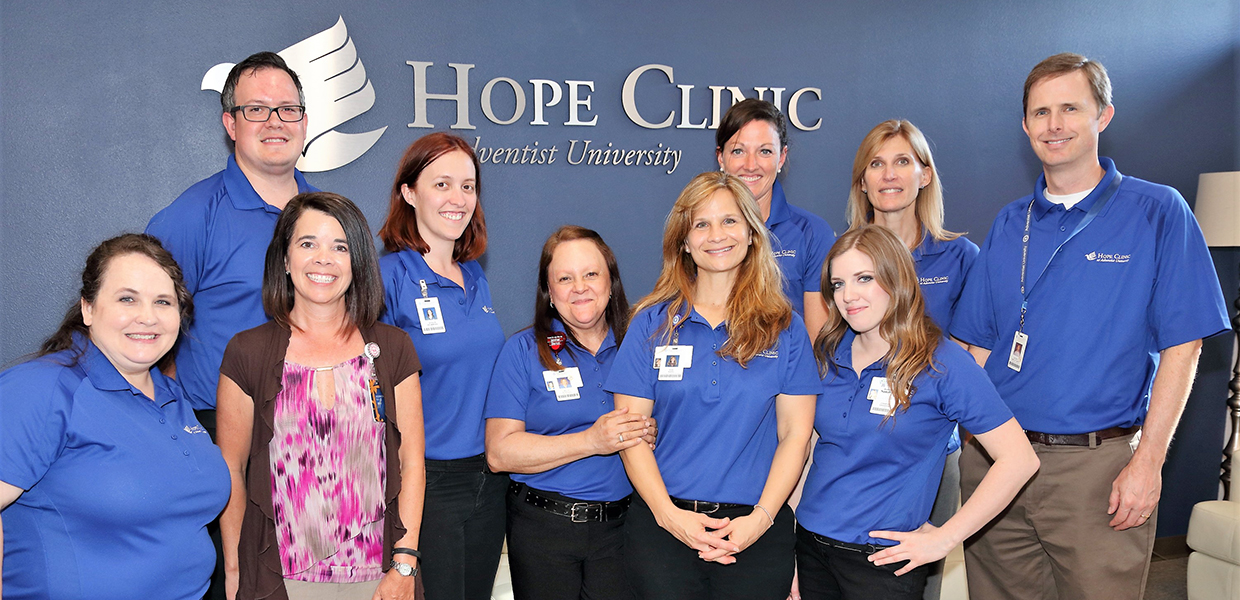 The Hope Clinic staff poses inside the new Hope Clinic space: Angela Sampson (front row, left), OTR/L; Vicki Case, OTR/L; Milly Rodriguez, OTR/L; Susan Rodd, COTA/L; and Jennifer Sanabria, COTA/L; Rubin Acosta (back row, left), COTA/L; Jessica Drummond, PTA; Elizabeth Clark, D.P.T.; Tia Hughes, Dr.O.T.; and Jeff Emde, D.P.T.

Adventist University of Health Sciences' (ADU) newly expanded and relocated Hope Clinic had its grand opening celebration on April 4, 2018. Tia Hughes, Dr.O.T., department chair of occupational therapy (OT), and Edwin I. Hernández, Ph.D., president of ADU, along with Hope Clinic staff, ADU faculty and staff, and others, attended the open house. Also present were clinic donors, including Daryl and Kimberly Dixon, Chris Bordner with Synergy Wealth Alliance, and members of Florida Hospital's CHiC Foundation.
The Hope Clinic is a teaching facility that provides outpatient occupational therapy, physical therapy (PT), mental health counseling, and nursing services. The clinic was the product of Hughes' determination to establish a facility where students in the occupational therapy, physical therapy, and nursing programs could observe faculty members provide care to patients without insurance.
Patients are seen for a variety of medical reasons, including stroke, brain injuries, orthopedic injuries, and developmental delays. This new facility will allow Hope Clinic staff to better serve even more patients.
The event opened with Hughes welcoming and thanking the attendees for their support as she described the clinic's story from its inception until the present. The clinic provides no-cost services for the uninsured, underinsured, and individuals who would not otherwise have access to care, making an impact on an underserved portion of the local community. Hughes said, "The opportunity to serve is more of a blessing than receiving care." It offers opportunities for students from ADU's PT, OT, and nursing programs to gain first-hand outpatient clinical experience. There are plans to also add opportunities for physician assistant students later this year.
A patient from the Hope Clinic addressed the group next and shared his experience. He spoke of the positive attitudes of the staff who gave him hope after he had been told he might never walk again following a stroke. Like the other patients of the clinic, he was underinsured and was left with no plan for his recovery. But, thanks to the clinic's staff, he was able to leave his wheelchair and begin walking again.
Hernández concluded the ceremony, once again thanking attendees and donors for their support. He expressed his pride in Hughes and her team's hard work, and called the clinic "a story of faith from a leader with vision, heart, and passion." He referred to the patient's success story, saying, "Miracles are happening here."
A plaque was unveiled, dedicated to the donors who helped finance and build the new clinic, followed by a prayer dedication from Reynold Acosta, one of ADU's chaplains. After the ceremony, guests were invited to enjoy refreshments while exploring the new, updated facility.
The Hope Clinic provides treatment and care to the community while educating ADU's students on whole person care — a perfect embodiment of ADU's mission to develop skilled professionals who live the healing values of Christ. With the new facility, it faces a future bright with growth and opportunities, not only for the institution and its students, but for the people it serves.
Adventist University of Health Sciences | June 2018