Staff Writer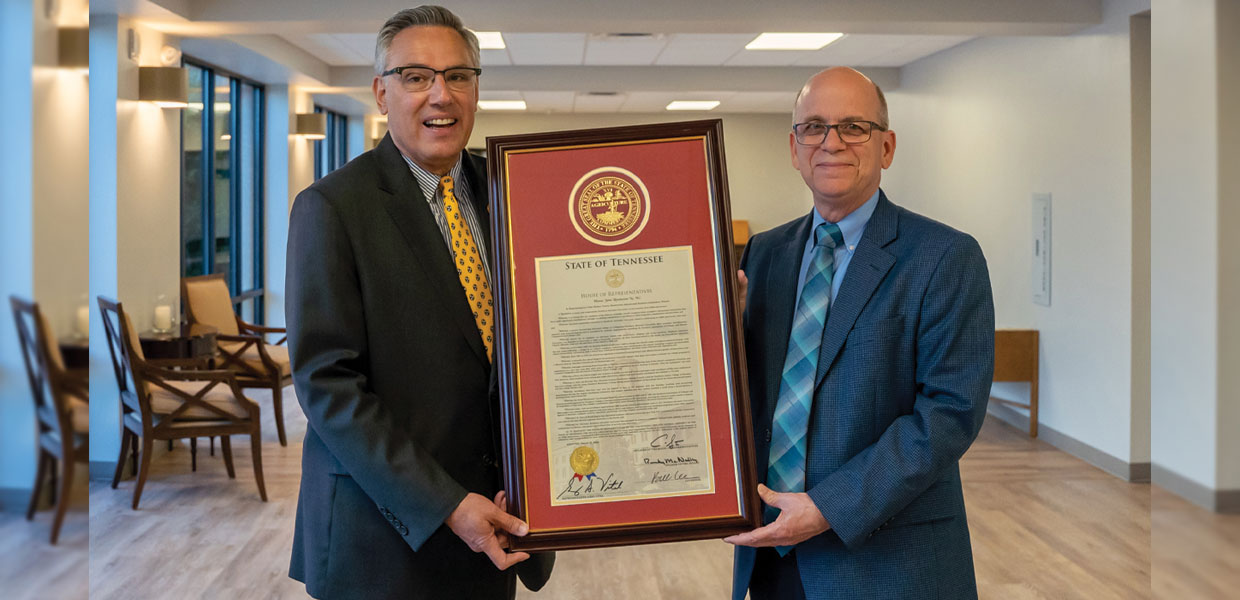 Tennessee Representative Greg Vital (left) presents a special resolution to Ken Shaw, president of Southern Adventist University.
Elias Zabala
House Joint Resolution Honors Southern
Tennessee Representative Greg Vital presented a special resolution to Southern on Friday, May 6, 2022. Signed by Governor Bill Lee and leaders of the Tennessee House and Senate, the House Joint Resolution is "to honor and congratulate Southern Adventist University on the occasion of its 130th anniversary."
"It is my honor as representative of district 29 House of Representatives to present this to President Ken Shaw, the faculty, administration, and students," said Vital, a Southern alum, during the presentation. "Congratulations students, graduates, on your 130th anniversary."
Founded in 1892, Southern is dedicated to providing a quality, Christian education. The University enrolls approximately 2,700 students pursuing degrees ranging from associate to doctoral. The primarily residential student body represents nearly 40 countries around the globe.
Located on 1,300 acres, the University welcomes community members to enjoy campus resources, such as Hulsey Wellness Center, the Village Market vegetarian health food store, numerous performances and lectures, its own Classical 90.5 WSMC radio station, and nearly 40 miles of mountain trails. While Southern alumni contribute to their communities all around the world, many work in the greater Chattanooga area, especially in health-related fields. Additionally, students actively serve others within the local community and abroad.
"We are honored to receive this official recognition from the State of Tennessee, and particularly proud to have it presented by our state representative, friend, and alumnus Greg Vital," said Ken Shaw, Ed.D., president. "We hope to continue our long-standing tradition of preparing students to positively impact our region and beyond."
Southern Adventist University | July 2022