BY Annalyse hasty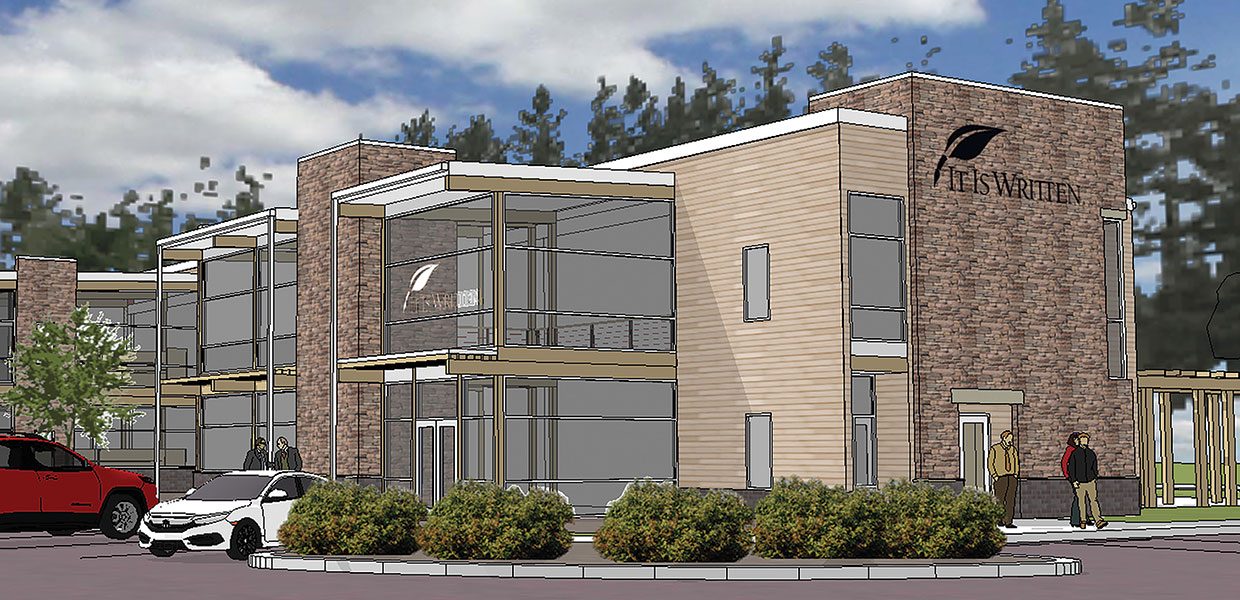 Artist's rendering of the new It Is Written headquarters in Collegedale, Tenn.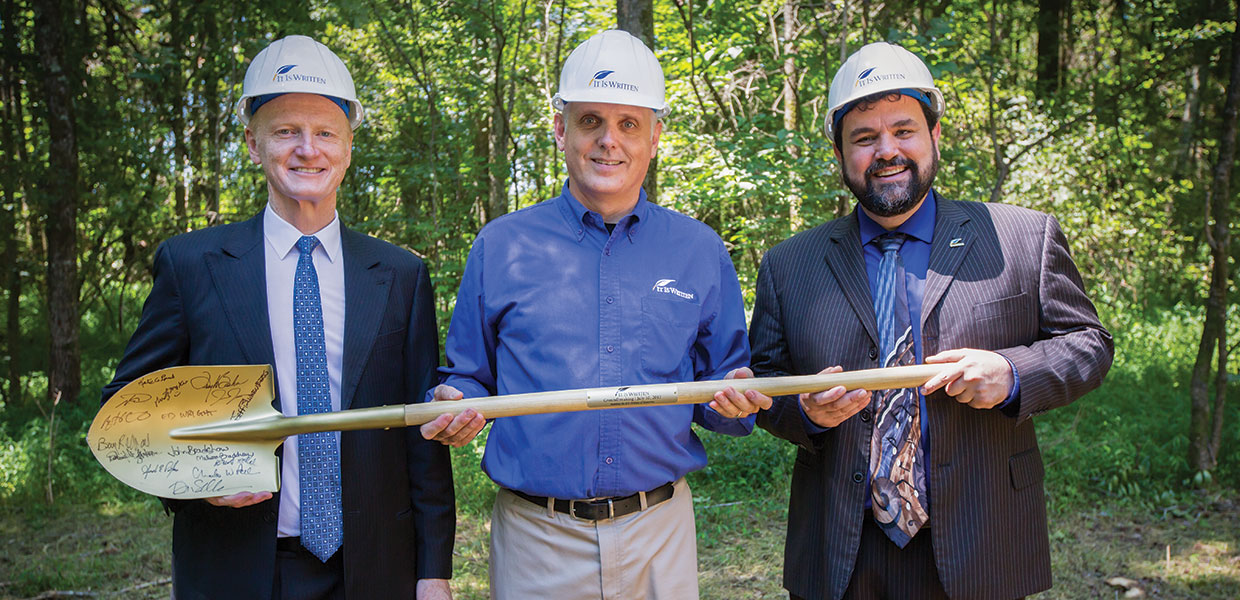 John Bradshaw (left), It Is Written speaker/director; Charles Reel, treasurer; and Jesse Johnson, manager, hold up the shovel used by Bradshaw at the groundbreaking that was signed by the 16 participants.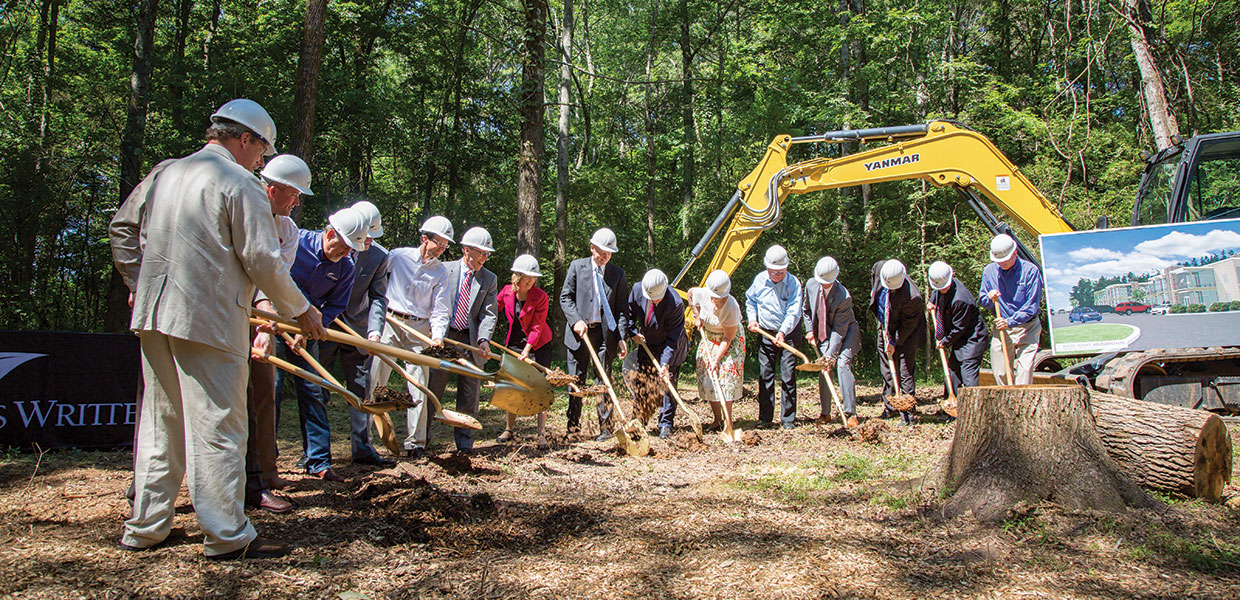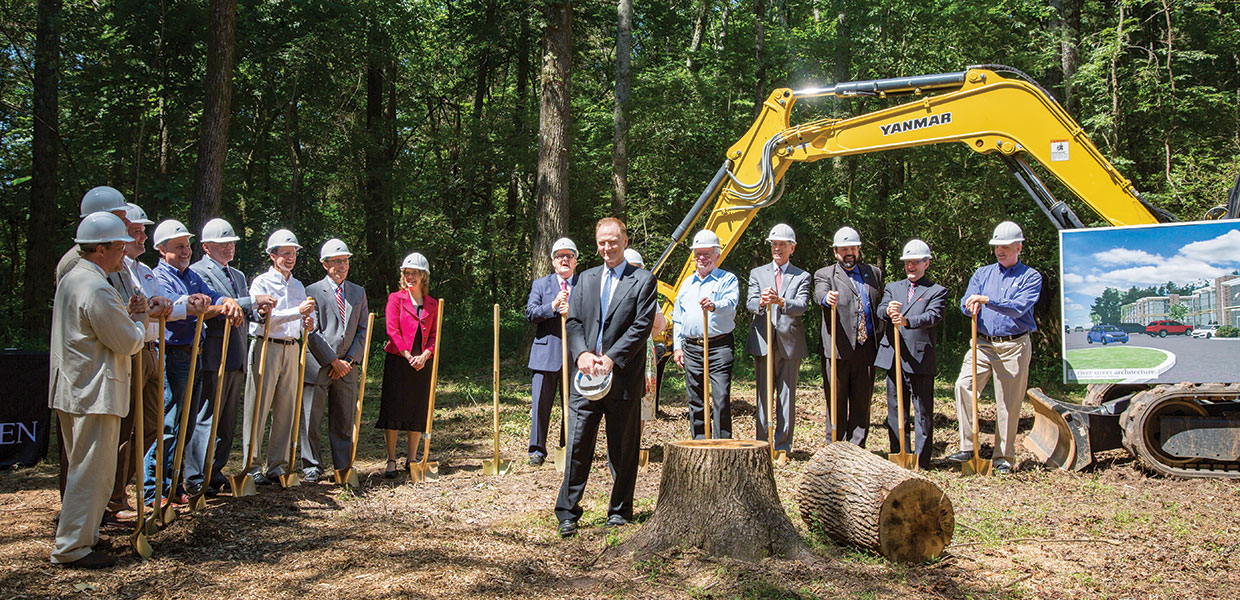 Sixteen participants prepare to break ground on July 10, 2017.
A groundbreaking ceremony for the new It Is Written ministry headquarters was held July 10, 2017. More than 300 attended the event that took place in Collegedale, Tenn.
The groundbreaking ceremony featured It Is Written representatives, government and business leaders, and Seventh-day Adventist Church leadership, including Dan Jackson, North American Division president; Roger Hernandez, Southern Union evangelism director; Ed Wright, Georgia-Cumberland Conference president; and Katie Lamb, Collegedale City mayor.
Guest speakers welcomed the ministry to Collegedale with open arms. You "bring a legacy of providing hope and life to millions of people around the world, and now that's centered right here in Collegedale," said Ben Wygal, Ph.D., assistant to the president of Southern Adventist University. John Bradshaw, It Is Written speaker/director, shared the ministry's history of innovative media ministry, and explained how the new ministry headquarters would enable more people to be reached with the Gospel.
Originally headquartered in California, the 61-year-old media ministry moved to Tennessee in 2014, and has been leasing office and warehouse space in Chattanooga. In 2016, It Is Written selected the nearly nine-acre lot in Collegedale as its permanent location because of the support of the Conference, Union, and the proximity to Southern Adventist University, a strong partner of the ministry.
"It was four or five years ago when we learned that It Is Written was entertaining the prospect of a potential move. Immediately we became interested about the prospect of collaboration with It Is Written, the Southern Union, and the Georgia-Cumberland Conference," Wright said. "Since then our dreams have been more than fulfilled. The shared philosophy that It Is Written brings to this collaboration is significant. It has already had an impact. It is a wonderful win-win situation."
In preparation for the groundbreaking ceremony, Bradshaw felled the first tree on the property, and 16 shovels turned the soil. A large portion of the land will be cleared in the coming months, and construction is expected to begin this fall.
Construction of the new ministry headquarters is targeted for a 2018 completion, with excavation beginning in August 2017. The two-story building will be 40,905 square feet and include office, studio, and warehouse space. The new ministry headquarters will also house a fitness center, resource shop, and mission museum. River Street Architecture of Chattanooga has completed architectural plans, and P&C Construction of Chattanooga will serve as the general contractor on the project.
See building plans, purchase a commemorative brick, and see updates at itiswritten.com/newhome.
Southern Union | August 2017