Rachel beaver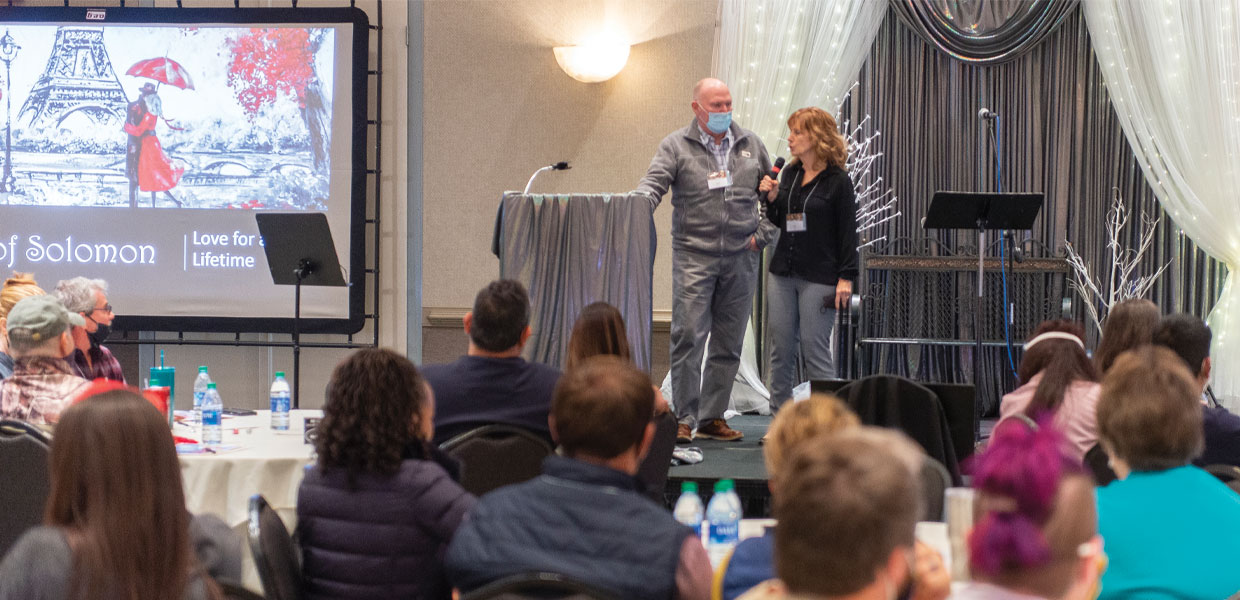 Jo and Ted Dubs speak to attendees of the 2021 Georgia-Cumberland Conference Marriage Retreat at Lanier Islands. Jo Dubs is retiring after nearly 20 years of serving as the Georgia-
Cumberland's family and women's ministries director.
Nathan Zinner
Jo Dubs Retires from Georgia-Cumberland Conference
After nearly 20 years of service, Jo Dubs has retired from her position as director of family and women's ministries at the Georgia- Cumberland Conference. Dubs' heart for ministry is reflected in her impact at Georgia-Cumberland.
"It's hard to pinpoint exactly when I felt called to ministry," says Dubs, "because I think it started when I was a kid. I always had a heart for others. My grandfather would tease me and ask if I was going to become a nun, but that was because even then he saw something in me."
Dubs says that she always felt a sense of longing for God — a calling that she belonged to Him. Her sensitivity to others manifested during her years working as a nurse, where she also worked with high-risk families. As the wife of a pastor, she gained leadership experience in ministry working as a shepherdess for pastoral wives for the Kansas-Nebraska Conference. This led to organizing retreats and speaking at various events. While working as a nurse, Dubs prayed for a full-time position in ministry. She served as a Bible worker in Knoxville, Tenn., for a year before applying for the women's and family ministries position at the Georgia-Cumberland Conference, which at the time wasn't full-time. But, God blessed the ministry and it grew to the full-time ministry it is today.
When asked about the most rewarding aspect of her time at Georgia-Cumberland, she said, "Being aware that there have been times when God has used me to help others see a better picture of Him. It has been my personal mission to help others see their own potential and calling."
While Dubs is retiring from her position at Georgia-Cumberland, she prefers not to use the word "retirement," instead, she refers to this as her transition into her "second act."
"My ministry isn't over," says Dubs. "I see life as an adventure, and I want to continue living life to the fullest. My story is still being written. During my time at Georgia-Cumberland, God has allowed me to use my creativity to share God with others. It has been an adventure, and I'm looking forward to my second act."
Georgia-Cumberland | April 2022