KIETH NOLL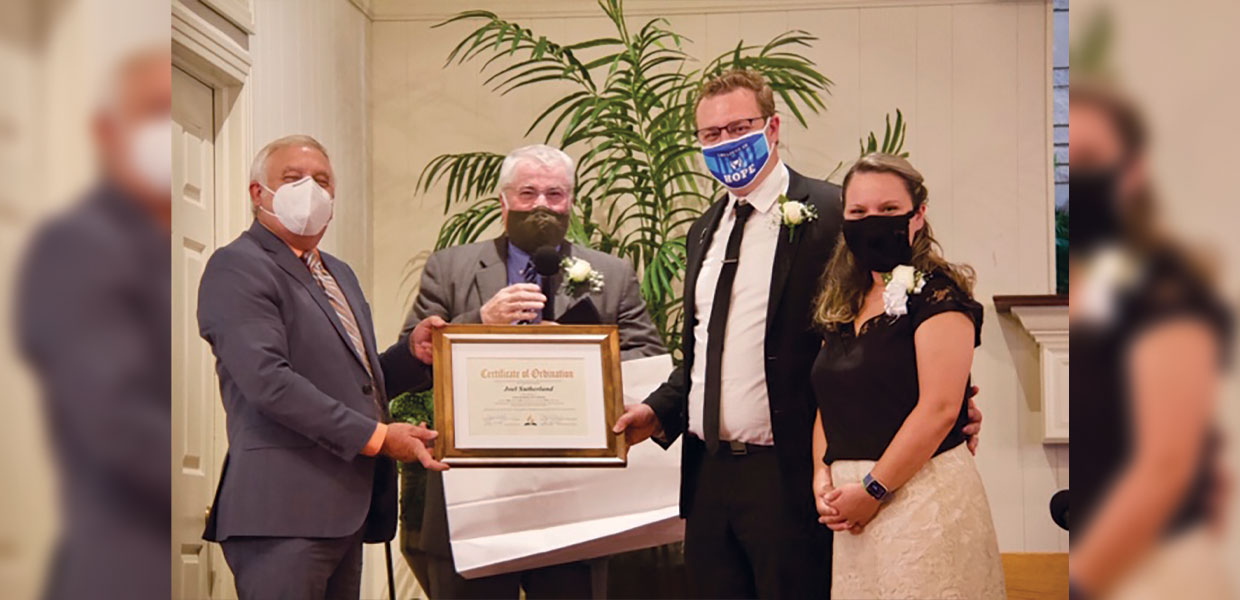 Kieth Noll (left), Steve Haley, Joel Sutherland, and Chelsea Sutherland
Joel Sutherland was ordained to the Gospel ministry on July 28, 2020, at the Lawrenceburg, Tenn., Church. Members from the Pulaski, Tenn., Church were also in attendance. Many of the ministers in the Conference, along with family and friends, joined via Zoom during COVID-19.
Sutherland's mother, Brenda Sutherland, played the prelude to the service, and Sutherland's father, Curtis Sutherland, chaplain, gave the welcome and prayer via Zoom. Rick Copeland, Lawrenceburg first elder, gave the presentation, and the musical selection was done by the Sutherland family. The guest speaker was Gary Gibbs, president of the Pennsylvania Conference. Steve Haley, president of the Kentucky-Tennessee Conference, gave the call to ministry and said the ordination prayer. The benediction was given by Kieth Noll, Kentucky-Tennessee ministerial director. Elaine Will played the postlude to the service. Sutherland's wife, Chelsea Sutherland, stood by his side as he was ordained to the Gospel ministry.
Joel and Chelsea Sutherland serve the Lawrenceburg/Pulaski district in Tennessee, where they are much loved by everyone. Kentucky-Tennessee Conference is blessed to have them as part of their team.
Kentucky-Tennessee | October 2020