BY Etteso Lahc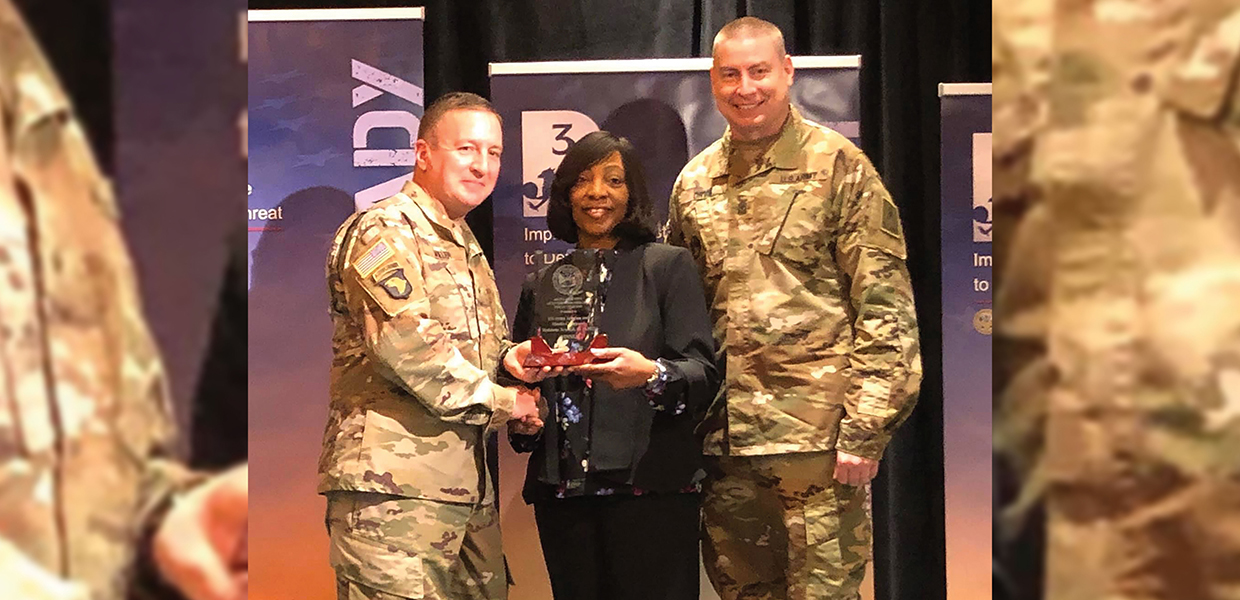 Brig. Gen. Miller (left), AMCOM Award presenter; Josette Paschal; and the Command sergeant major
Joshua Velasquez and Miles Brown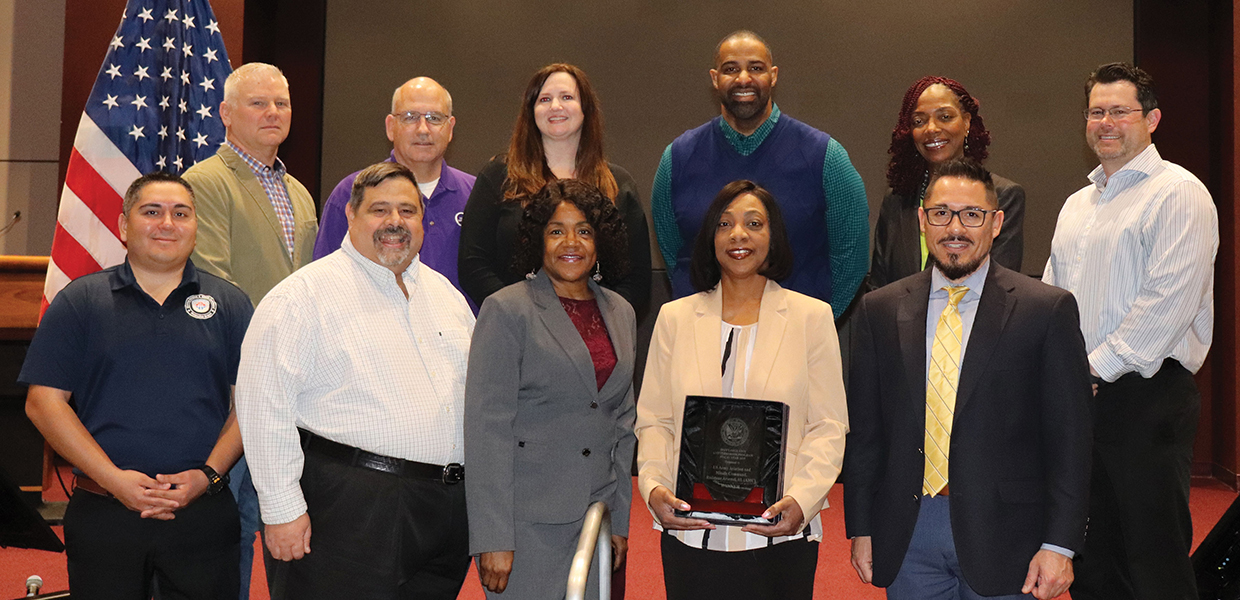 BJA-AT team includes Joshua Velasquez (front, left), William Marrero, Alfreda Alexander, Josette Paschal, Ryan Pickett, Eric Nelson (back, left), Paul Quintel, Beth Ward, Marc Lacy, Claudinette Purifoy-Fears, and Wes Slone.

Joshua Velasquez and Miles Brown
The U.S. Army Aviation and Missile Command's (AMCOM) antiterrorism team received "Best Large Unit" award among the entire Army antiterrorism programs at the 2020 Annual Army Worldwide Antiterrorism Training Seminar on February 24-28, 2020. Brig. Gen. Duane Miller, the deputy provost marshall general and commanding general for U.S. Army Criminal Investigation Command, presented the award on February 25, at the Shades of Green, in Lake BuenaVista, Fla.
Josette Holder Paschal, AMCOM's antiterrorism security program manager and alumna of Oakwood University, class of 1983 and 2012 (LEAP), accepted the award on behalf of Maj. Gen. Kenneth T. Royar, AMCOM commander at Redstone Arsenal in Huntsville, Ala. Her team's diligence and attention to security issues contributed to the overall achievement of the recognition. The Army's antiterrorism (AT) program protects personnel, information, property, and facilities against acts of terrorism or any harm against the command.
"The AMCOM antiterrorism team was selected as the 'Best Large Unit' antiterrorism program in the Army — one of six competitive categories awarded at the event," said Paschal. "The team's tireless efforts to sustain and improve readiness; increase awareness; and safeguard the workforce, information, and facilities were acknowledged with this award." AMCOM is one of the major subordinate commands that falls under Army Material Command (AMC), and is the senior command located at Headquarters at Redstone Arsenal.
The AMCOM AT team provides assistance to more than 25 AMCOM directorates and units at Redstone Arsenal in Alabama; Corpus Christi Army Depot in Texas; Letterkenny Army Depot in Pennsylvania; and Aviation Command Logistics Center, Fort Rucker, in Alabama.
Paschal, Oakwood University alumna, is married to Bryan Paschal, and they have two sons, Bryan (Rishée) and Antonio (Shariece). She is a member of the Mt. Calvary Church in Huntsville, Ala., where Willie L. Taylor is the senior pastor. Many are proud of Paschal and her accomplishments with the federal government. Paschal credits her success to God; her husband, Bryan; her sons and daughters-in-law for their support; and her mother, Alta Holder, for inspiring her to strive for excellence. She wants to continue to be a great witness for the Lord in her work place.
South Central | May 2020