paola mora zepeda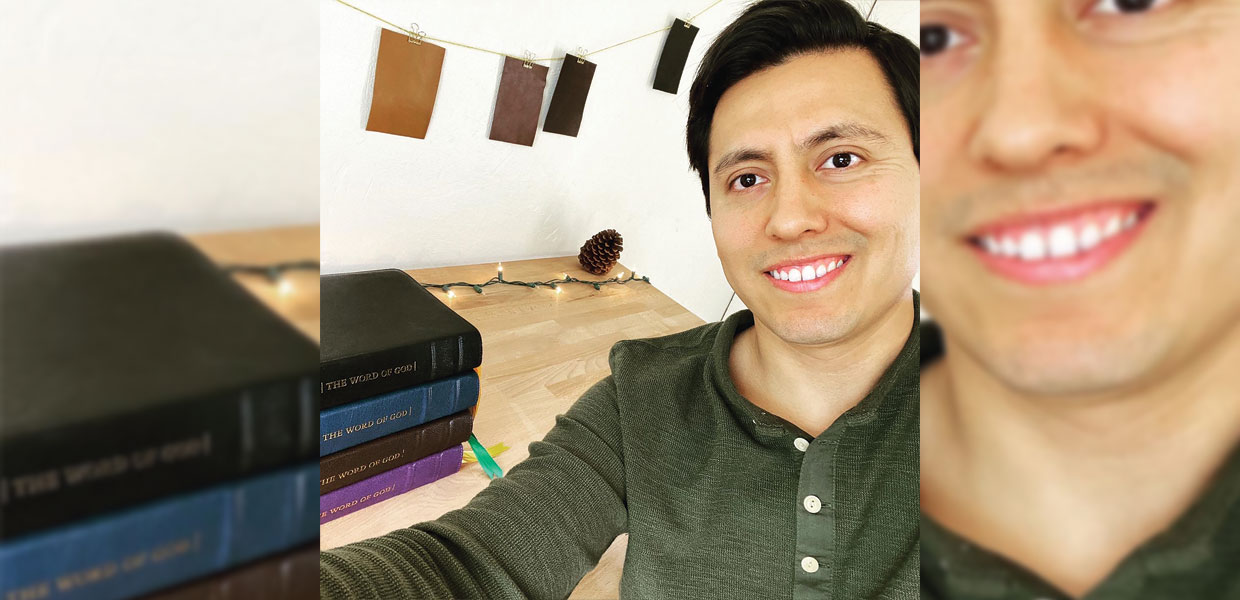 Daniel Arroyo takes a selfie with copies of Humble Lamb Bibles, which he produces and sells. After searching but never finding his "perfect and forever" Bible, Arroyo was inspired to launch his Bible publishing business.
Daniel Arroyo
Humble Lamb Bibles
Daniel Arroyo
Daniel Arroyo, a member of the Danville, Ky., Church, was in search for his perfect and forever Bible — a high quality Bible that would not wear down after years, and that he could pass down to his children. After searching for months, however, Arroyo could not find a Bible that met all the qualities he was looking for. So, he decided to try a different approach: designing and crafting his own Bible. This journey eventually led him to launch his Bible publishing business, Humble Lambs.
"The mission and purpose of Humble Lambs is to produce the Bible in such a way that compels people to read it and thus connect with God more intimately," said Arroyo. "I started the business in February of 2017, and the first Bible arrived and was sold on August of 2018."
According to Arroyo, there are two main components that make Humble Lambs Bible stand out. First is the layout of the page. Departing from the conventional double-column format, Humble Lambs Bibles uses a single-column layout, following the golden ratio of Fibonacci's rectangles. In addition, Jesus' words are highlighted in blue instead of red — a choice made to accommodate for colorblind readers.
"Overall, layout was important to me because I wanted people to find themselves being drawn to the words," said Arroyo. "If we could get people to spend five more minutes a day in the Word of God, then that is a big win for us. That's really what we want."
Beyond design, Arroyo says that quality was also very important to him. Humble Lamb Bibles are made with full grain goatskin leather and are assembled by hand. The goal is that these Bibles will not wear down even after constant use.
Since Humble Lambs Bibles launched in 2017, Arroyo has sold more than 7,000 Bibles across the world — including in the United States, Singapore, Germany, Australia, South Africa, and Namibia. In addition, for every Bible that he sells, Arroyo donates one standard Bible to someone in need.
"It would be absolutely amazing to meet somebody in Heaven and learn that they were able to know Jesus better because of one of our Bibles," said Arroyo. "My ultimate goal is for our little business to be able to have an eternal impact on somebody's life."
Kentucky-Tennessee | October 2023