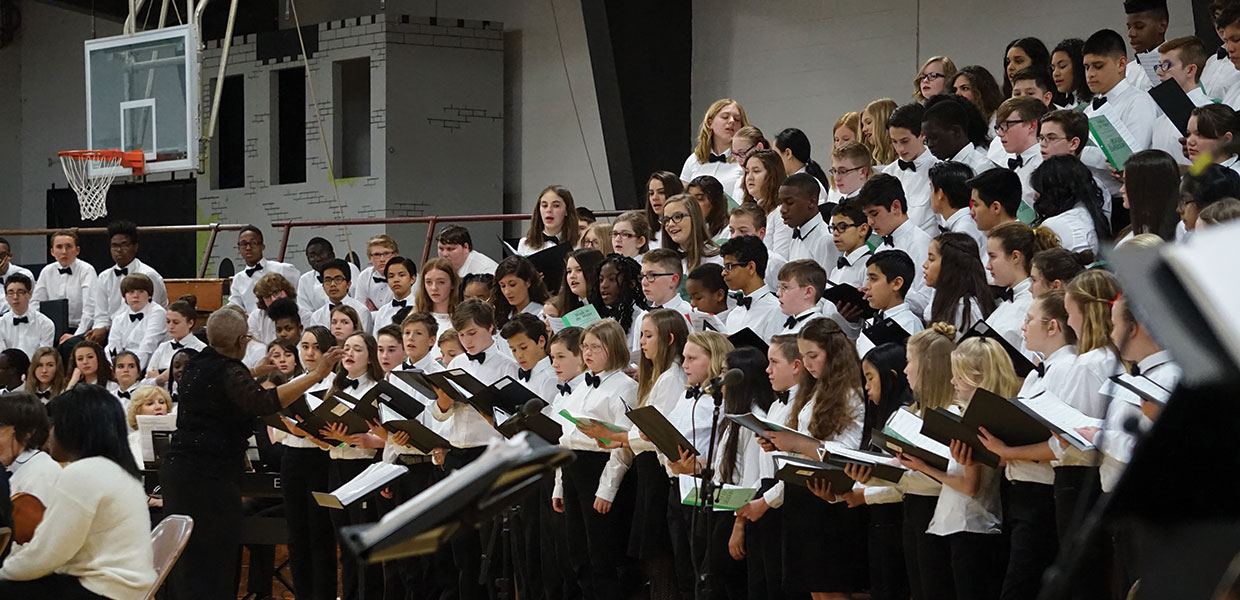 Veronica McGee conducts grades 6-8 choir.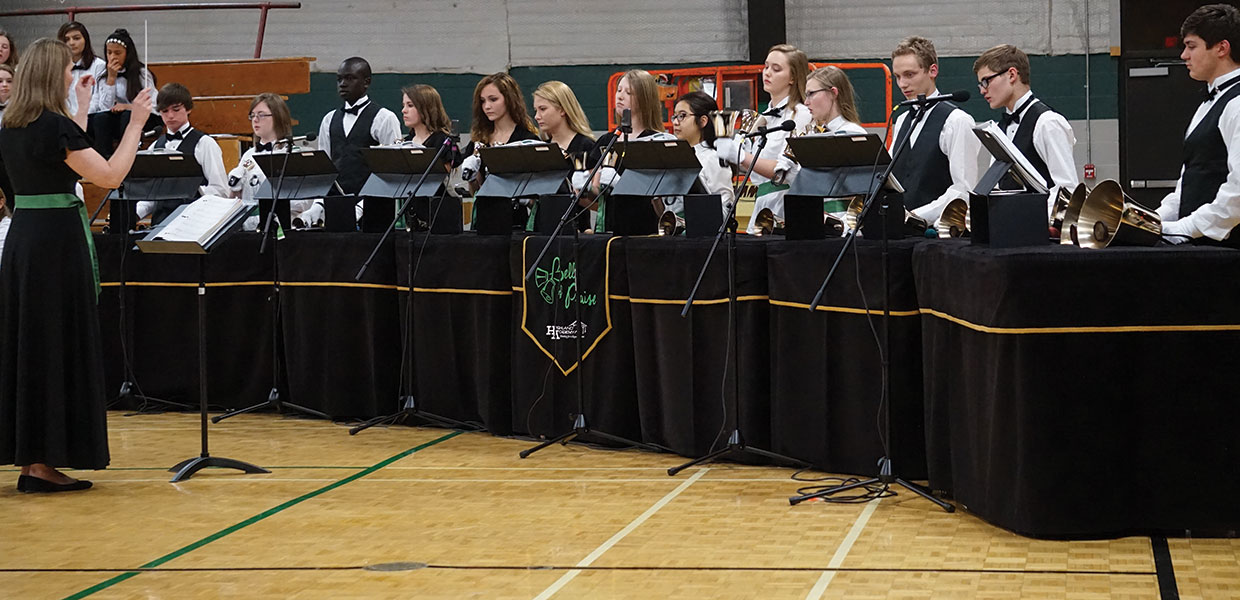 Highland Academy Bells of Praise is led by Sarah Hillebert.
Who knows what miracles you can achieve when you believe! The theme for the Kentucky-Tennessee 56th Music Festival was "When You Believe." The Kentucky-Tennessee Conference believes in giving students an opportunity to meet together and share the talents God has given them. On March 16, 2017, the Highland Academy campus was filled with excitement and activity as students from all over the Conference arrived for the first day of Music Festival.
With a reputation for music excellence, the Kentucky-Tennessee Music Festival receives participation requests from schools outside the Conference. Once again, the festival was blessed with students from Thompsonville Christian Academy in Thompsonville, Ill., and Greeneville Adventist Academy in Greeneville, Tenn. The students from these schools have come in past years, and are always eager to be a part of the festival.
The festival featured the concert band, the string ensemble, and the grades 9-12 and 6-8 choirs. Rehearsals took place throughout the campus of Highland Academy and Highland Elementary School. Three performances were presented during the festival, with a sacred concert on Friday night, a chamber music concert on Sabbath afternoon, and a secular concert on Saturday night. Clinicians and a few students also performed for the Highland Church Sabbath morning.
It was a blessing to have last year's clinicians return for the 2017 festival. The concert band included students in grades 6-12 under the direction of Craig Mohr. Mohr teaches instrumental and classroom music at Puget Sound Adventist Academy and Kirkland SDA School in Washington. His wife, Brenda Mohr, conducted the grades 9-12 festival choir. She is currently completing her doctorate in choral conducting. Mohr also conducts the women's choir at the University of Washington in Seattle. Kelly Wiedemann, who conducted the festival string ensemble, serves as strings instructor at EMU preparatory music program, Harrisonburg City Public School strings program, and orchestra and strings director at Shenandoah Valley Academy in Virgina. A member of the Conference, Veronica McGee, director of the grades 6-8 festival choir, graduated from Union College in Lincoln, Neb. McGee furthered her education with a master of music with an emphasis in vocal performance. She also performed with the Houston Opera Company. McGee is currently a speech/language pathologist in Lawrenceburg, Tenn.
After students attend Music Festival, many of them realize how much they really do enjoy music. One student said, "It's amazing to be a part of such a wonderful program!" Every participant left with increased musical skills, new friendships, a challenge to grow spiritually, and the opportunity to enjoy the best of Highland Academy life.
Kentucky-Tennessee | May 2017