pam williams, Associate Superintendent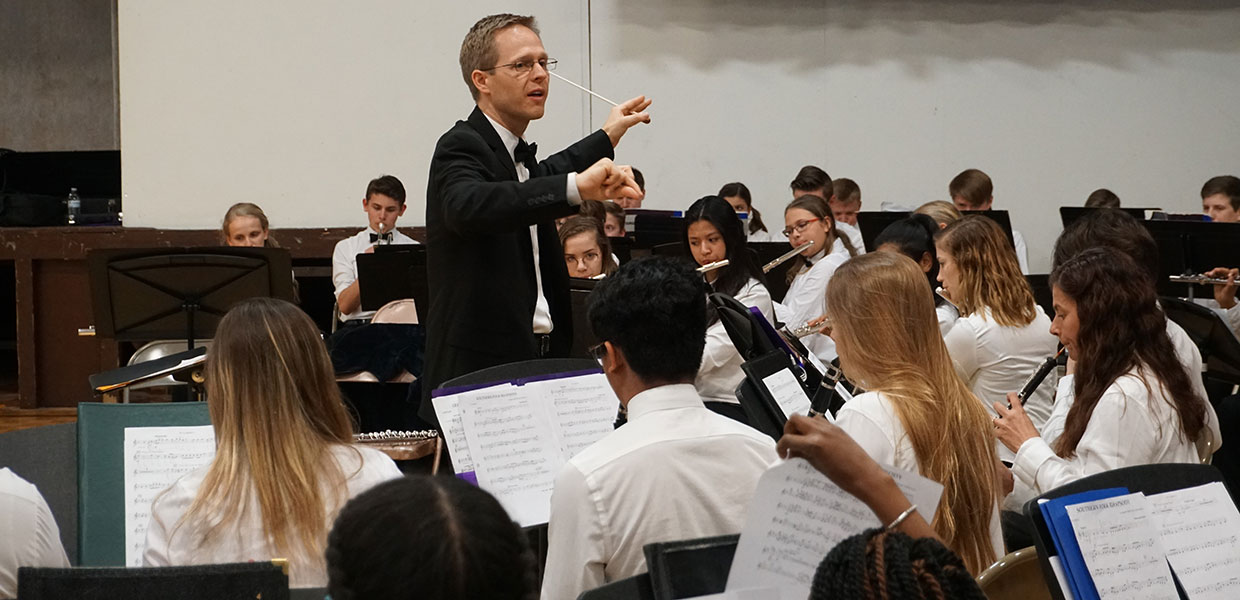 The concert band is directed by Wes Brand.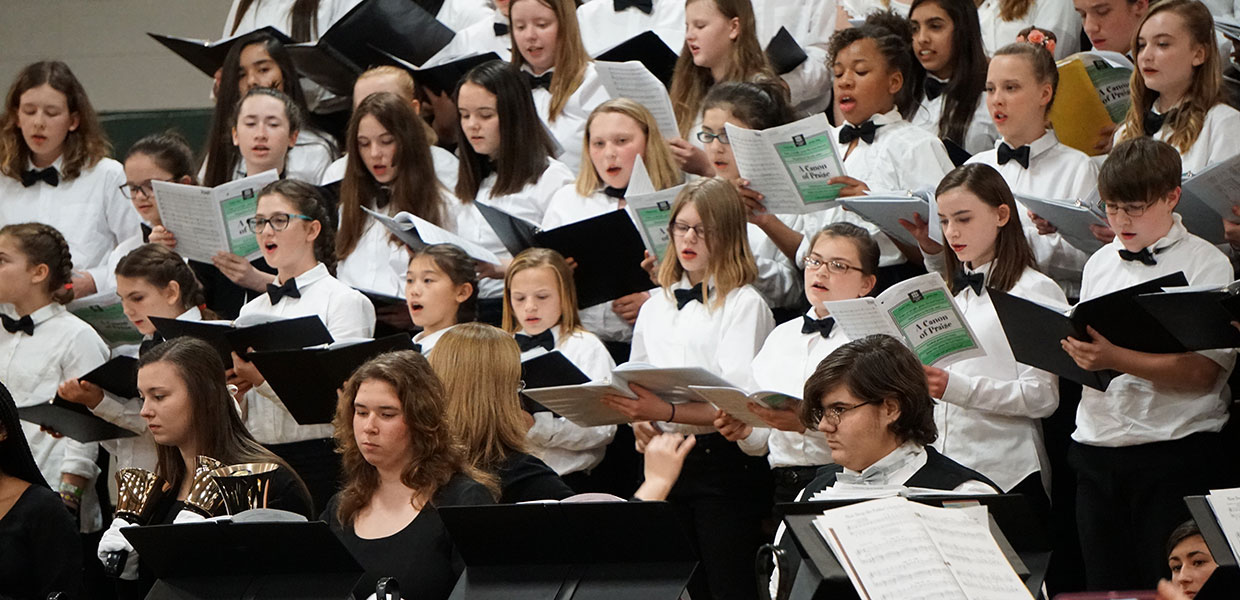 Grades 6-8 choir is directed by Beth Davis.
Highland Academy was filled with excitement and activity on March 15, 2018, as students from all over the Kentucky-Tennessee Conference arrived for the first day of Music Festival. Under the leadership of Elaine Will, more than 300 students came together to expand their musical skills. With a reputation for music excellence, the Conference receives participation requests from schools outside its territory. The festival was blessed with students, not only from the Conference, but also from Greeneville Adventist Academy in Greeneville, Tenn.; Thompsonville Christian Academy, Thompsonville, Ill.; and Oaks SDA School, Ooltewah, Tenn.
The festival featured the concert band, string ensemble, hand bell and chimes ensemble, and the 9-12 and 6-8 choirs. During the festival, the students presented three performances, with a sacred concert on Friday night, special numbers during Sabbath School, and a secular concert on Saturday night.
Five talented clinicians blessed the students and those who attended the performances. The concert band included students in grades 6-12, under the direction of Wes Bradford. Bradford teaches at Ooletwah Adventist and Bowman Hills SDA schools. He has conducted festival bands in Washington, California, Georgia, Maryland, and British Columbia. In his spare time, he enjoys making music with his family, often playing brass quartet or string band gospel music. His wife, Summer, is a graduate of Highland Academy.
The string ensemble was directed by Ellen Francisco, who teaches violin, viola, and chamber music as an adjunct professor at Southern Adventist University (SAU), both to university students and to students from the community. She also organizes and directs two summer workshops for youth and adults at SAU.
Beth Davis directed the 6-8 choir. Davis is the fine arts and band director at Mt. Juliet Christian Academy in Tennessee. She previously taught 10 years at Madison Campus Elementary and Madison Academy. She has performed as a soloist with the Monterrey City Symphony in Mexico, the Bryan Symphony Orchestra, and the Nashville Praise Symphony.
John Neumann directed the 9-12 choir. Neumann has more than 40 years of teaching and church choir experience. He is a veteran of the U.S. Army. He served as a non-combat medic in the Vietnam conflict, and for distinguished service was awarded the Silver Star, Purple Heart, and Combat Medical Badge. In his retirement, he mentors beginning music teachers and serves as a producer to the Walla Walla Choral Society.
Shelly Miller, the clinician for the hand bell and chimes ensemble, is currently a stay-at-home mom, and instructs the Madison Academy's Bellissimo hand bell choir. She taught previously at Highland Academy for eight years, with seven of those instructing the Bells of Praise hand bell choir. She continues to play whenever possible in various ensembles in the Highland and Madison areas.
The Conference believes in giving students an opportunity to meet together and share the talents God has given them. For many students, this was their first opportunity to sing in a large choir or play in an instrumental ensemble. Every participant left with increased musical skills, new friendships, a challenge to grow spiritually, and the opportunity to enjoy the best of Highland Academy life.
Kentucky-Tennessee | May 2018