Marcus bates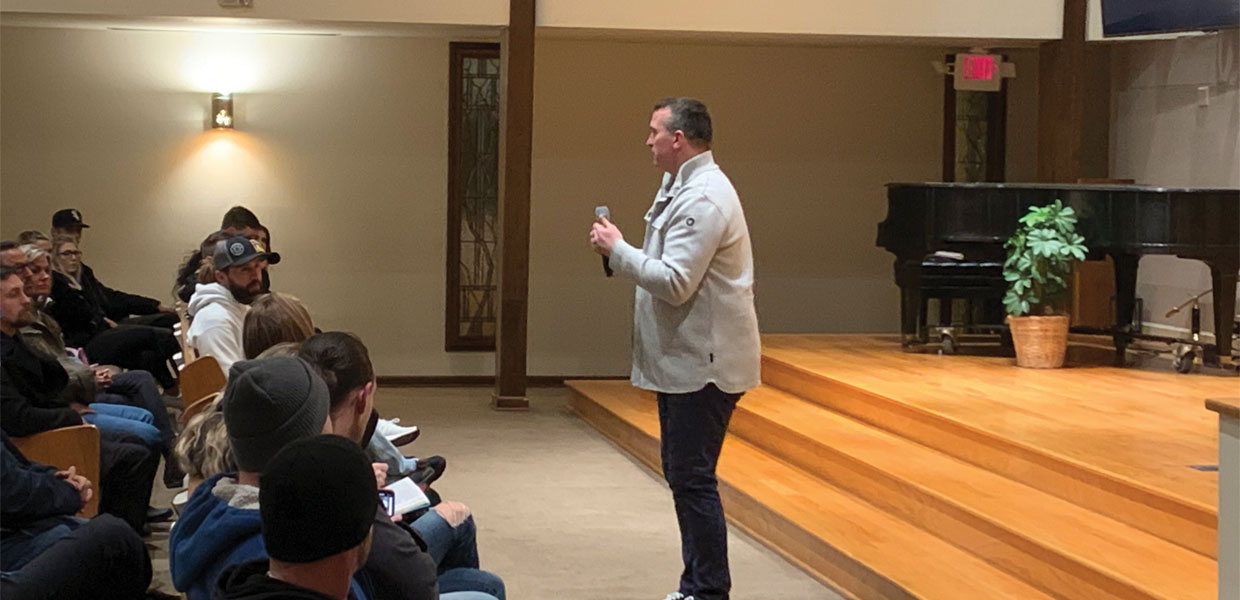 Chris Herren, former NBA player, shares his story of overcoming addiction to approximately 220 people at the Knoxville First Church in Knoxville, Tenn. The region has been challenged by a recent opioid addicition crisis, and the church held this event to be a beacon of hope and light for those who are struggling with addiction.
Knoxville First Church Sponsors Addiction Recovery Event
In recent years, the region of eastern Tennessee has been challenged with a major opioid addiction crisis. In response to this challenge, the Knoxville First Church held a special community event, entitled "Prevention Starts with All," to discuss the issue of drug and alcohol addiction, and provide information on local resources that specialize in addiction recovery. This special event was held with the express hope that people who struggle with the disease of addiction, or who know someone facing this challenge, might find encouragement and help by having access to important information about local community organizations that can provide much-needed education and treatment against addiction.
The chosen keynote speaker for this event was Chris Herren, a former McDonald's All-American high school basketball player from Fall River, Mass., who was recruited by the nation's top colleges. He was drafted into the NBA in 1999, and played for the Denver Nuggets and Boston Celtics before losing his career, and nearly his family and his life, to the disease of addiction. As someone who has been in long-term recovery since 2008, Herren has spoken to millions of students, athletes, and community members across the country, seeking to inspire people to engage in a candid conversation about addressing the disease of addiction through prevention, recovery, wellness, and faith.
On the wintery evening of January 20, 2022, approximately 220 people braved the elements to attend a recovery resource fair in the Knoxville Adventist School gym, where 25 community organizations that specialize in addiction recovery were represented, and then filled the Knoxville First Church sanctuary to hear Herren share his inspiring testimony.
Marcus Bates, pastor of Knoxville First Church, believes that, given the emphasis the Seventh-day Adventist Church places on physical and spiritual wellness, the Church could be more intentional about addressing the disease of alcohol and drug addiction. "This would provide hope and encouragement to people who are struggling with this issue," says Bates. "By promoting a combination of faith and treatment, and partnering with local community resources, our Church can be a beacon of hope and light for those who are struggling with the disease of addiction."
Georgia-Cumberland | April 2022