BY Michael Steinke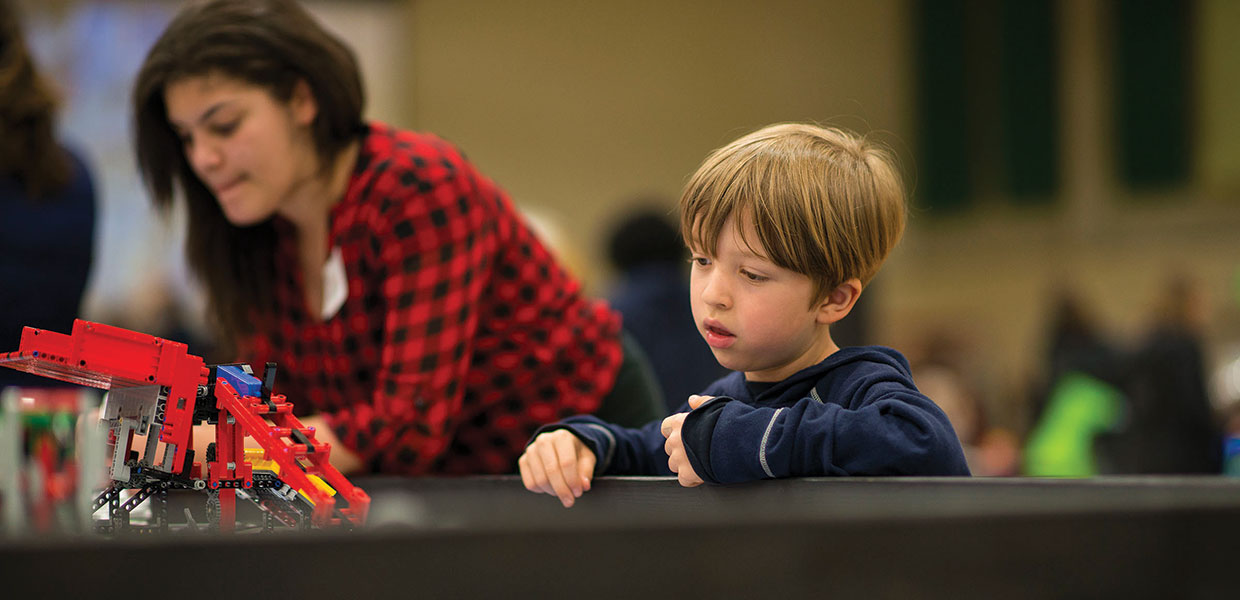 Young onlooker Jonas Pettibone watches a LEGO robot during the Adventist Robotics League: Southern Challenge.
After months of preparation, teams of middle school students converged at Southern Adventist University for the annual Adventist Robotics League: Southern Challenge. Each team, composed of three to 10 students, had conducted scientific research, while also designing, building, and programming a LEGO robot, in preparation for the event. The robot's mission: complete as many assigned tasks on a 4-by-8-foot playing field as possible.
Every spring, numerous Southern faculty, staff, students, and alumni volunteer to make this event possible for more than 250 middle school students. For some Southern students, this event has been an influential part of their lives for many years. Christina Donesky, freshman management and international business major, participated in the Southern Challenge several times as a middle school student and thoroughly enjoyed it. Donesky volunteered at this year's event to provide the students with the same amazing experience that she had.
"One of the highlights of my childhood was competing in LEGO robotics and winning three competitions at Southern, which led to eventually competing in the nationals," Donesky said. "Those memories are irreplaceable, and I am very proud of all that my team accomplished."
The event encourages middle school students to think about science, technology, engineering, and mathematics in a practical way.
"I really like how LEGO robotics stimulates young students' minds and gets them eager to engage in learning activities that are fun and fast paced at the same time," said Tyson Hall, Ph.D., professor in the School of Computing. "Also, this is a great way to introduce some of our brightest prospective students to Southern."
Southern Adventist University | June 2017