CYNTHIA WILLEY and ANA BANOS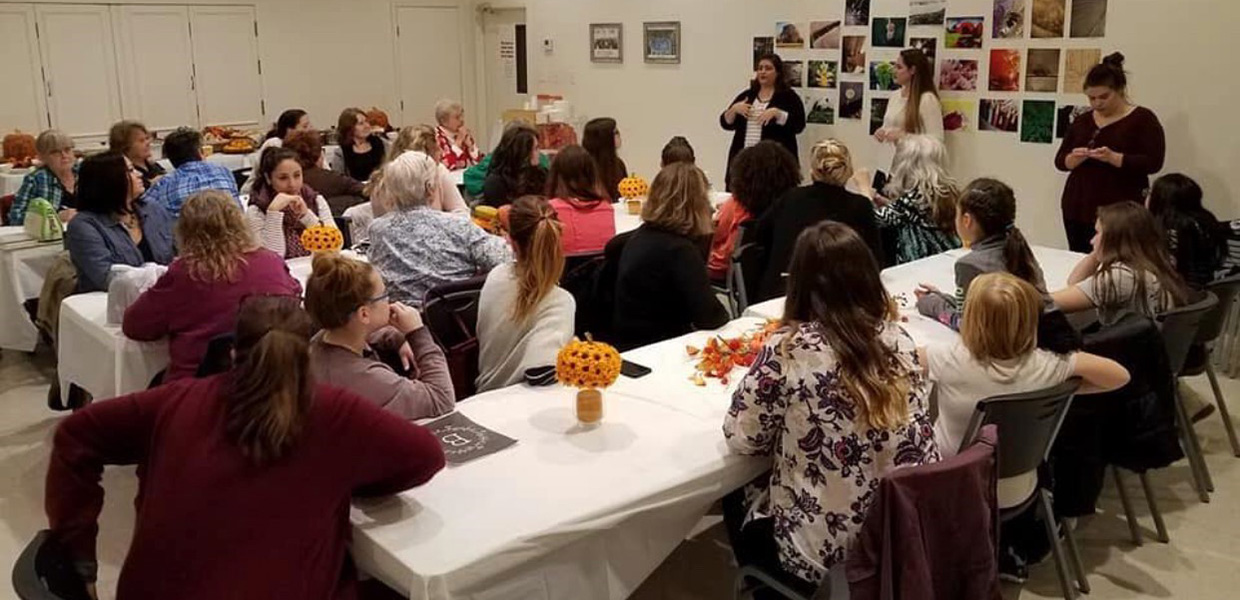 Leader Ana Banos welcomes the women to the fall craft event, and introduces Becky Mirsky, the evening speaker.
In the last several years at Lexington Church in Lexington, Ky., few activities were happening in women's ministries. The leadership role was even vacant for a time. However, beginning in 2017 with leaders Ana Banos, Olivia Morris, and their team — Cindy Willey, Sherri Strickland, Lizzie Garcia, Andrea Miller, and Heidi Herrera — this ministry has become very active, with more than 50 women at some events.
Volunteers like Ellen Morris, Emma Morris, Dionne Blackburn, Irmgard Kohler, and Lisa Chumley assisting with preparations, providing food, or taking pictures also aided in this success. Most important are God's abundant blessings, those praying for the ministry, and those consistently attending. The events are so popular that an "intruder" (Bryan Banos, pastor) even managed to get a few snacks and hellos in before getting kicked out.
The ministry's slogan, "We are Redeemed, Esteemed, Adopted, Loved," (R.E.A.L.) emphasizes women as individuals cherished by God. Each event begins with a message shared by a woman from the congregation, and is often tied to the event theme. Opportunities such as preparing Bags of Love for homeless women or sending cards to inactive members allows these events to be spiritual, ministry minded, and social.
Changes are coming for women's ministries as the Banos family moves to another district in May, and Olivia Morris leaves for college in July. A special quote says, "As women of faith, our greatest Friend is Christ, but when He blesses us with sisters in Christ, we experience a bond that will never die." Realizing this, Lexington women's ministries plans to keep their activities going, and continue to look for ways to show the women of the Lexington area the blessings of bonds in Christ.
Kentucky-Tennessee | June 2018