BY ALBERT DITTES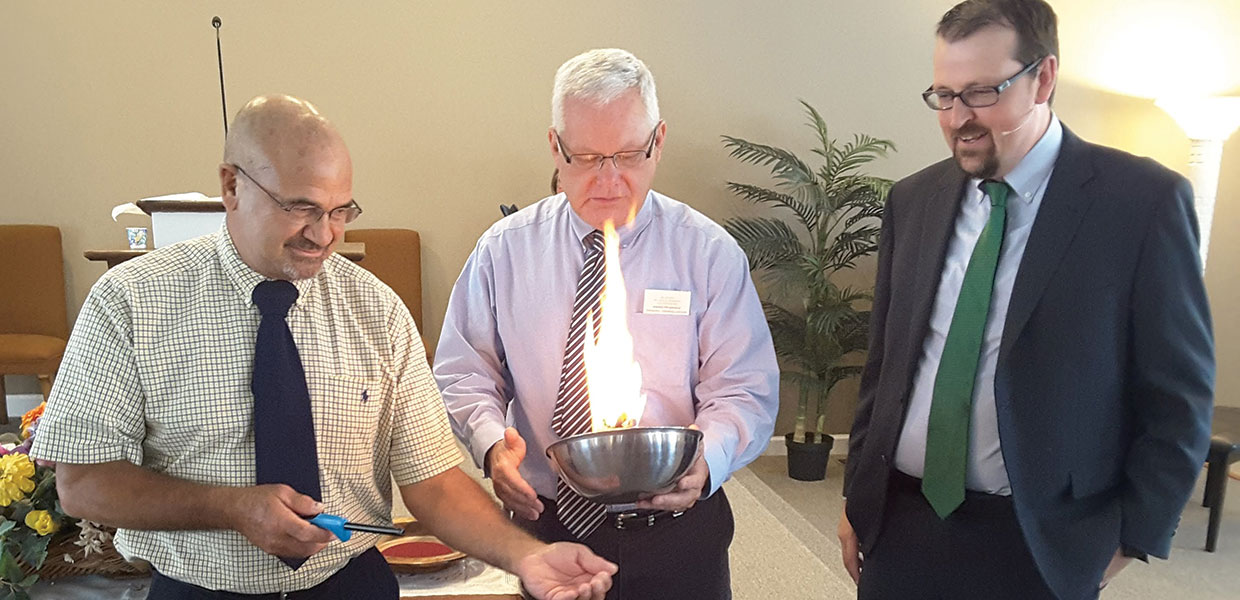 Aaron McNulty (right), Kentucky-Tennessee Conference vice president for finance, stands with Mitchell Barfield (left) and Greg Kneedler, Lighthouse members.

The Lighthouse Company in Lafayette, Tenn., celebrated the completion of its sanctuary addition with a ceremonial mortgage burning on Sabbath, August 17, 2019.
The members started framing the building themselves, until illness prevented some from working. They then borrowed $80,000 to complete the project, and paid off the loan in 2 1/2 years. A $23,000 bequest from the estate of Ivan Peacock, one of the founding members, completed the loan payment.
Wanting to expand Adventist work into neighboring Macon County, Highland Church members started work there in 1998. Early supporters were Chuck and Patti Woods, Don and Heather Philpott, Ivan and Martha Peacock, and Carolyn Howden.
The conference room in a local motel served as the first meeting place. During October and November of 2001, David Hartman, pastor of the Highland Church, and Chuck Woods, lay pastor, held evangelistic meetings in Lafayette.
They purchased a 5.3-acre lot for a permanent structure three miles from the town square in January of 2003, and met for the first time in a building of their own on April 3, 2004.
Their latest addition includes a sanctuary, mother's room, and Sabbath School room.
Lighthouse Company currently has a membership of 32.
Kentucky-Tennessee | November 2019