BY LIANNE McCONNELL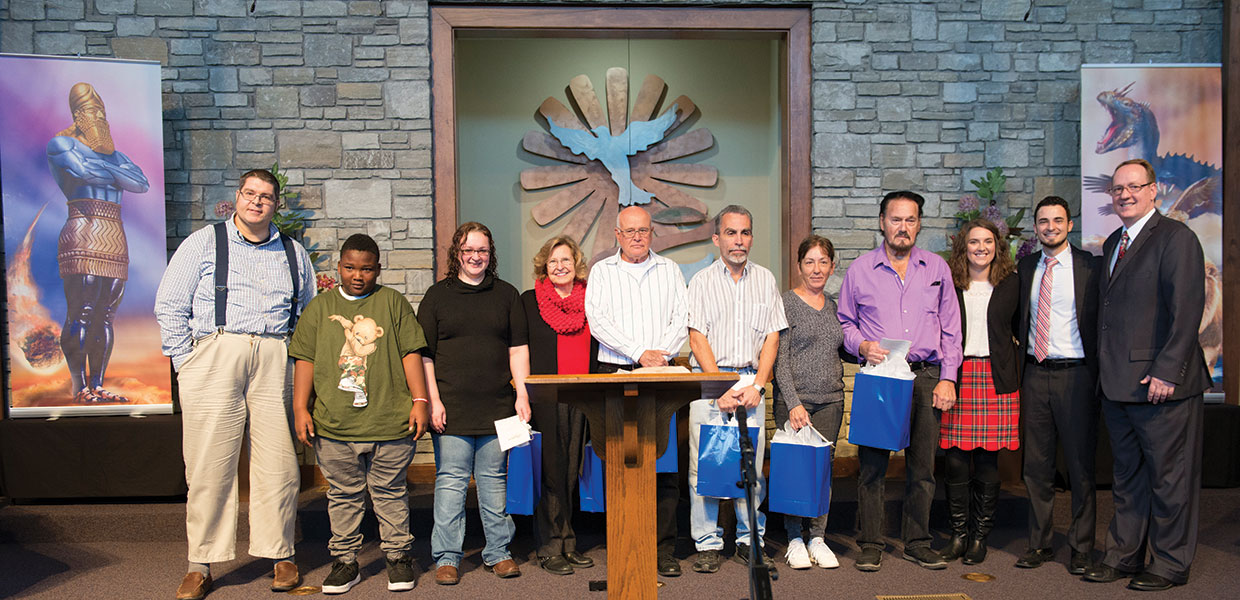 New church members: Nathaniel Vaughn (left); Lamontez Harris; Patricia Moran; Patsy and G.W. Keown; John Jackey; and Denise and Glenn Ray; with Anna and Dakota Day, evangelist; and Stewart Lozensky, pastor.
For everything there is a season and a time to every purpose under the heaven," Ecclesiastes 3:1. Louisville, Ky., First Church has been on a journey of growth for more than three years. "At one time there were some with the opinion that we were a dying church," says one church member. "We were not meeting budget, our facility was in need of repair and better care … things had to change." To make that happen, a vision-casting meeting was held in 2015, and plans were made with much time spent in prayer.
Fundraising efforts for refurbishing the church in phases began. First, the sanctuary and hallways were painted, moving next to new carpeting, new pews, and new decorations. The fellowship hall flooring was also redone, and upgrades to the audio-visual capabilities were implemented. Services are now live-streamed for those who are unable to attend church.
Stewart Lozensky, pastor, encouraged all members to discover their spiritual gifts and find a place to be involved. Church family groups were formed, headed by the elders. God's hand can be seen in these actions through growing attendance, increased giving, and more local members.
Four different evangelistic campaigns have been held during the last three years by Kieth Noll, Kentucky-Tennessee Conference ministerial director; Louisville First Church members; Ezequiel Leyva, Bible worker; and most recently Amazing Facts evangelist Dakota Day. Several Bible workers helped follow up on Bible study interests. Before each series members took part in 40 days of fasting and prayer, signing up on a calendar so that each day was covered. Dozens of new church family members were baptized or joined by profession of faith as a result.
Louisville First Church is a vibrant, diverse group of people from across the age spectrum, all walks of life, and many countries of origin. It continues to grow, adding new ministries, and reaching out to the community to share the love of Jesus. God has blessed His people with an incredible opportunity to spread His Word and minister in ways that are changing lives every day.
Kentucky-Tennessee | March 2019