BY TALEAH VALLES-PETERS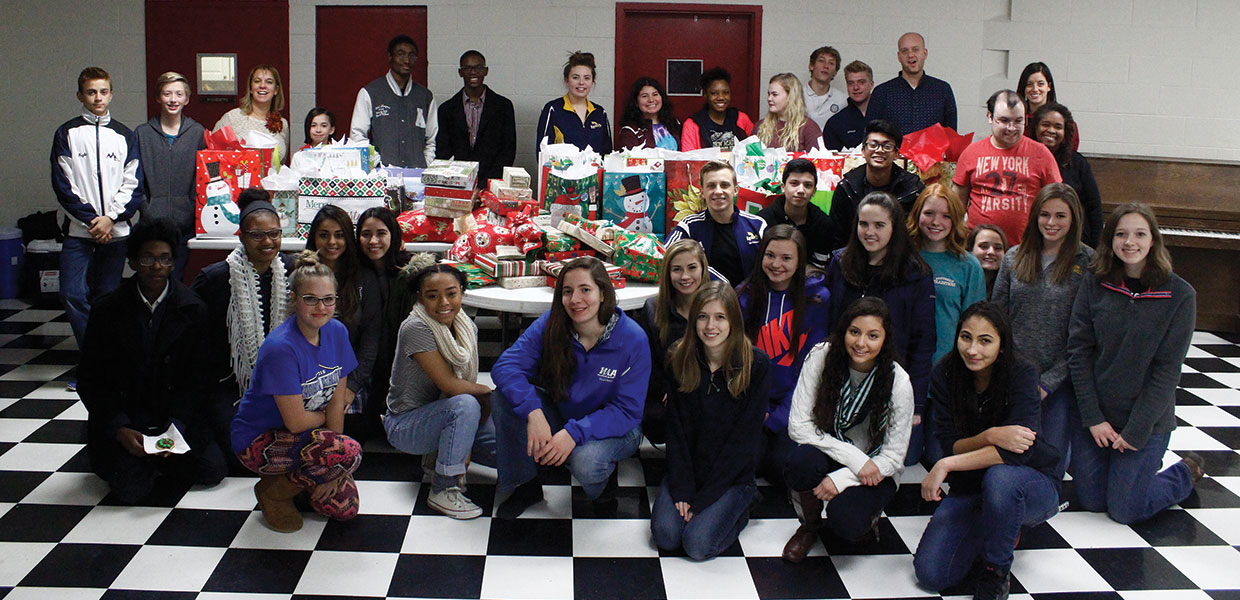 Madison Academy students and staff prepared gifts for the banquet.
For the third consecutive year, the Madison Academy (MA) Acros team worked with Nashville Rescue Mission, a homeless shelter in downtown Nashville, Tenn., to host more than 60 women and children for a special Christmas banquet.
On Sunday, December 11, 2016, the MA buses went to the Mission to pick up the women and children for the festivities. The program consisted of a skit by the drama team, a worship thought, and an Acros performance featuring MA alumni and acclaimed juggler Thomas Erickson.
Raphan Ley, MA Acros coach, led out in worship, retelling the parable of the great banquet. He paralleled the moral of the story with the event: In order to receive the delicious dinner, entertaining show, and thoughtful gifts, all you had to do was get on the bus. The same is true with God's love; in order to receive it, you just need to accept it, no strings attached.
The Acros team delivered a great show with numerous twists, flips, and tumbles that captivated the crowd. One woman shared with the Acros co-captain, Symone Stewart, that she had always wanted to be a gymnast, and watching Stewart's performance allowed her to live her dream vicariously.
The banquet was a success. It allowed these families a wonderful Christmas experience, and the opportunity to forget about their current circumstances. One woman shared with Ley, "I have two kids and am trying to kick a heroin addiction. They aren't with me right now because I know that I can't give them the best environment. It's going to be tough to overcome this addiction, but this program gave me hope that I will be able to have a happy, 'normal' life again."
Kentucky-Tennessee | March 2017