BY CARISSA JORDAN, GISSELA KROLL, AND HAMLET CANOSA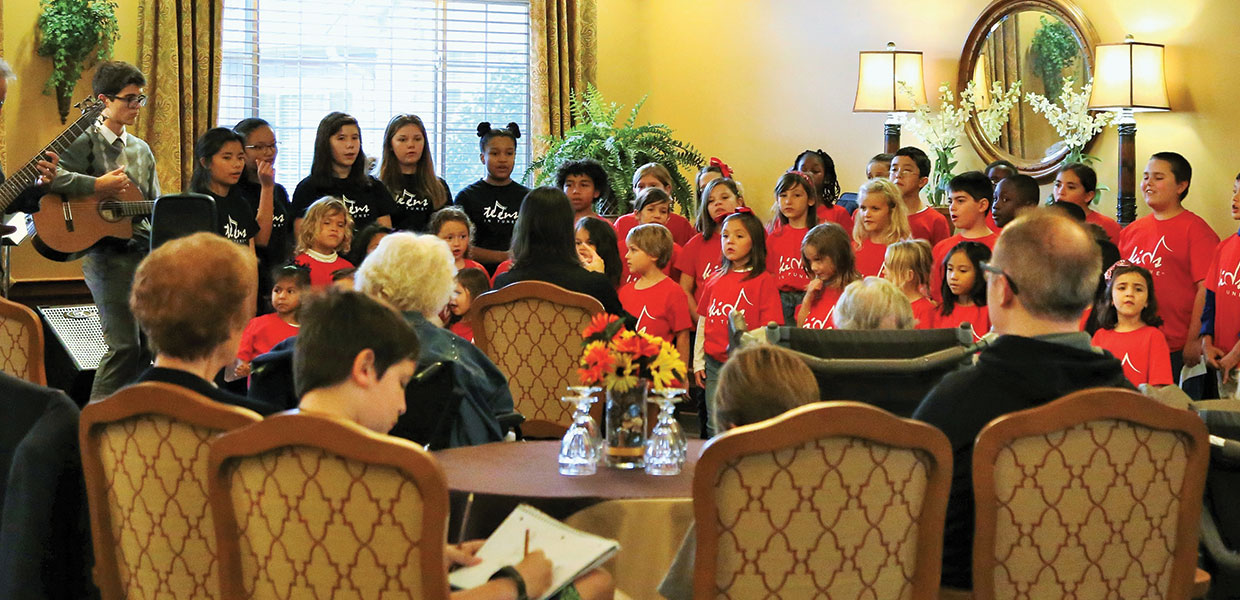 Kids in Tune sing to the residents at the LifeCare Center.
Trina Frasier (front), Greycen Frasier, Samantha Roddy, Rachel Denman, and residents of the LifeCare Center
Kids in Tune (KIT) visited the senior citizens at the LifeCare Center in Old Hickory, Tenn., on Sabbath afternoon, November 18, 2017. The kids' choir from Madison Campus Church (MCC) performed a variety of songs, including Thanksgiving and Christmas songs, and shared poems and Scripture.
For two weeks, the Sabbath School divisions at MCC made more than 100 colorful cards to share with the LifeCare Center residents. The handmade cards' loving expressions from the hearts of the children gave the young KIT choir members the opportunity to bring joy to the seniors, and also allowed them to share the love of Jesus. After a musical performance, KIT shared the cards, hugs, smiles, and ice cream. The Teens in Tune also visited the rooms of those who could not join the choir for the performance. The experience was a wonderful success.
Visiting the nursing home has become a yearly tradition for KIT, and such activities embody its mission to instill in children a passion for Jesus, music, and service. The residents loved watching and listening to the children sing, and they look forward to their visit each year. They cherished their cards and the chance to visit with the little ones.
May God continue to provide KIT with the opportunity to serve Him in this way. It's a blessing to the residents at LifeCare Center, and a greater blessing to the children. Through these types of experiences, the children learn to bring to life the two great commandments — to love Jesus and to love neighbors.
Kentucky-Tennessee | February 2018