BY JAMES CULPEPPER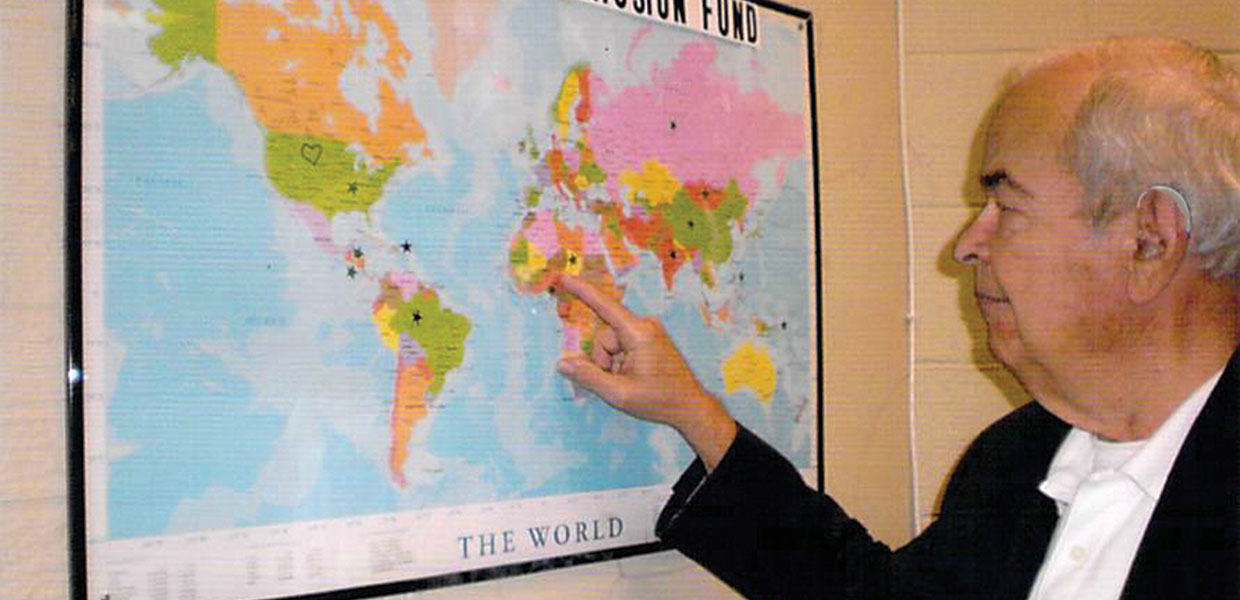 Andrew Boskind, M.D., points to one overseas missions location. Other locations are indicated by stars.
More than 15 years ago, a Sabbath School class led by Andrew Boskind, M.D., was held in the balcony of the Madison Campus Church (MCC) in Madison, Tenn. One Sabbath, Boskind suggested that the class consider establishing an overseas mission fund. The class agreed and the Balcony Overseas Mission Fund was started.
Since then it is estimated that more than $300,000 has been raised to fund overseas projects. Projects include support for local ministers/lay workers, drilling wells, an ultrasound machine, a portable sawmill, eye surgery for cataracts, medical ministry, assisting to build churches and schools, and more.
One project is to mail a box of medication to the Solomon Islands each month containing 3,000 tablets which are used to treat and cure body fungus caused by poor health habits. Those receiving the medication are taught good health habits to prevent recurrence. The health ministry has been invited to many villages where previously they were not welcome. In November 2016 the 57th box of medication was mailed to the Solomon Islands. One in ten Solomon Islanders is a Seventh-day Adventist.
Boskind coordinates the Balcony Overseas Mission Fund and the selection of projects for the class to consider funding each year. Class members and friends of the class find it rewarding to be involved in the worldwide work of the Adventist Church through these projects. The projects for 2017 are the Solomon Islands medication project, medical ministry, and Eyes for India. If you would like more information on this mission opportunity, write MCC, Attn: Balcony Overseas Mission, 607-B Larkin Springs Rd, Madison, TN 37115.
Kentucky-Tennessee | February 2017