BY Tiffney Gipson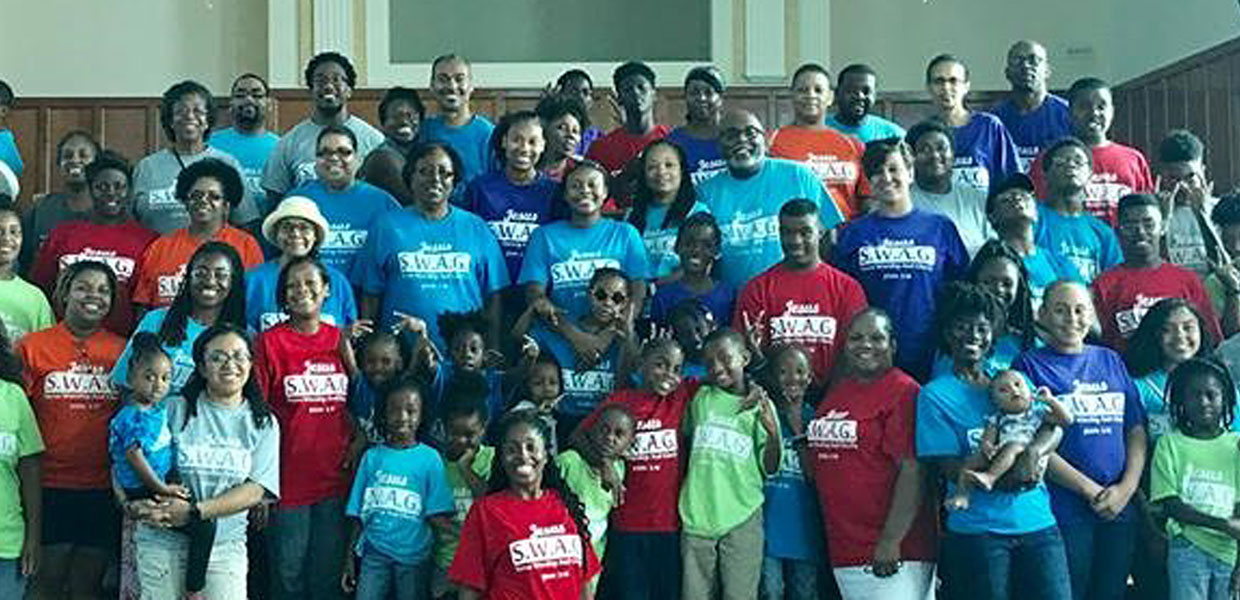 The members were invited to participate in one of 10 community service activities during the summer. They proudly wear their "Jesus SWAG" (Serve, Worship, and Glorify) T-shirts, a design chosen by the youth of Magazine Street Church.
During any given summer, you can find the members of the Magazine Street Church, Louisville, Ky., hosting at least two activities, Vacation Bible School (VBS) in mid-July and an annual Community Fest in mid-August. However, for the summer of 2017, the members decided to try something different. With the full support of their pastor, Kennedy C. Luckett, and the congregation, the Adventist Youth Ministries (AYM) Department partnered with the youth ministers to dedicate the summer season to service — not just directed toward the young people of the church, but also for the youth and families in the surrounding community.
To kick off the summer of service, AYM hosted their first ever outdoor movie night on July 15, 2017, watching The Prince of Egypt in the parking lot. For VBS, the youth and adults went to several different street corners promoting free snow cones for VBS. Every person who registered that day received a free snow cone provided by a local food truck. This event carried right into VBS, July 17-21. The members hosted a "Back-to-School Extravaganza" on July 29 and 30. This event was put on by the AYM Department, youth ministers, and the young people.
Magazine participated in several service events during the summer. There was free hair braiding, led by Judith Bentley; free haircuts, led by Fred Parker; a clothing/toy drive, led by Kadia Turner; nursing home visits, led by Dawn Parker; feeding the homeless, led by Helene Rowan; neighborhood cleanup and bus stop blessings, led by Jermaine Bentley, elder; wellness checks, led by Zaria Murrell; and pop-up prayer stations, led by William Robinson, elder.
Guests attended the career fair which consisted of 25 local professionals, some of which were members of the church, while others were guests from the community. There was also a free book giveaway sponsored by the Louisville Metro Police Department. By the end of the day, attendance had reached nearly 175 people. At the school supply station, 70 backpacks and 45 bags of school supplies were given out to community members.
South Central | January 2018