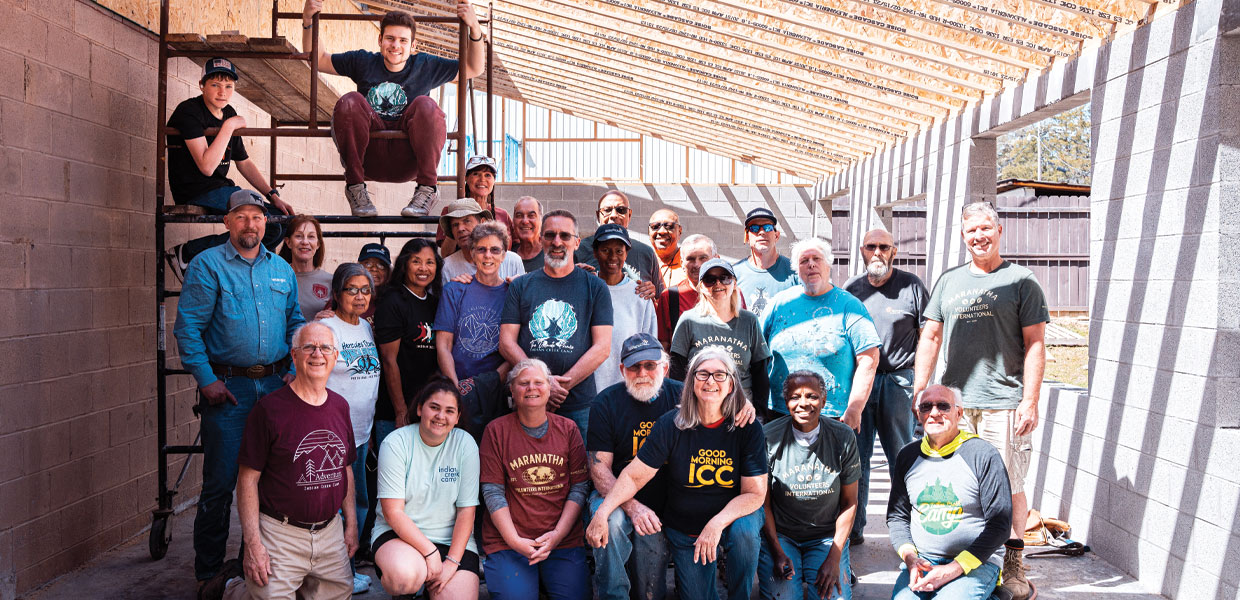 Maranatha volunteers pose by the construction of the new art and ceramic center at Indian Creek Camp.
Paola Mora Zepeda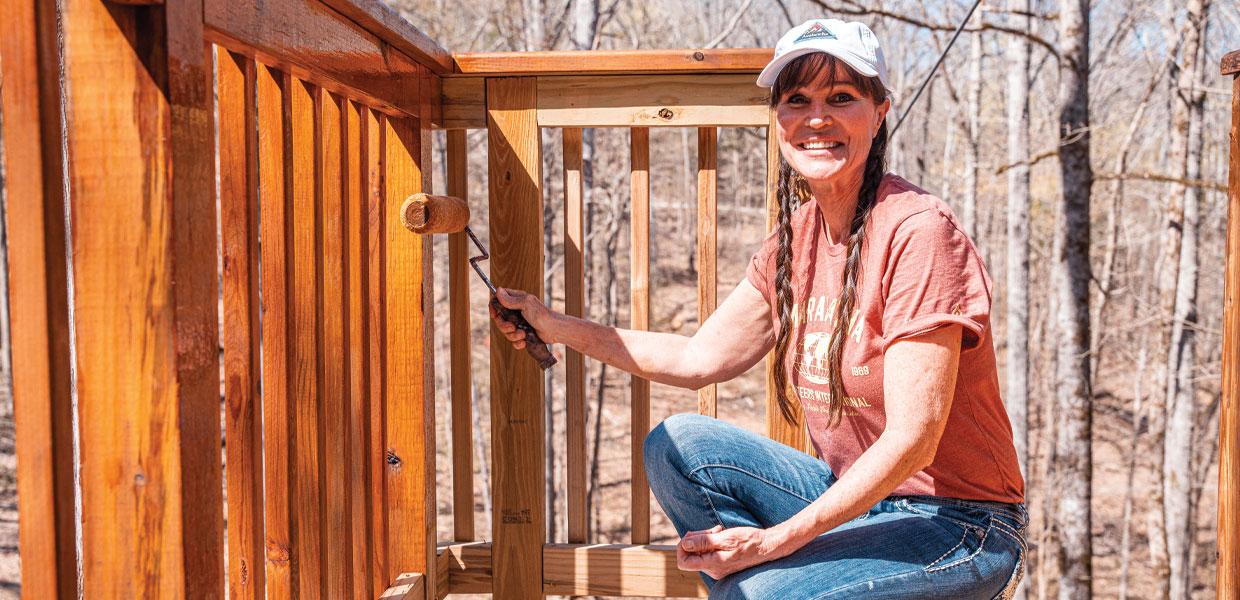 Maranatha volunteer smiles as she paints the new zip-line landing dock at Indian Creek Camp.
Paola Mora Zepeda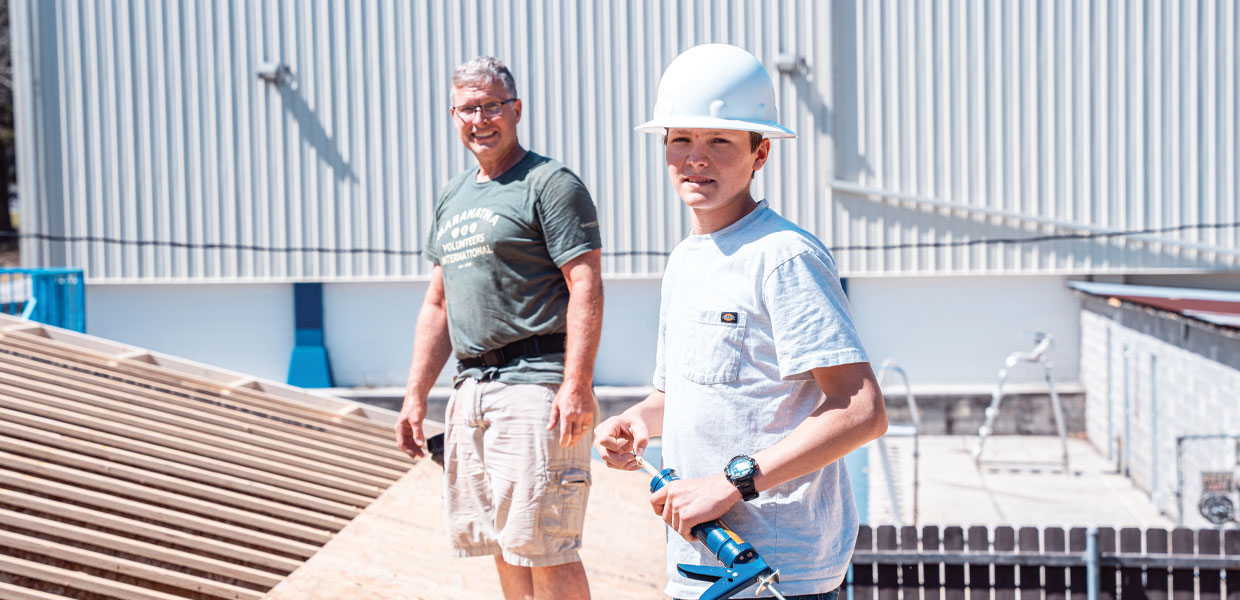 Volunteers at Indian Creek Camp ranged from all ages, and this duo was assigned to work on the roof of the new art and ceramic center.
Paola Mora Zepeda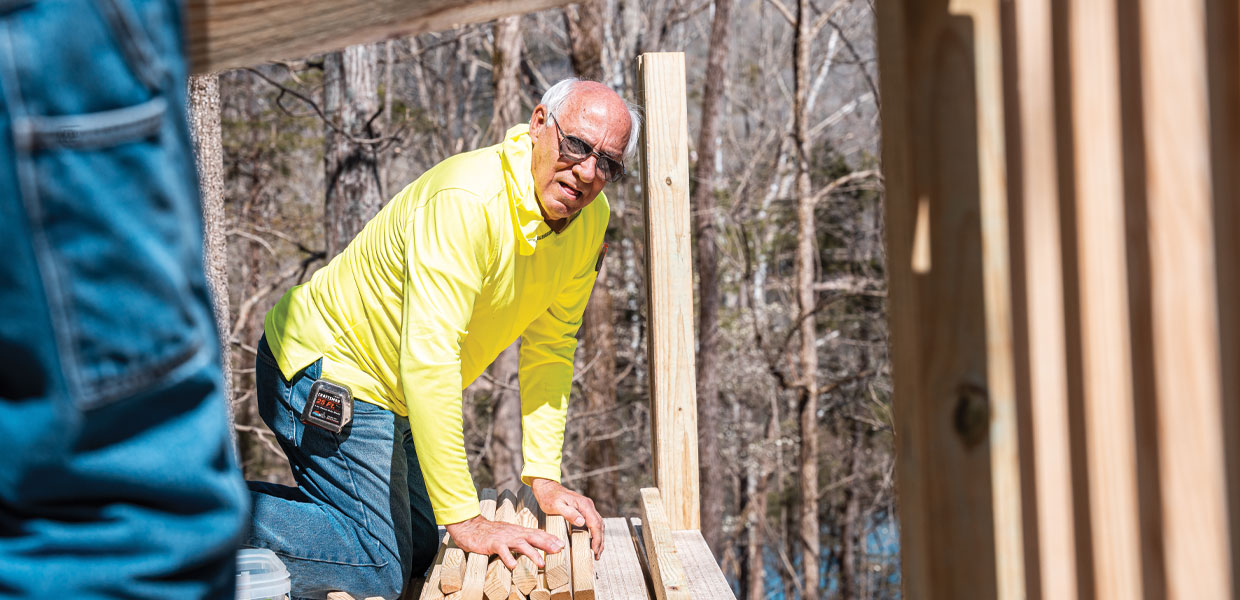 Volunteers work on the camp director's home deck, which had old wooden pillars that were rotting away.
Paola Mora Zepeda
Maranatha Completes Indian Creek Camp Improvement Projects
More than 80 Maranatha volunteers arrived at Indian Creek Camp (ICC) from March 15 to 29, 2023, to help the staff complete a variety of improvement and maintenance projects, including a remodeled science center, a new art and ceramic room, and a repaired director's deck.
Ben Copley, ICC camp ranger, connected with David Woods, Maranatha's director of North America Projects, at a Southern Union Adventist Camp Ministries (ACM) meeting in December 2022. After assessing the work and finding a leader, Maranatha opened the project to volunteers.
"It was just incredible," Copley said. "We had looked at two dates, one in spring and one in fall, because we weren't sure if we would get the volunteers. But right away, about 80 people signed up."
According to project coordinator Ernie Riles, while there was a lot of construction work to do, the group also completed painting and electrical jobs, and helped in repairing the side roads and some rooflines. In addition to the Maranatha volunteers, 20 Pathfinders from the Georgia-Cumberland Conference also came to help during the first week.
Tim Parkening, one of the volunteers, found out about the project through a friend. He says it was an answered prayer.
"For a long time, I had been looking for a mission to go on," said Parkening, who is not a Seventh-day Adventist. "It just seemed like God was guiding me [to Maranatha and ICC]. I've had such a great experience and met so may wonderful people — I guess that's what happens when you follow God's will."
ICC kicks off its summer program on June 3, 2023, with staff training, and on June 11, with the arrival of the junior campers. Throughout the eight weeks of summer camp, ICC staff expect to welcome at least 1,300 campers, who will enjoy the work completed by Maranatha.
"There is just as much need [for help] here in America as there is overseas," said Jeanice Riles, project manager. "To me, coming to this camp and investing my time is worth it when I think of this place as a spiritual haven for children to come and find Jesus."
PAOLA MORA ZEPEDA
Kentucky-Tennessee | June 2023