BY rosemary graham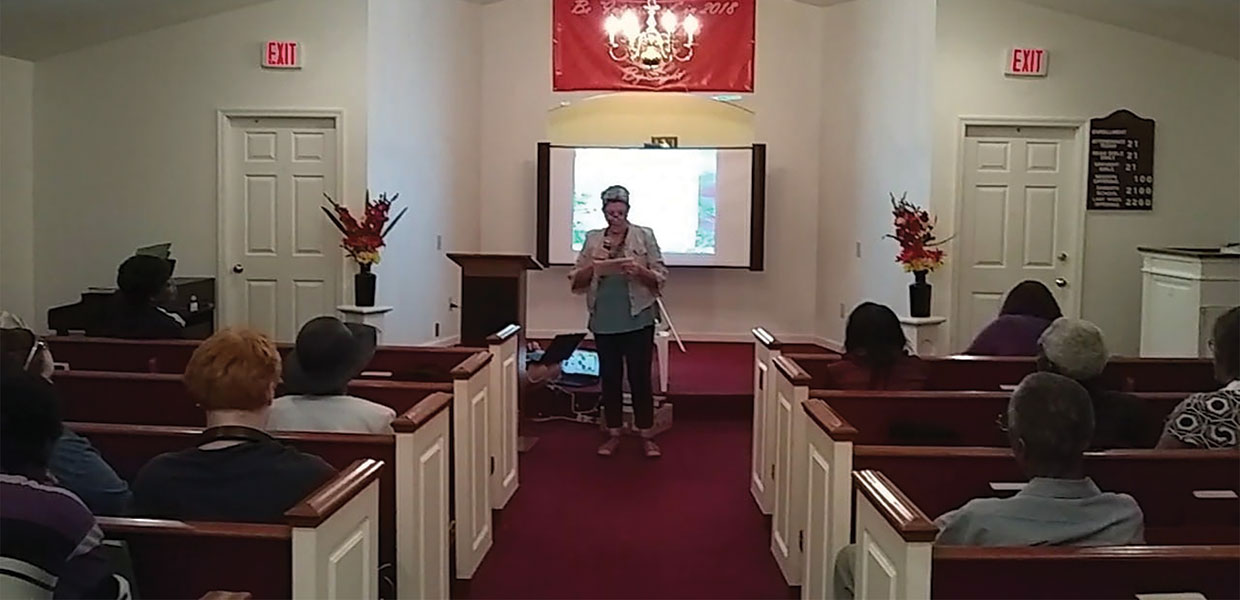 Jean Lambert, guest presenter, during the mental health symposium.
Members of the McClellanville, S.C., Church, area clergy alliance, community members, and representatives from mental health agencies gathered on Sabbath, August 11, 2018, for their first mental health symposium — "Erasing Mental Health in the Church." The church is quaint and has a small membership with only 10 rows of seats (five on each side), but that Sabbath it was almost full.
Special guests included Jean Lambert, community resource director for Mental Health America, Columbia, S.C. Lambert brought 11 guests with developmental disabilities who live independently and work jobs. Other guests included Eric Hansen, president of National Alliance for Mental Illness, Charleston, S.C.; Kelly Troyer, facilitator for Ending the Silence, National Alliance for Mental Illness, Charleston; Cheryl Simmons, staff chaplain at AnMed Health Hospital, Anderson, S.C.; Brian Anderson, addiction recovery and peer support specialist, Atlanta, Ga., and Stassi Anderson, Ph.D., poet and autoethnographic researcher, Atlanta, Ga.
The day was filled with personal testimonies and presentations on aging and depression, understanding children and youth with mental illness, how to cope and address grief and depression, and overcoming addictions. Rosemary Graham, South Atlantic Conference (SAC) disabilities ministries director, gave the keynote sermonette. Jean Lambert and Eric Hansen spoke of the programs and services their agencies provide to the community.
The pastor's wife, Sheryl Cousins, and the members provided a tasty lunch. One man commented, "I have been in this church 52 years, and this is the first time ever I've seen a full program that addresses mental health issues. Please keep bringing the awareness to our churches."
The South Atlantic Conference is active in promoting mental health awareness to its pastors, church leaders, and members in the local church and conference events. Those interested in developing a mental health ministry for their church should contact the SAC Disabilities Ministries Department.
South Atlantic | October 2018