Kalie Kelch, Georgia-Cumberland Academy Assistant Chaplain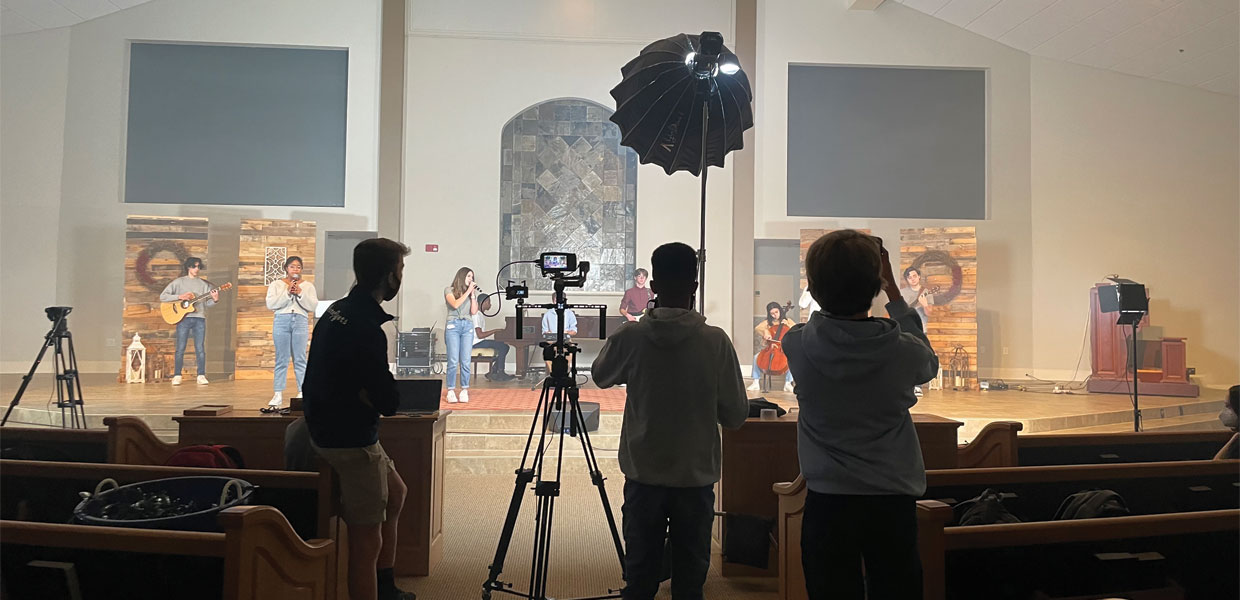 GCA media production students record one of Magnify Worship's latest songs. The media production class records and edits the audio and video for the songs that students hope will reach anyone, but especially other youth who need a message of hope.
Media Production Class Assists GCA's "Magnify Worship"
It's been a year since Georgia-Cumberland Academy's Magnify Worship program launched into the world of music and video production, and this year the ministry has expanded its student involvement to include the media production class.
"These students have grown up with cell phones and the ability to make videos on their phones, but there is a whole other level involved in professional video production," said Randy Kelch, director of IT and media production teacher. "Working with Magnify Worship gives us hands-on lab experience and involves students in the media ministry that the worship program has embarked on."
Students are often surprised about the amount of work that goes into video production, but it's also a lot of fun. "The hardest part of the video shoot was looking at the same multiple days in a row," said Raiden Scott, a senior whose band recorded the song "Death Was Arrested." "But, in the end it was really rewarding. As a band we all had to be vulnerable singing on camera, but we were in it together and the candid shots in the video really show that we had fun doing it. The whole process really bonded us as a band."
In addition to training students in video production, students who work in the recording studio are gaining experience in the area of audio engineering, recording each of the 10-11 band members.
"We tell our students all the time that God has blessed us with a unique ministry opportunity and it's not about us and all about Him," said Mark Torsney, co-director of Magnify Worship. "It's our mission to share God's love through music and videos to impact this generation."
In one year, Magnify Worship's music has been played or watched more than 22,000 times. "We're thrilled to be reaching so many people, but like Jabez, we're praying that God would continue to expand our territory and reach across all generations, but especially our youth who need a message of hope and an example of their peers involved in ministry," said Torsney.
Raiden said the youth group at her grandmother's church in Florida plays Magnify's videos for Sabbath School. "Music can often reach teens better than a sermon. The lyrics we sing are powerful and straight from the Bible. I hope other teens can see how passionate we are about what we're doing."
Magnify Worship's music can be found on the major social media and streaming platforms, including YouTube, Instagram, Facebook, Apple Music, and Spotify, among others.
Georgia-Cumberland | February 2022