BY Tamara Wolcott Fisher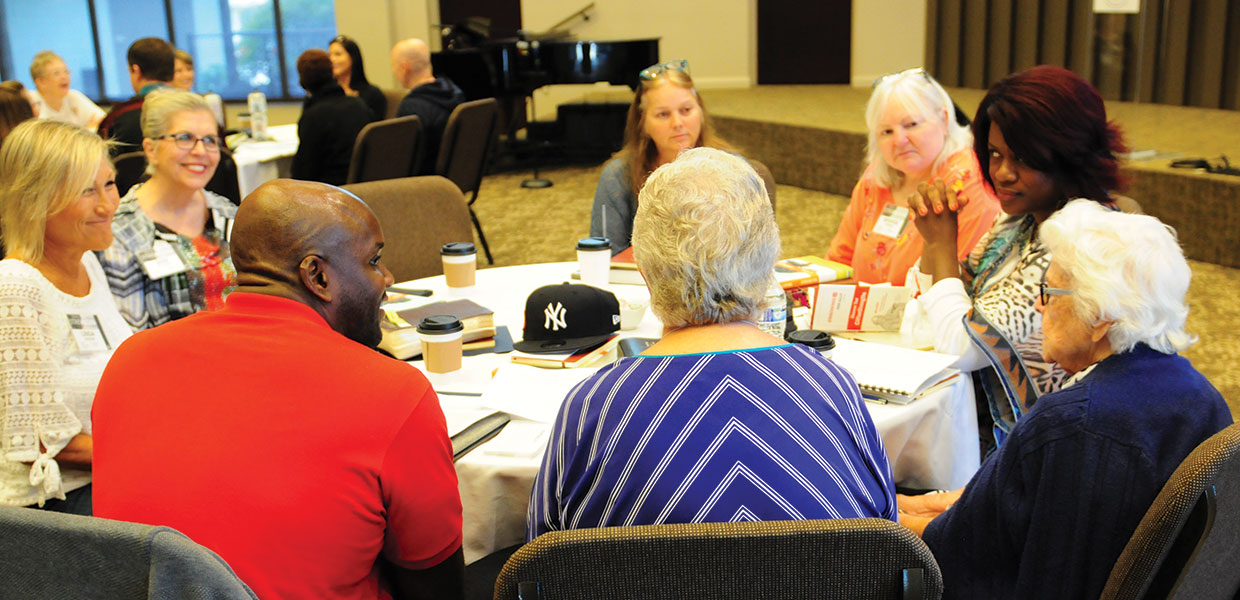 About 50 people attended the first "Living Your Strengths" Leadership Training Conference at Cohutta Springs Conference Center, Crandall, Ga., in August.
Tamara Wolcott Fisher
God tells us in Psalm 139 that we are fearfully and wonderfully made. To help individuals discover their God-given talents, Jo Dubs, women's and family life ministries director, offered a "Living Your Strengths" Leadership Training Conference, August 23-25, 2019, at Cohutta Springs Conference Center, Crandall, Ga.
Before the weekend, each participant purchased the book Living Your Strengths: Discover Your God-given Talents and Inspire Your Community by Albert L. Winseman, Donald O. Clifton, and Curt Liesveld. Each book includes a code to the online Clifton StrengthsFinder assessment where participants learned their top five strengths as described in the book.
Misty Brennan, a member of the Collegedale Community Church in Tennessee, said she was prompted by her pastor to attend to develop their volunteers. "Get the book! Take the test! Look for training opportunities in your area," encouraged Brennan of the strengths training. "The time to spend on yourself, better understanding your God-given capabilities, is so liberating and important!"
"The weekend provided a learning structure through "TED"-type talks, small group discussions, journaling, and large group activities. I was amazed at how well everyone grasped the learning, how they felt empowered in understanding themselves and others more clearly, and their desire to have further training," said Dubs.
"The results were so accurate, and described me very well," said Daniel Medina, member of the East Ridge, Tenn., Church, of this top five strengths. "It was wonderful to focus on the areas where we shine."
Tennessee's Spring City church member Ginger Petersen was excited to learn her strengths. She said the training would benefit her relationship with her husband and a future career change. "It has helped me better understand what church offices I would be better at, and what offices I feel more like I have valid reason to say no to because I'm really not the best fit."
"Two of my strengths are context and communication. I think because of this it was fascinating for me to learn and better understand the strengths of my family and coworkers," says Paulette Greene, a member of the Calhoun, Ga., Church.
"I was surprised at the transparency and vulnerability that I experienced by all who attended this conference," shared Stephania Guthrie, a member of the Alpharetta, Ga., Church. "It completely changed my perspective, and allowed me to view my strengths as just that, strengths and not weaknesses. This is who God designed me to be."
Georgia-Cumberland | November 2019