BY shane hochstetler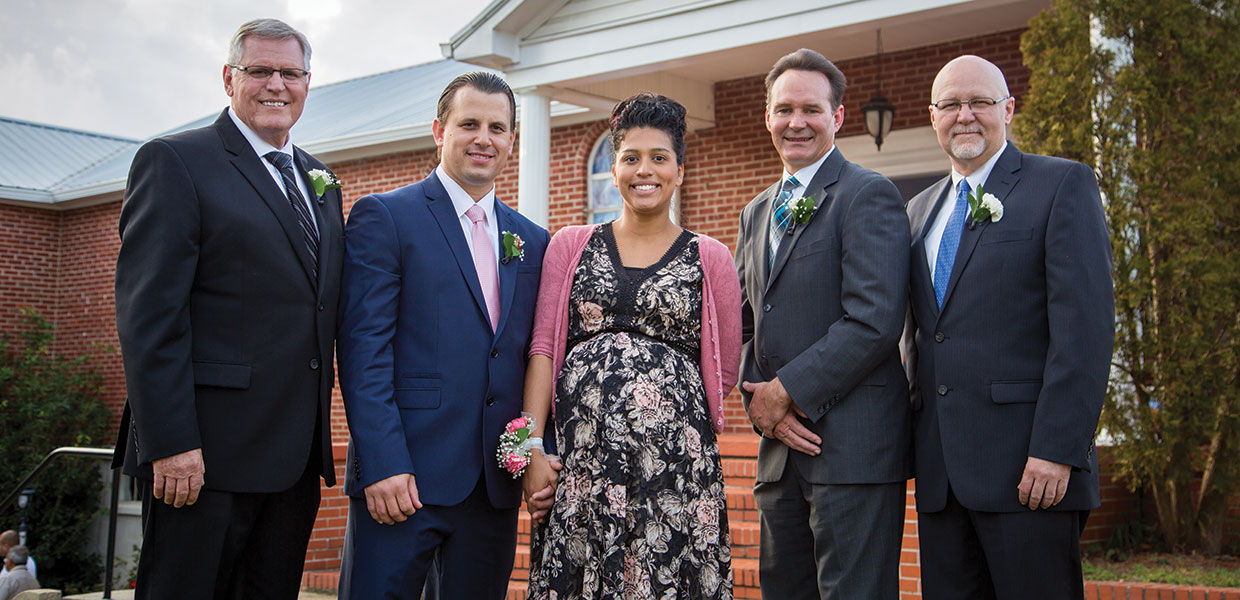 Dave Livermore (left), president of Gulf States; Michel Rodriguez; Elizabeth Rodriguez; Brian Danese, vice president of pastor and church development; Stan Hobbs, vice president of education
Shane Hochstetler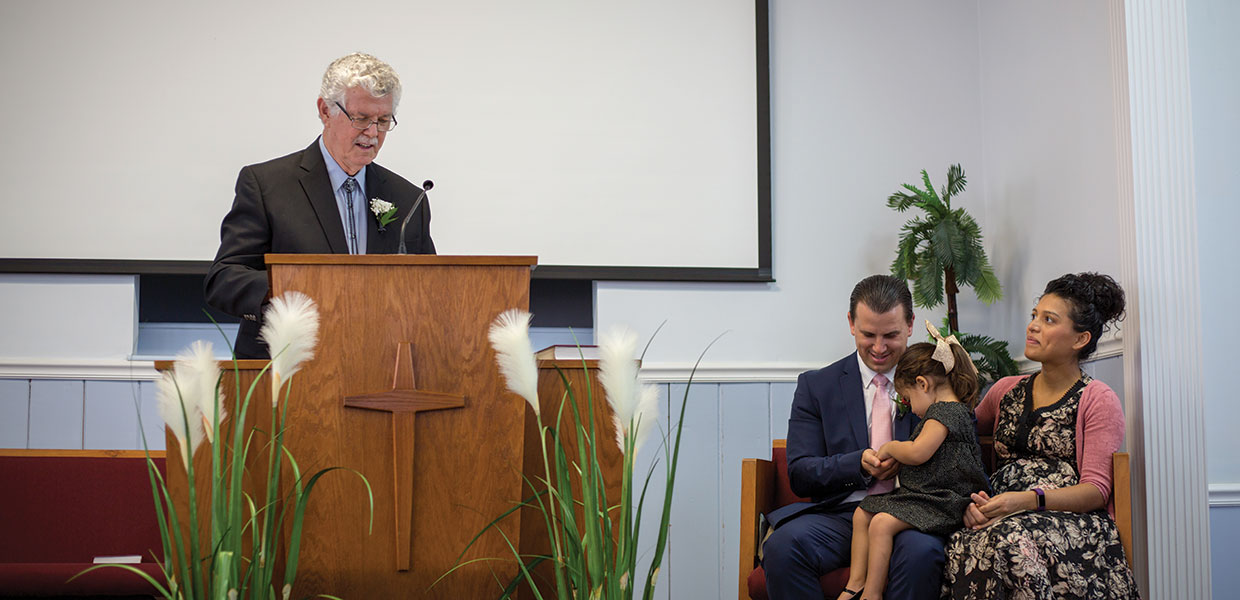 Karl Doerner, retired pastor, presents the ordination message to the Rodriguez family.
Shane Hochstetler
Michel Rodriguez was ordained to the Gospel ministry on February 17, 2018, during an afternoon service at the Clanton, Ala., Church. Rodriguez was born in a little city in San Antonio de Los Banos, Havana, Cuba, in 1984. He was raised in a Seventh-day Adventist home by his parents, Marta and Miguel Rodriguez. In 2006 Rodriguez came to the United States in a homemade raft with 15 other people; it took them 27 hours to travel from Cuba to Florida. This gulf crossing wasn't his first attempt; two previous endeavors were halted by the police. But, he didn't give up. In 2008 God opened a door to attend Southwestern Adventist University (SWAU) in Keene, Tex. While at school, he sensed the call to dedicate his life to pastoral ministry and graduated in 2012 with a B.A. in theology.
In August 2012 he married his "friend, girlfriend, and love of his life," Elizabeth Rodriguez. He says his ministry would not be what it is without her. In 2015 another gift arrived from Heaven, a baby! Emma brings love and joy to the family, and even offered a song of praise near the conclusion of the ordination service.
Rodriguez has a passion for preaching about Christ; for him nothing is more important than the Gospel. He had a dream when he accepted the call to serve Christ — to baptize many people, and prepare them to see Jesus. God has made his dream come true. In the last six years, God has used him to bring more than 300 people to the feet of Jesus.
After his graduation from SWAU in 2012, he started his ministry at the Birmingham First Church as youth pastor. One year later, he was called to serve as a full-time minister in the Montgomery Hispanic and Clanton churches, a bilingual district.
Rodriguez's mentor and former senior pastor of the Birmingham First Church, Karl Doerner, presented the afternoon message. Acknowledgments were offered by both Brian Danese, vice president of pastoral and church development; and Benjamin Vargas, Hispanic coordinator. Rodriguez's ministry to both Spanish and English-speaking congregations required translation for the afternoon presenters from English to Spanish and Spanish to English, with Ruwie Vazquez-Juarez, executive assistant, providing live translation.
Gulf States | April 2018