BY MELLANIE HUNTER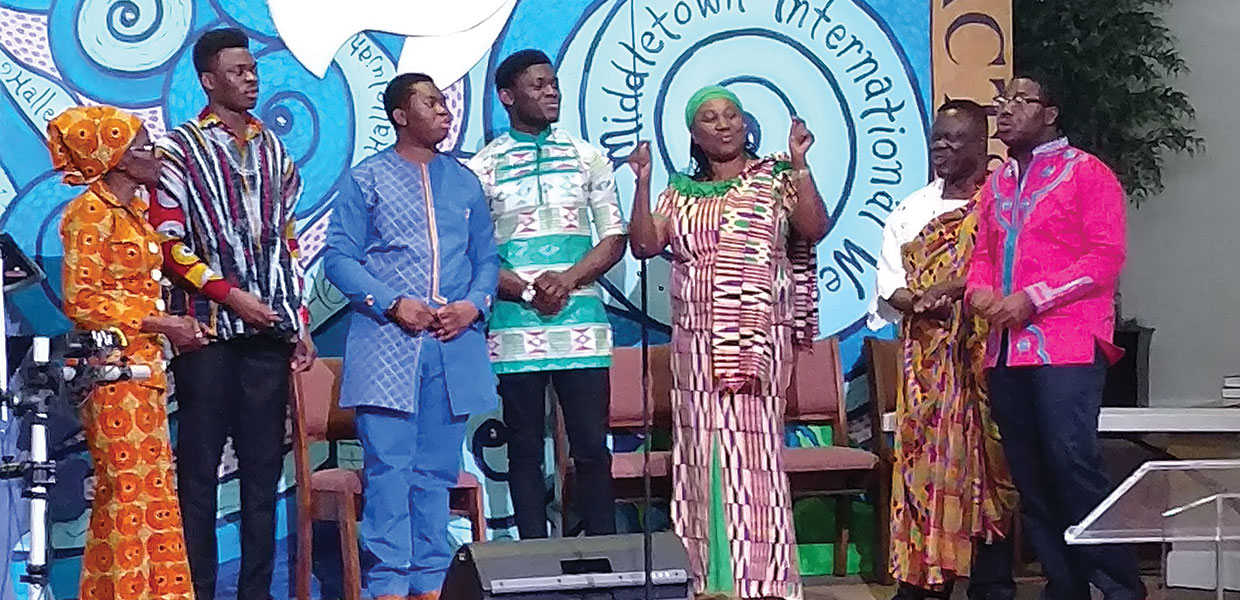 Ghana Ensemble render special music during the International Sabbath School.
Middletown Church in Louisville, Ky., is blessed to have more than 24 countries represented among its members and attendees. This cultural diversity inspired the first exciting two-day International Weekend in early March 2017, based on Acts 2:5-11, celebrating how the members' differences of background and experience make them stronger in Christ.
The international concert on Friday featured 11 songs sung in Romanian, Kpelle, Mizo, Portuguese, Spanish, Twi, German, English, and Malayalam. A delicious supper preceded the concert during which dozens of attendees socialized and got into the spirit of the event.
On Sabbath morning, women's ministries hosted an appetizing continental breakfast, followed by Sabbath School which featured a rousing song service, an energetically-dramatized mission story, special music, and an engaging panel lesson discussion on the Holy Spirit.
The grand Parade of Nations featured the processional of 24 colorful international flags, and the sounds of "Baba Yetu" and "The Lord's Prayer" in Swahili. The international worship team led the congregation in inspiring praise music, and Middletown Mass Choir sang two theme songs featuring lyrics in French, Spanish, Russian, Hebrew, English, and American Sign Language. The Middletown pastor, Marius Serban, opened his sermon, "Discipleship with Jesus — John," by speaking in Romanian.
The international potluck featured dozens of mouth-watering homemade dishes, including vegetable potstickers, samosas, tofu rice noodles, fried plantains, taco salad, mixed grains, enchiladas, sweet rice bread, tamales, picadillo, and channa saag.
International Weekend will become an annual fixture as Middletown builds on its diversity to draw the members closer together in Christian unity and love.
Kentucky-Tennessee | June 2017