BY Lisa Marie Esser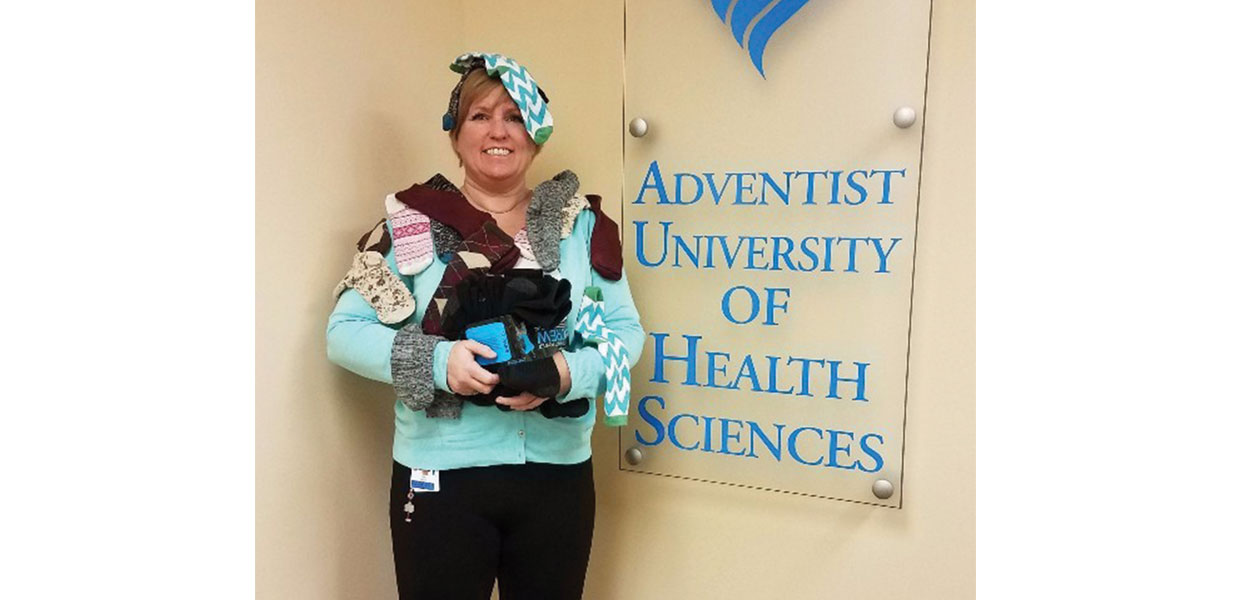 Heidi Pennock stands covered with socks donated to her project.
The service-learning experience built into Adventist University of Health Sciences' (ADU) curriculum is a key component to the educational values set by the University. In order to develop skilled professionals who live the healing values of Christ, ADU gives its students opportunities to practice their clinical skills and passion for serving through community engagement projects.
Although the direct reward for this experience may be a passing grade, the hope is to offer the students a chance to make a difference in the community and earn a sense of spiritual fulfillment. For one student at the ADU Denver, Co., location, this message struck a chord and launched an ambitious, humanitarian project.
Heidi Pennock, fourth-year BSN nursing student at ADU Denver, was required to complete community service as part of her community health class. She embraced the task, starting a remarkable project that addressed an urgent need in Denver's community. Pennock had attended a weekly meeting of local churches at Church in the City, co-sponsored by Christ's Body Ministries. Each week members gather with the goal of helping the homeless and underserved population of the Denver metro area. It was during a meeting that she became aware of the important issue of inadequate footcare for the people in this portion of the community.
With this realization, Pennock started a sock drive to collect new and gently used socks from the ADU Denver campus. Now, the homeless and underserved members of Denver's community are given a foot-washing service once a week at mealtimes for Christ's Body Ministries. After their feet are washed, fresh socks are provided in exchange for their dirty ones.
When asked about her project, Pennock talked about the bond of trust established by an act as humble and intimate as foot-washing. She says, "When someone allows you to take care of their feet, they are much more likely to open up and share details of their lives." Her devotion to this incredible project is a sincere act of altruism, motived by more than a passing grade.
Pennock described the positive response the project has received. She recently arrived to a weekly session to find eight people already lined up to have their feet washed and dressed in clean socks.
"The act of washing feet has been like a portal," Pennock says. Her project has made a meaningful impact on an impoverished portion of Denver's community. In addition, she is acting on ADU's mission to practice healthcare as a ministry. In the future, Pennock plans to work in community health using her nursing degree. The success of her sock drive has proven to be a strong start toward her goals.
Adventist University of Health Sciences | April 2017