BY Natasha McCoy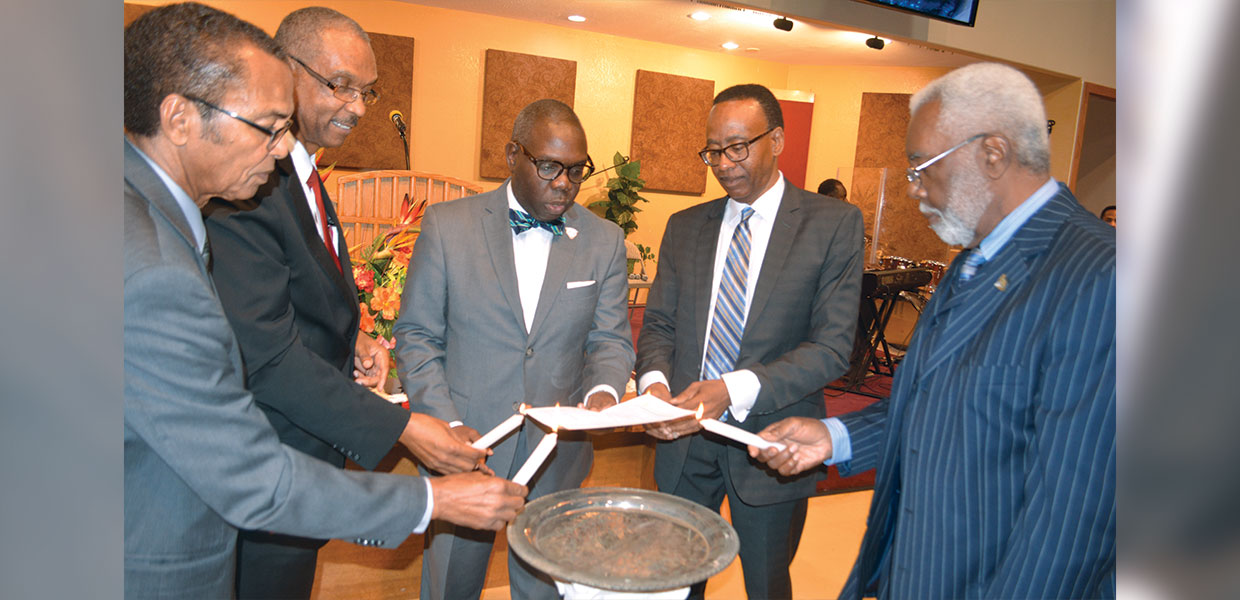 Participating in the mortgage-burning ceremony were Pierre Hunt (left), local elder; Lewis W. Edwards, D.Min., pastor; Robert Patterson Jr., CFO; Michael Clarke, head elder; and Shelman Alexander, local elder. Mount Zion Church testifies that there is nothing too hard for God.
Joanne Mayers
The mortgage-burning service on November 17, 2018, will forever be etched in the members' memories. They came together to accept the vision and challenge given to them after the arrival of their new pastor, Lewis W. Edwards, D.Min., in October 2012, to become debt free. They were happy to pay off their mortgage nine years ahead of schedule. On that day, the members of Mount Zion Church in Kissimmee, Fla., along with friends and other supporters, experienced what God desires for His people, deliverance from financial bondage (Proverbs 22:7).
The congregation was blessed to have Robert Patterson Jr., CFO of Southeastern Conference (SEC), to be their keynote speaker. His subject was "What Now?" He challenged the members and guests with the directions that all are to follow based on Micah 6:8; which are to do justly, love mercy, and to walk humbly with God.
Gregory Mack, SEC president, along with Conference administrators and the SEC Executive Committee in 2016, offered an incentive for the churches in the Conference to become debt free. The incentive initially included paying the churches mortgage balances of $15,000, and it was increased to $30,000, with the Conference providing that as the final payment.
It was 1960 when the work began in the Kissimmee area. In 1974 a decision was made to start the church, and it was organized in 1979 as the Kissimmee Church. In 1985 the name was changed to Mt. Zion Church. In 2000 the church and gymnasium were dedicated. However, in 2007 the church borrowed approximately $400,000 for other projects, which included buying adjoining property, fencing in its property, and making tremendous upgrades to its computer technology department.
This special mortgage burning service brought joy to the members young and old, and to their visitors and friends. They experienced seeing the prayer of Christ being answered, "That they all may be one; as Thou, Father, art in Me, and I in Thee, that they also may be one in us: that the world may believe that Thou hast sent Me," John 17:23. There is nothing too hard for God to do when His people unite and work together with Christ!
Mt. Zion members adopt the Mission Motto of "Sharing Hope and The Everlasting Gospel!"
Southeastern | March 2019