BY Southern Staff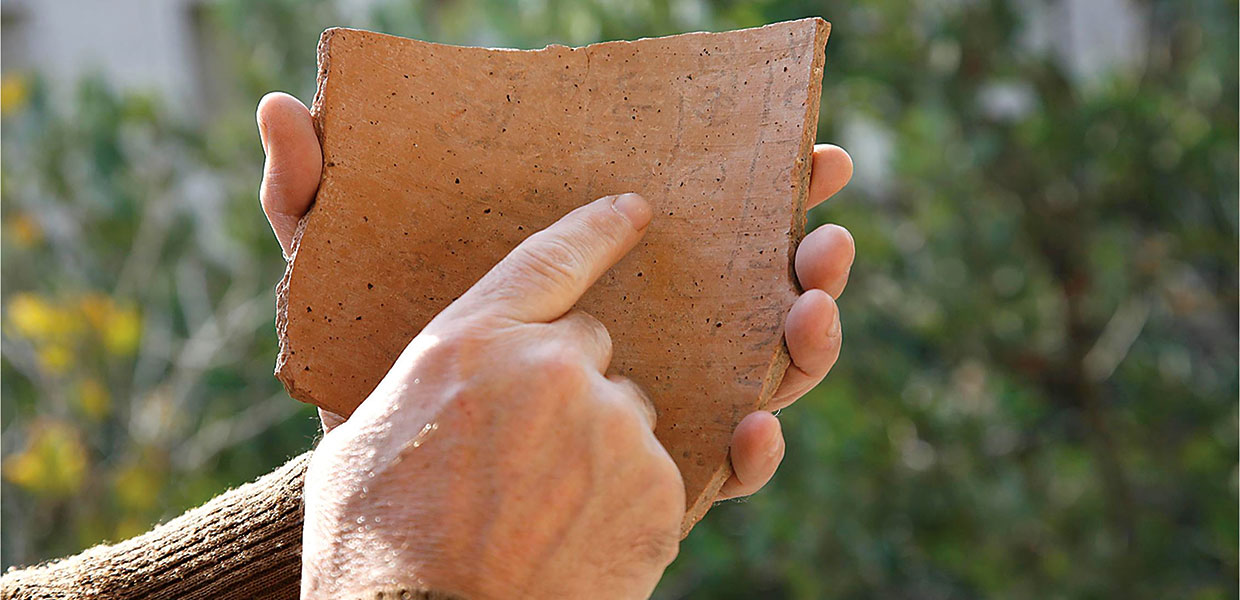 In 2008, Southern students discovered the Khirbet Qeiyafa Ostracon, the oldest known sample of Hebrew writing, which is now on display in the Museum of the Bible.
The findings of Southern Adventist University archaeology students and professors are on display at the new Museum of the Bible in Washington, D.C. The temporary exhibit, titled "In the Valley of David and Goliath," focuses on the groundbreaking contributions of the Khirbet Qeiyafa Archaeological Project, co-sponsored by the institutes of archaeology at Southern and the Hebrew University of Jerusalem.
From 2007 to 2013, many groups of Southern students had the opportunity to work on the site overlooking the Elah Valley, where the confrontation between David and Goliath took place. The ancient fortified garrison city, Khirbet Qeiyafa, is on the border between Judah and Philistia, southwest of Jerusalem.
"Based on the extensive data from the excavation project, we believe that Khirbet Qeiyafa may be ancient Shaaraim mentioned in 1 Samuel 17:52 within the context of that story," said Michael G. Hasel, Ph.D., director of Southern's Institute of Archaeology and a director of the project. "The site dates back to the time of Saul and David, and the two gates at the site match the biblical name of Shaaraim, which means 'two gates' in Hebrew."
During the course of the excavation, Southern students helped make discoveries that gained international attention, and are now featured in the Museum of the Bible. These include the oldest Hebrew inscription ever found, uncovered in 2008, as well as an inscription found in 2013 dating to the 10th century B.C., which mentions someone with the same name as one of Saul's sons.
"The significance of these inscriptions cannot be underestimated," Hasel said. "They show that literacy was well established by the early 10th century, the time of Judah's first kings. David could indeed have written the Psalms that are attributed to him."
The Museum of the Bible is located in the heart of Washington near Capitol Hill, the Smithsonian Institution, and the National Mall. The museum has six floors dedicated to different aspects of biblical history, and the development of the Bible.
According to Hasel, "It will be a landmark institution in the capital of the United States, where millions of visitors can benefit from its holdings."
Southern Adventist University | February 2018