BY john baker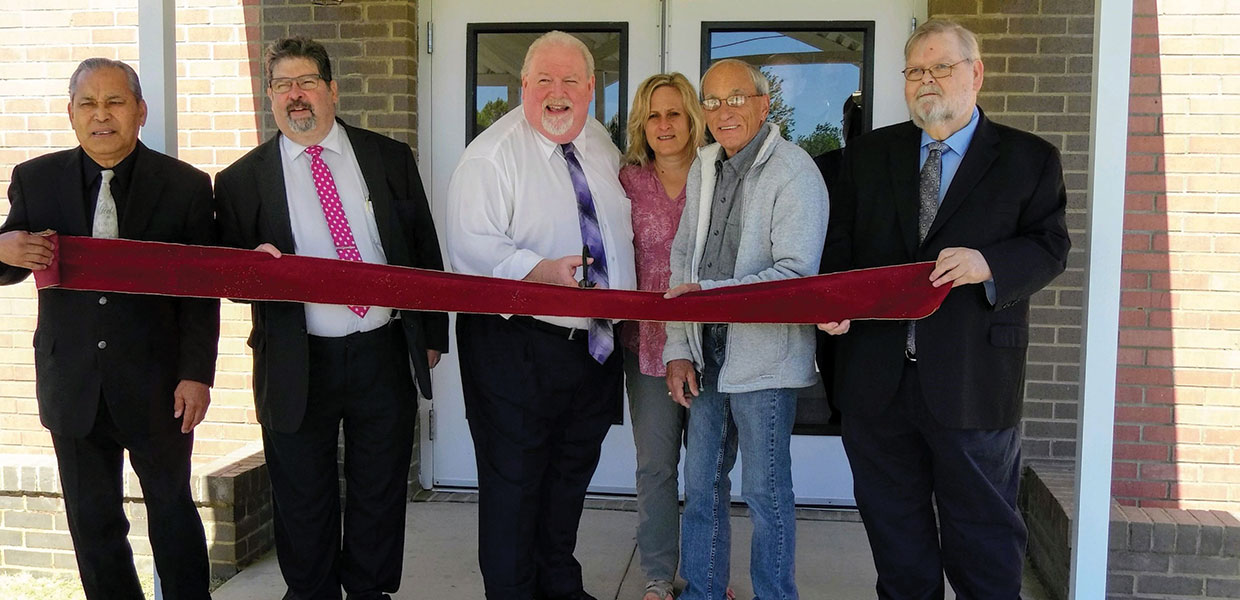 Participating in the ribbon-cutting ceremony were Joe Castro (left), local elder; Aaron Sirk; John Baker, pastor; Silke Hubbard, Conference representative; Ric Shoemaker, RES owner/contractor; and Bill Davis, local elder.
The dream of two decades became a reality Sunday morning, April 21, 2019, when the Leach Church in Cedar Grove, Tenn., dedicated their new fellowship hall. The 2,600-square-foot building is now more than double the size of the old hall.
The members desire to expand their outreach ministries further into the community; the new building is ideally suited for that goal. The dining hall boasts seating for more than 80 people comfortably for meals, and the kitchen has three times more cabinetry and counter space than the former building. The layout will now enhance the church's ability to do twice-a-year care baskets for the community, and special food preparation projects like Habitat for Humanity, as well as hosting numerous special events. The church has a vibrant Vacation Bible School, which typically hosts more than 50 children in June. It can now expand further. Since the church owns and maintains a community cemetery adjacent to the hall, numerous groups can now utilize the building for funeral services and receptions in case of inclement weather. The leaders also had the foresight to add showers to the handicap-accessible bathrooms in case of emergencies or disasters.
The project led by RES Construction from Brownsville, Tenn., began construction in late November 2018, and completed the work in less than five months — three weeks earlier than projected.
Coincidentally, the ribbon-cutting event occurred at the eighth annual Easter Prayer Breakfast. The Easter event's purpose is to bring members and non-members together to celebrate the resurrection of Christ; 52 individuals attended. John Baker, pastor, created the menu for the breakfast, and served Tuscan scrambled eggs, scrambled tofu, blueberry pancakes, home fries, vegetarian bacon, yogurt fruit parfaits, hot and cold cereals, and numerous fresh fruits.
Kentucky-Tennessee | June 2019