Emily Escobar, communications intern at AdventHealth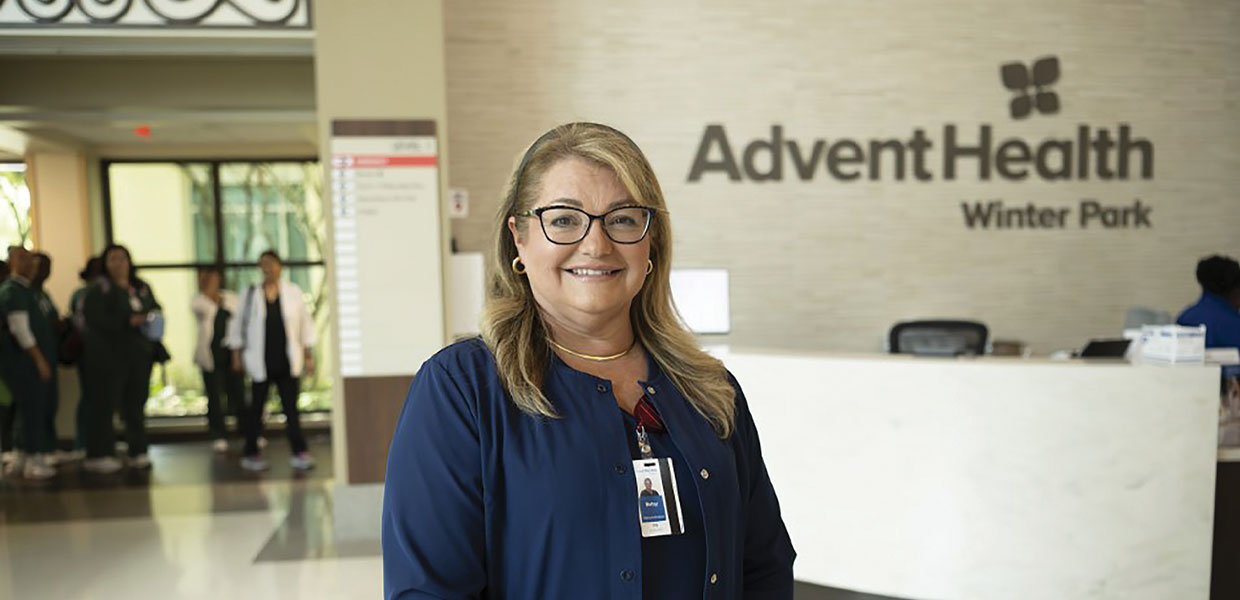 For Betsy Conley, a registered nurse in the inpatient rehabilitation unit at AdventHealth Winter Park, Fla., it's never too late to learn something new. With 25 years of nursing experience, Conley is a passionate learner who is continually seeking to improve patient care delivery and develop herself, and others, as leaders.
Her journey into nursing had its challenges. She pulled through family demands to complete her bachelor's degree in her late 20s, and when she set out to pursue her master's degree, her sister was diagnosed with cancer. While working as a nurse, Conley paused her education to care for her sister.
"My sister had this quiet, gentle presence that was like a cool hand on a warm forehead," she said. "Before she passed, she inspired me to keep growing and developing myself as a nurse."
With this goal in mind, Conley found an opportunity to advance her career when she joined AdventHealth 3 1/2 years ago. Her nurse manager, Kathy Doll, encouraged her to participate in the AdventHealth Nursing Professional Excellence Program (PEP), a system-wide clinical ladder that enables nurses to achieve their career goals, advance their education, and be rewarded for their expertise.
"Betsy immediately demonstrated a passion for nursing when she joined the team," said Doll. "She spoke to me about wanting to grow and take on new responsibilities, and I was happy to support her on this journey."
Conley said she went through the program much more quickly than she had imagined. She excelled in the PEP, completing the first two levels within four months, and she is currently working toward the third level.
Through the program, she developed her leadership potential as a preceptor in AdventHealth's dedicated education unit initiative, a program that partners AdventHealth's nursing units with local educational institutions to offer dedicated training opportunities to nursing students. She also chairs her unit's governance committee and serves on two subcommittees in her unit.
"This is a fantastic program that has improved my professional presence and confidence," said Conley. "I've enhanced my leadership skills through exposure to topics like relationship building, communication, mental health, and decision-making."
Conley said she has also grown personally through the program. "I learned the importance of listening and showing empathy, which has made me more engaged with my patients and colleagues."
Conley said the PEP was the push she needed to continue her education. She's working toward her master's degree in nursing leadership with the help of AdventHealth's educational assistance.
"My goal is to be a nurse educator, which will enable me to continue demonstrating my passion for teaching and leading others," she said.
Service has always been an essential focus for Conley. Now working in a faith-based organization, Conley said she's encouraged by AdventHealth's mission and her own motivation to help others, especially people living in underprivileged communities.
"I've always had a heart for service because I've personally experienced what it's like to have less," she said. "We are here to serve. That's the essence of nursing."
AdventHealth | October 2023