Anita E. Collins, M.Ed., OAA grade 7-8 Bible and social studies teacher, and grade 8 class sponsor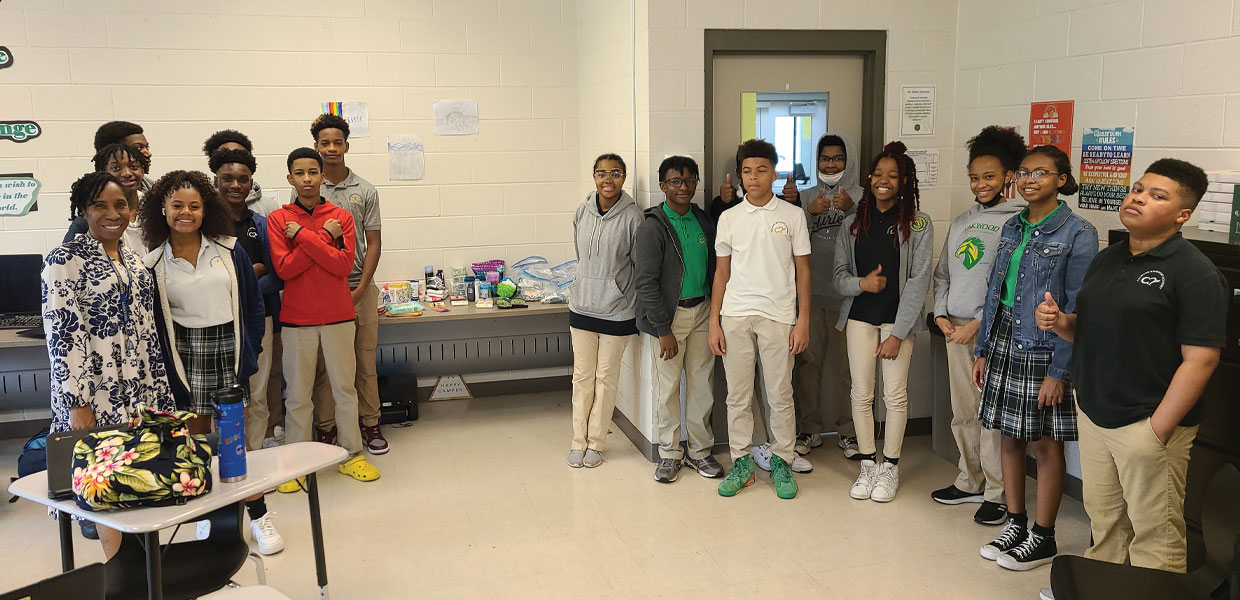 God Squad team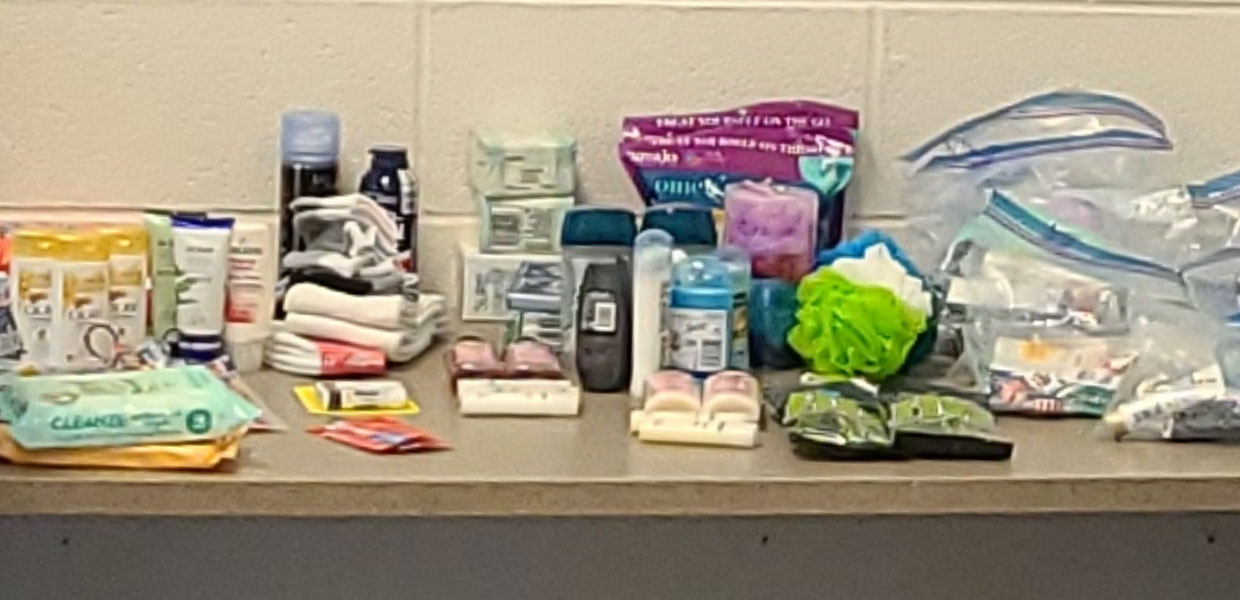 Donations for the community
What do you get when you put together random acts of kindness and God? The God Squad! In harmony with the mission of Oakwood Adventist Academy (OAA), the God Squad exists to support the school's mission by providing community service opportunities that help students, families, and constituencies of OAA to develop spiritually, academically, and socially.
It's composed of the entire middle school — 54 in grades 7 and 8 — and is designed to equip students to minister to their peers, faculty, staff, families, and the surrounding community by sharing God's Word with random acts of kindness.
Middle school teachers Thomasa Henry, Shellie Freeman, and Anita Collins organized students into the God Squad to teach students how to live out their Christian faith in practical and life-changing ways, and support the school's efforts to "Develop, Nurture, and Affirm" scholars for a lifetime and eternity.
Since its debut in January 2023, the God Squad has performed random acts of kindness each month. For Valentine's Day, the Squad delivered "Love of God-grams" which were homemade paper hearts with more than 30 Bible verses attached inside each one that expressed God's love and care. Members delivered the grams to students, parents, and staff at dismissal in the car line and the classrooms.
In March, as students prepared for spring break, the God Squad prepared and distributed small snack bags of candy with scripture to K-12 students and faculty, praying for them to have a "Sweet Spring Break."
And, the God Squad "showered" the OAA sophomore class with nearly 90 personal care items and socks in support of the class's supply drive for ShowerUP, a nonprofit organization that provides mobile showering services to the homeless in Madison County. Items collected included shampoo, conditioner, body wash, Q-tips, toothpaste, toothbrushes, deodorant, towels, washcloths, feminine products, shaving cream, and lip balm.
The activities are already having a powerful impact on Squad members. "I feel very happy knowing that I was able to help someone who really needed it," said seventh-grader Saige Allen. "I also feel excited because I know the person who will receive my [donated hygiene] items is going to be very happy. I also feel proud of myself for being a part of something that actually benefits my community."
"This experience has reminded me of how grateful I should be for the little things," said Ciara Davis, seventh-grader and class chaplain.
Seventh-grader Carson Patterson felt his participation is a way of following Jesus' example. "I feel good because Jesus told us to give and not receive," said Patterson. "God sent Jesus to die for us because we didn't have any hope. So, I hope that in the future, we can grow and contribute more than we did before." Even those who did not donate items felt grateful for the Squad's involvement, and for extra items that were donated to represent each student. For one eighth- grader, the God Squad's work is confirmation of the Lord's soon return.
"It feels good [being involved] … it feels like I matter even though I didn't do my part [by donating]," said Andrew Parsons, eighth-grader and class treasurer. "It also feels like I have been forgiven from my mistakes as a person. This whole God Squad thing helps me know that God is real, and that He is coming back one day." Seventh-grader Zeniyah Dulan, who is preparing for baptism following the OAA Week of Prayer, stated that her involvement in God Squad is helping her build a relationship with God. "It's helping me learn more about Jesus and understand Him better, that He does things for a reason and that He allowed sin to happen for a reason — so we can have a choice to choose Him or Satan."
"It helped me get closer to God because it's like He's telling them [the donations] are gonna help them feel better," said seventh-grader Donell Morgan. "Some people may not have a strong belief in God, and [sharing the Love of God-grams] could help them understand the Bible more so they can see that God really loves them." Eighth-grader Mekhai Andrews said, "It inspires me and motivates me to give and be more thankful in providing for people in need."
Another eighth-grader and new OAA student, Preston Claybrooks, said, "It makes me feel good doing these activities. It makes me feel a fraction of the miracles Jesus did and how He was living at that time."
Jaxson Dalrymple said it changed how he thinks about giving to others.
"Sometimes you want to keep stuff for yourself, but it gave me joy to see the smiles on the kids' faces."
Aniyah Crummie, seventh-grader and class vice president, felt the benefits of participating went both ways. "It made me feel good. I'm glad I could help someone out. I really like volunteer work, so I was happy to donate. As for helping a classmate, I was also happy to help because it made me feel good about myself."
God Squad's next event will be to prepare celebration gifts for fellow students who responded to the baptism call during the April 2023 OAA Week of Prayer.
South Central | November 2023