Gabrielle Caldwell, a senior at Oakwood University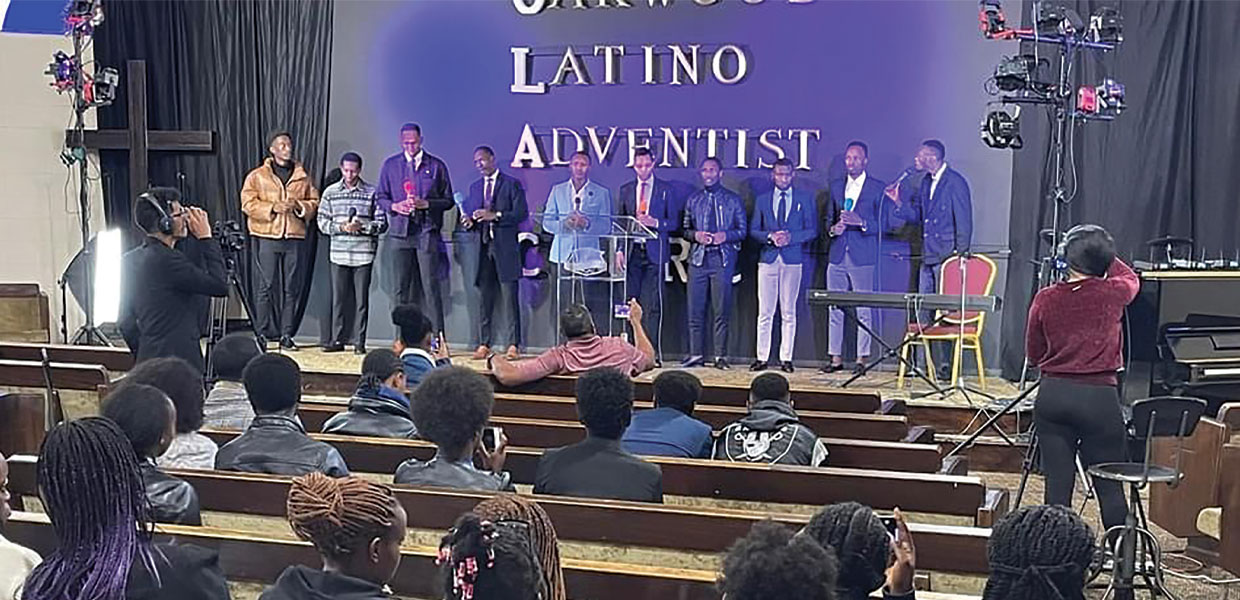 Lower than average temperatures on Sabbath, March 12, 2022, were offset by the warmth inside the Moseley Complex, where Oakwood University students from Rwanda, Congo, and Hispanic countries gathered for a soul-stirring worship experience.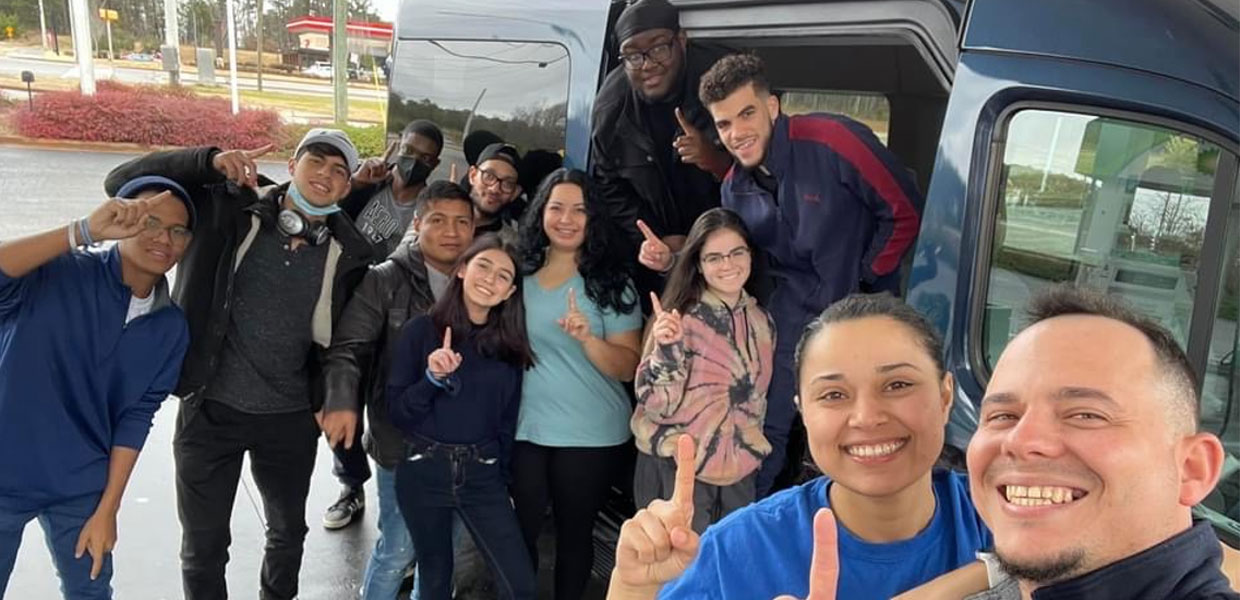 Oakwood students pause for a stretch and photo op during their travels.
The Oakwood Latino Adventist Church (OLA) was established February 2011, when a group of students and professors at Oakwood University developed an inreach ministry for the growing number of Latino students at Oakwood. The Primero Dios Ministry is an organization devoted to promoting higher Christian education, providing financial support, and preparing the Latino community to serve. According to Isaac Ibarra, special assistant to the president for diversity and inclusion at Oakwood University, the Office of Diversity and Inclusion and the Primero Dios ministry played an essential role in the development of OLA. OLA was voted as an official church in the South Central Conference on December 12, 2021.
In support of the University's outreach to the Latino community, the Office of Diversity and Inclusion has already traveled to Florida, Georgia, Pennsylvania, Mississippi, Kentucky, California, New York, New Jersey, Maryland, Mexico, Cuba, Costa Rica, and the Dominican Republic. They plan to visit Mississippi, Florida, and Panama in the next few weeks.
The current goals of this office in relation to enrollment include the following:
Facilitate an environment of inclusion for alumni, current students, and future students.
Develop policies that promote no discrimination toward staff, faculty, students, and administrators.
Provide training as it relates to diversity and its development.
Campus activities include training, support, culture-oriented programs, and worship opportunities in their native languages. When talking about the future and goals of the office, Ibarra says, "It is to become a division to better serve the institution."
Osias Morales Ruiz, a current student at Oakwood University and a member of OLA and Primero Dios says, "Primero Dios is a ministry whose purpose is to work on mission trips, help Hispanic students grow spiritually and personally, as well as help the community and implement mission trips in different parts of the United States and internationally."
Ruiz says, "The ministry of Primero Dios is related to the Office of Diversity and Inclusion," a department of the University which plans and coordinates activities to support and educate students. Every year the group travels to different places where they perform dramas as part of worship services, socialize and build relationships during baseball games, and conduct community services. The Primero Dios (First God) ministry is led by pastors Enoc Balbuena, Isaac Ibarra, Osias Morales, and Hispanic students from Oakwood University. The role of this department and ministry is to carry the message of Jesus, recruit young people, and work to put God in first place in people's lives. All of this is directed by Hispanics who attend the OLA Church and work together on mission trips.
"In all my life I have not experienced something as beautiful as being in OLA. Knowing that you have someone who cares about you, who gives you food, and helps you grow is something that you cannot find in many churches. OLA is a ministry that cares about their students financially, personally, spiritually, mentally, and emotionally. I believe we are the only Hispanic church in the area at this time that has excellent potential, and are willing to use the potential and talent that God has given us. OLA's ministry is focused on the mission that God has left us to preach and teach the Gospel to others."
Oakwood University | May 2022