BY Jeffrey Wilder, student writer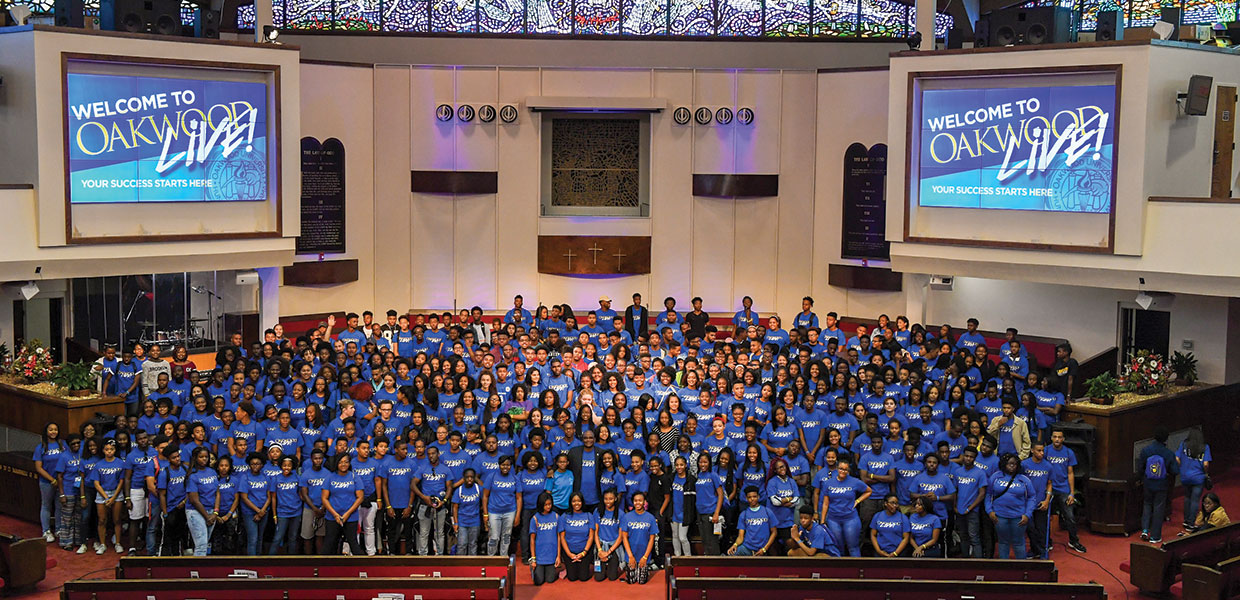 Visitors for Oakwood Live! surround Leslie Pollard, Ph.D., D.Min., M.B.A., president of Oakwood University, for the annual group photo at the Oakwood University Church in Huntsville, Ala.
Anthony Chornes II
Every year as the leaves begin to fall, and the weather begins to change, Oakwood University (OU) hosts a conglomerate of high school seniors, all wide-eyed and excited to learn everything they can about the beloved institution. These prospective students come from all over the globe to experience Oakwood Live!
Formerly known as College Days, Oakwood Live! was extended two additional days this year, for a total of five days of being immersed in the academic culture and day-to-day life of the Oakwood student. Activities included visiting academic departments, attending the highly anticipated concert featuring Oakwood University's choirs, dramatic presentations, and individual musical talent.
"I believe Oakwood Live! was a great chance to get a glimpse of what it's like to be a student here," commented Oakwood University senior, Joshua Southwell. "All of the activities they were a part of, including the various worship experiences, provided a preview of what they can expect when they arrive next fall. I hope each student realizes that not only do you receive a quality education at Oakwood, but you forge lifelong friendships while finding yourself in Christ on this campus! If you ask me, nothing tops such an experience."
During their time here, potential students also received a foretaste of dorm life, as they shared rooms with current students who volunteered to share their space in an effort to help give soon-to-be students the full OU experience.
Saturday night's activity was a block party, which offered guests one last chance to mingle with student-led organizations. Several activities happened simultaneously: a basketball game, inflatables, an "escape room" tent, a video gaming truck, and bubble soccer; and local guest food trucks provided a variety of delicious foods.
Oakwood University | December 2016