BY Karen Benn Marshall, Ed.D. and Pat McBean Pates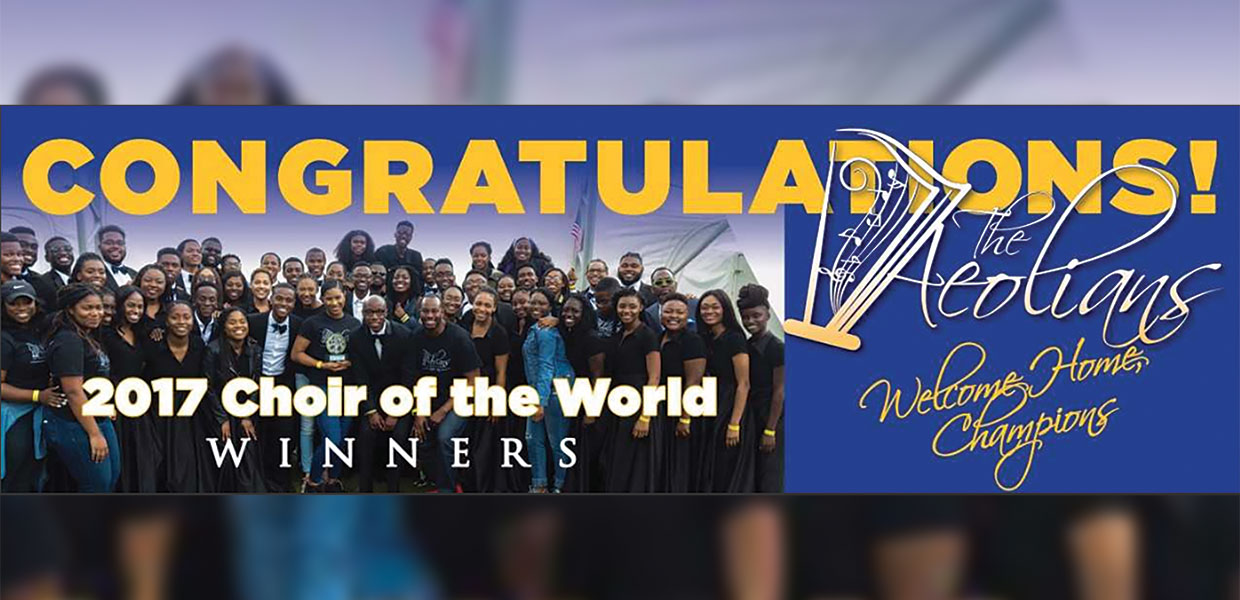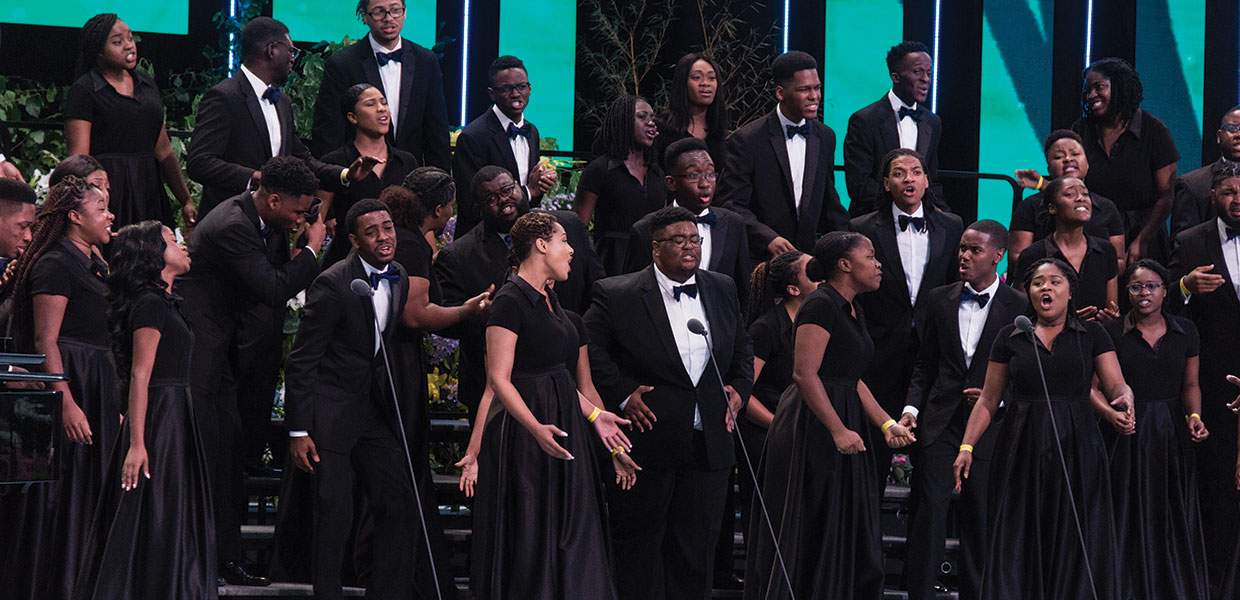 The Aeolians during competition at the Llangollen International Musical Eisteddfod 2017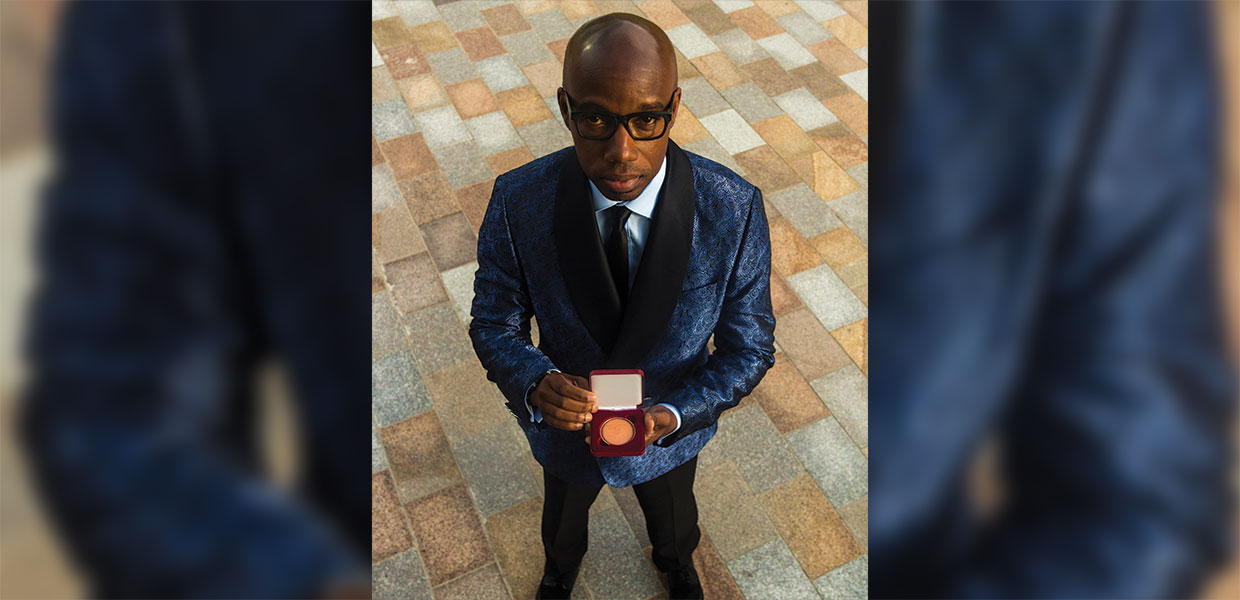 Jason Max Ferdinand, D.M.A., is the first director to win the Gwobr Jane Davies Prize for Outstanding Conducting, a new award this year at the Welsh Eisteddfod.
The Aeolians of Oakwood University in Huntsville, Ala., with their unique harmony and musical excellence, competed in the Choir of the World Competition during the Llangollen International Musical Eisteddfod in Llangollen, Wales, July 5-9, 2017.
In 1947, the same year that Eva B. Dykes, Ph.D., established the Aeolians at Oakwood, the Welsh Eisteddfod was created as a peace festival following World War II, to unite people of all nationalities through music and dance.
This focus continues today as the Eisteddfod brings people together from across the globe to perform and compete in an "unparalleled spirit of friendship and goodwill." The opportunity to talk to, and rub shoulders, sing, and mingle with people of various cultures was an eye-opener. The vibrancy of the native costumes, varying cadences of languages, and unique facial structures of God's Creation were such a reminder of what Heaven will be.
In addition to receiving monetary prizes and trophies for placing in a variety of competition categories, first place awardees moved on to compete for the two ultimate awards — Choir of the World 2017 Pavarotti Trophy and Dance Champion 2017. Of particular note for this 70th year celebration: a new ultimate award had been added — The Gwobr Jane Davies Prize for Outstanding Conducting.
One Facebook post said, "This choir wowed us at Llangollen. But we were also impressed by their courtesy to one another — men assisting women on the choir stand steps for instance, and their graciousness to other choirs, standing and applauding the choir they came second and third place to in the competition. They were pleasant when greeted or spoken to by festival goers." Dykes would have been proud. The 70th anniversary of both the competition and the Aeolian legacy were great talking points as the Oakwoodites made friends at the festival site.
The Aeolians competed in the Adult Folk Song Choir, Youth Choir, and Mixed Choir categories, and won third, first, and second place, respectively. The first place win in the Youth Choir category allowed them to compete against four other choirs in the final category for the Choir of the World title and the esteemed Pavarotti Trophy on July 9. The Oakwood University Aeolians were awarded the coveted 2017 Choir of the World Pavarotti Trophy.
Aeolians director Jason Max Ferdinand, D.M.A., received the first ever Gwobr Jane Davies Prize for Outstanding Conductor. He said, "This [competition] was no walk in the park and we had to conform to standards as set by the professional choral world. We made adjustments to the very last minute. So very proud of our students. With God's help, WE DID IT!"
"On behalf of the entire Oakwood University community, we celebrate the success of the Oakwood University Aeolians on another history-making accomplishment," said Leslie N. Pollard, Ph.D., D.Min., M.B.A., president of Oakwood University. "To be named Choir of the World at the international Welsh Eisteddfod in Wales is a singular honor that represents the excellence of our University. Congratulations to the director, Dr. Jason Ferdinand, and especially our Oakwood University students. You have distinguished yourselves and made us proud and thankful once again."
Oakwood University | September 2017