BY Patrice Conwell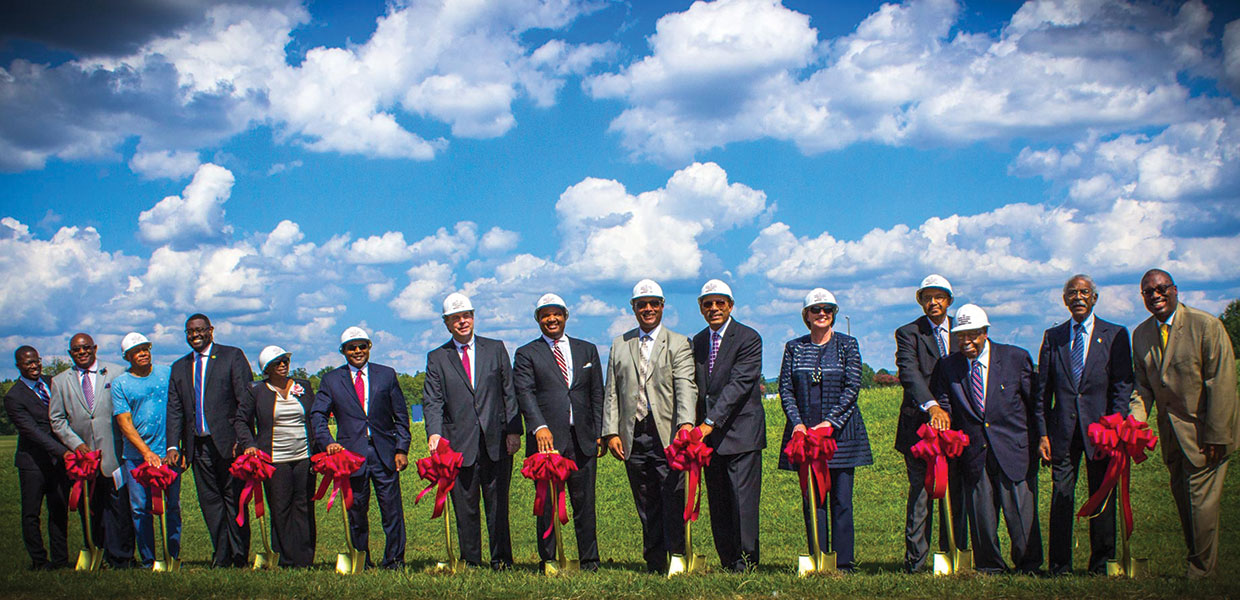 Individuals participating in the new Oakwood University Church's Family Life Center groundbreaking ceremony include Anthony Bolden (left), OUC associate pastor; Calvin Matthews, Ph.D., OUC family ministries director; Harold Jacobs, OUC treasurer; Gabriel Carter, Oakwood University (OU) student government president; Karen Benn Marshall, Ed.D., OU academic vice president; Will Culver, City Council president, Huntsville, Ala.; Tommy Battle Huntsville, Ala., mayor; Carlton P. Byrd, D.Min., OUC senior pastor; John Nixon Sr., D.Min., South Central executive secretary; Benjamin Jones Jr., South Central president; Kristine Harding, KPS Group architect; Richard Long Sr., OUC head elder; Charles E. Bradford, NAD retired president; Lloyd Wilson, OUC associate pastor; and Paul Goodridge, OUC associate pastor.
Fitzroy Powell
Turn to your neighbor and say, 'It's going to happen.'" With these words, Carlton P. Byrd, D.Min., senior pastor of the Oakwood University Church (OUC) in Hunstville, Ala., welcomed OUC members, South Central Conference administrators, and Huntsville city leaders and residents to the groundbreaking ceremony for OUC's new Family Life Center on September 4, 2016.
After more than 30 years of hopes and dreams discussed-then-deferred, construction for OUC's Family Life Center is now underway. "You've needed this facility for more than a decade," acknowledged Benjamin Jones, South Central Conference president. "But you, on purpose, made a decision that before you built a family life center for yourself, you'd build a school for your children. I thank you all for that sacrifice."
For the families that make up the community and the church, the 22,000-square-foot center will include a gymnasium and walking track, classrooms for seminars and workshops, specified space for the church's Pathfinder Club, and designated rooms for the church's Adventist Community Services ministry, including a food pantry and clothing distribution area.
The enormous impact this new facility will have on families was a constant theme throughout the ceremony. "Having this facility to specifically minister to the diverse families that make up our church and community is just exciting," stated Belvia Matthews, Ph.D., co-director of family life ministries at OUC. Tommy Battle, Huntsville mayor, added, "When you build families, you build communities; and, when you build communities, you build better cities."
The family life center is slated to be completed by September 2017, which is 40 years to the month and year when the current sanctuary facility was completed in September 1977. To celebrate the new OUC Family Life Center, along with the 40th anniversary of ministry in the current OUC facility, will be to honor ministry both past and future. In the words of Claude Thomas, the "father" of family life ministries at OUC, it will be "the culmination of a great hope and vision." With great anticipation, OUC members believe, "It's going to happen!"
South Central | November 2016