BY Lisa Dalrymple, Ph.D. and Prudence Pollard, R.D., M.P.H., PH.D.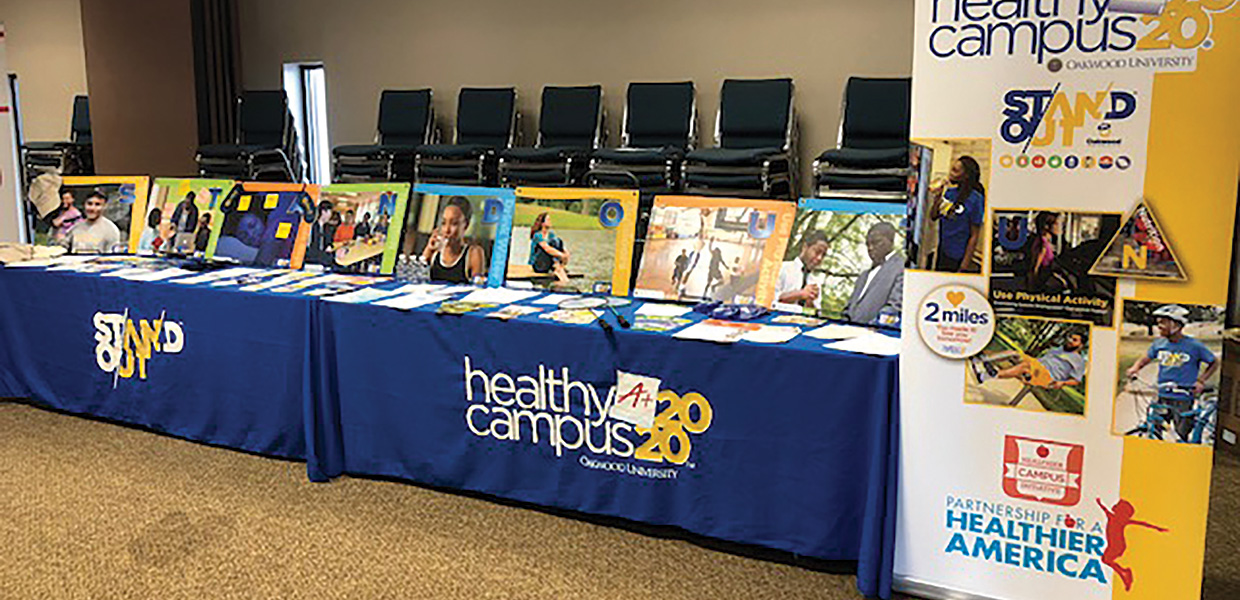 Oakwood University's Healthy Campus 2020®/ STAND OUT® table was on full display to distribute information to all who attended the recent Community Health Fair at First Church in Huntsville, Ala.
Health status" is a descriptive term used to denote the physical, mental, and social well-being of any individual. Oakwood University, founded in 1896, in Huntsville, Ala., by its moral standards, has focused on its mission of improving lives through education, and service to God and man. For more than 122 years, Oakwood has been committed to its seven values, including one of service, to "provide assistance, aid, help, care, outreach, and ministry in response to human need."
Oakwood strives to positively influence the lives of all who can be reached. Bridging the gap between the University and the community is critical as a response to those in need, as well as sharing information that can impact one's health and ultimately his or her life. To know is to understand, and to be informed is to be aware. Oakwood has thrived on the promise of its mission of changing lives.
Extending its commitment to wellness by addressing the burden of productivity-limiting yet preventable and/or manageable diseases such as obesity and diabetes, in September of 2015, Oakwood partnered with Partnership for a Healthier America (PHA) to embrace 23 initiatives which focus on food/nutrition, activity/movement, and overall planning to be implemented as a comprehensive wellness program on Oakwood's campus, called Healthy Campus 2020®.
As an organized health intervention, HC2020® was designed to identify potential risk factors, and improve outcomes in the health status of those who applied to their life the eight STAND OUT® principles of health, a model original to Oakwood's campus. Christ says, "Beloved, I wish above all things that thou mayest prosper and be in health, even as thy soul prospereth," 3 John 1:2, KJV. It is Oakwood's duty as an institution built on God's foundation, to be of service to all mankind, and impart this knowledge to others.
As an initiative to specifically target the University's population, HC2020® was launched to investigate the presence of metabolic syndrome seen in a much younger demographic than in past years. African Americans lead the nation's incidence of preventable diseases such as obesity, diabetes, hypertension, and cardiovascular diseases. The problem of poor health has been seen to be the greatest in the southern United States, particularly within Region IV of the Center for Disease Control and Prevention. Initiatives such as Healthy Campus 2020® create awareness, and allow for intervention measures that can assist with positively impacting health, and positively changing lives. The question is then asked, "How can these changes be made?" The answer is straightforward: by maintenance of a proper diet, increased exercise, stress management, and illness prevention.
The eight principles of STAND OUT® are Sunlight, Temperance, Adequate rest, Nutrition, Drink water, Outdoor activity, Use physical activity, and Trust in God. Adaptation of these principles into lifestyle practices has shown evidence-based results to reverse the adverse effects of unhealthy lifestyle choices. Partnering with churches and numerous other entities has allowed for the Seventh-day Adventist's health initiatives and the teaching of the eight health principles to stretch beyond the four corners of Oakwood and reach the masses. "Depart to serve," as all are perpetually reminded, should be engraved in the hearts and minds, as it is on the cornerstone pillar of Oakwood's campus.
First Church in Huntsville hosted its annual Community Health Fair on Sunday, September 16, 2018. Oakwood's Healthy Campus 2020®/ STAND OUT® table was on full display at the Fair to distribute information to all who attended. Church and community members were engaged, and visibly enthused to have valuable health information readily available. Materials covering each of the eight principles were made available. Information ranging from the benefits of getting enough exposure to sunlight, which is required for the inherent process of vitamin D synthesis in the body, simultaneously covering the importance of precautions of sunlight exposure, to the inevitable trust that all must have in God to live an optimal well-balanced life.
With continuous changes in funding available for health care treatment, critical information needed for prevention and/or managing of common and most often preventable diseases, are not met. Proactive measures such as developing health initiatives to share on Oakwood's campus, as well as within the community, is highly recommended.
Oakwood was recognized by the PHA as the healthiest university in the country in May 2018, and was bestowed the prestigious Crystal Apple Award for exemplifying completion of initiatives to create a healthier campus. As Oakwood moves forward with educating and transforming the lives of future doctors, nurses, dietitians, lawyers, and engineers, it must also continue to leave a footprint of hope in the community, serving those in need.
Oakwood University | November 2018