BY Debbe Millet, Oakwood Magazine managing editor
Oakwood University's Honda NQT team includes Jonas Clarke (standing, left), junior biology major; Grayson Mejia, junior applied mathematics major; Crosby Lambert (seated, left), junior communication major; Rennae Elliott, Ph.D., coach and Communication Department chair; and Danielle Honoré, sophomore biomedical science major, captain.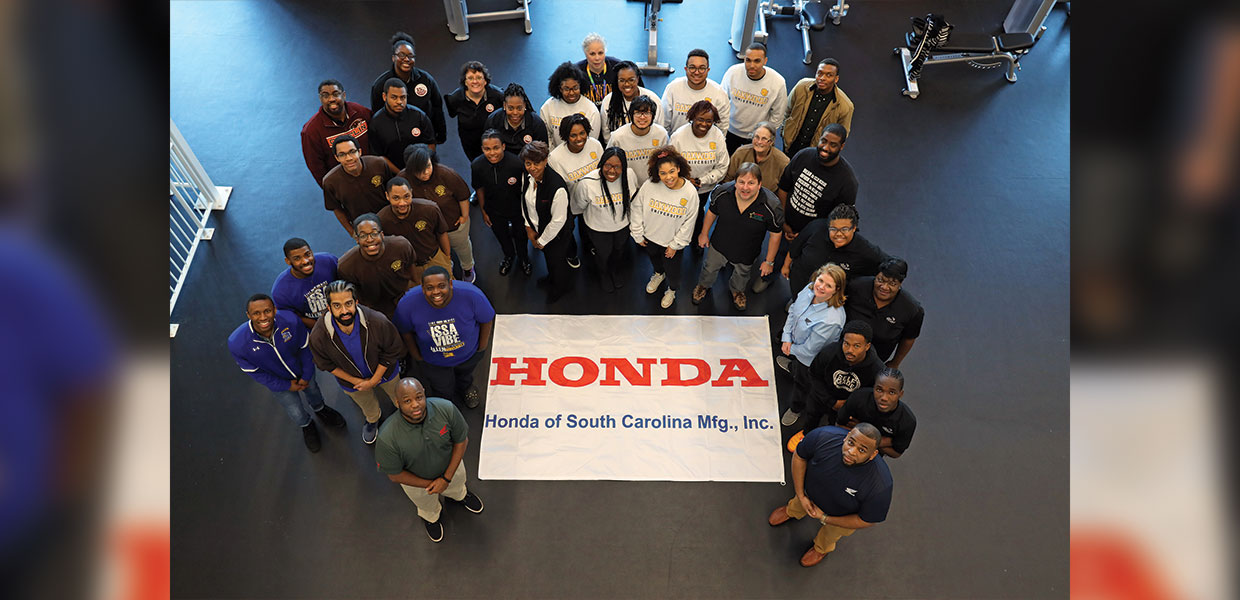 After nearly six months of preparation, the Ambassadors — Oakwood University's team scholars — met their competition at Claflin University in Orangeburg, South Carolina, on February 7, 2020, for the Honda Campus All Star Challenge (HCASC) National Qualifying Tournament (NQT). Teams from Allen University, Claflin University, Harris-Stowe State University, Paine College, and Oakwood University met in a face-off to answer an array of questions on topic areas including classic literature, science, the arts, and African-American culture.
The teams were given a few ground rules, and category names and descriptions before the games began for the day. The first three rounds are called Face-Off rounds, with two types of questions: Face-Offs, worth 10 points each; and Bonuses, worth 20 points. The fourth round is called the Ultimate Challenge. Each team gets a turn to play the Ultimate Challenge, and has 60 seconds to answer 10 questions in the category of its choice. Each correct answer is worth 25 points, for a total of 250 points. Each round has a category board with four categories.
Each team was anxious to answer as many questions as possible to lead their teammates to victory. When the final round concluded, Oakwood's Honda team emerged as the winners of the NQT held at Claflin. Because NQTs would also be played the following day (Saturday), it was requested that no one announce Friday's results until the results of both days could be announced simultaneously.
Oakwood's HCASC team members:
Danielle Honoré – sophomore biomedical science major (captain)
Crosby Lambert – junior communication major
Jonas Clarke – junior biology major
Grayson Mejia – junior applied mathematics major
Oakwood's Alternate HCASC team members:
Jordan Seal – freshman biochemistry major
Miriam Duronville – sophomore biology major
Khaliah Patton – freshman accounting major
Nirvana Walton – senior allied health major
R. Rennae Elliott, Ph.D., chair of Oakwood's Communication Department, also serves as Oakwood's HCASC coach.
With growing concern about the spread of COVID-19, Honda leadership made the decision to modify the 2020 HCASC National Championship Tournament (NCT). Instead of traveling to American Honda's campus in Torrance, Calif., for a live event spanning three or four days, 2020's NCT will be a virtual tournament, with each HBCU competing from locations of their choosing. Each team will compete online from their respective campus, requiring no travel.
"To say that we were looking forward to hosting everyone on our campus is an understatement, as we greatly anticipate the HCASC National Championship each year. However, safety is our top priority, which is why we are acting out of an abundance of caution," said Stephan Morikawa, vice president of corporate relations and social responsibility at American Honda Motor Co., Inc.
Oakwood University | May 2020