BY Debbe Millet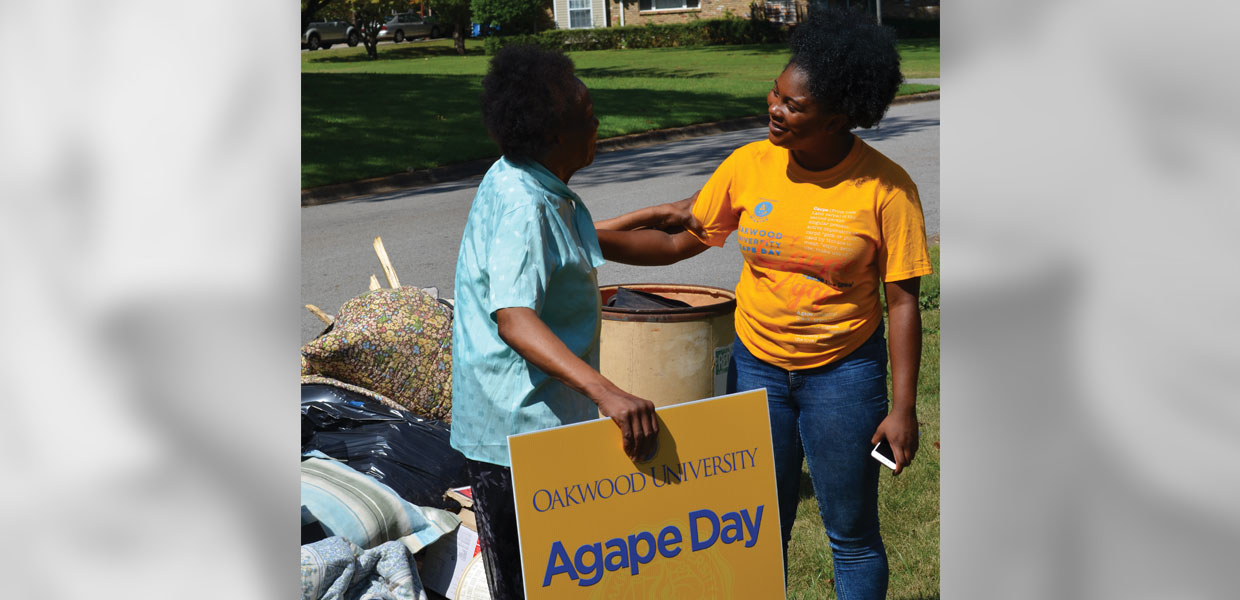 An Oakwood political science major, Maxanne Caines (right), pauses to assist a woman and her husband on AGAPE Day.
Ron Pride
AGAPE Day 2016 was held September 20, at Oakwood University during the fall semester when classroom instruction is officially set aside so that students, employees, and administrators can "depart to serve" the Huntsville/Madison County areas, and learn in the "community classroom." Oakwood has been participating in AGAPE Day for more than 10 years.
The day began when approximately 675 volunteers in their bright yellow T-shirts boarded the buses to be transported to 35 work sites in the greater Huntsville area. Work projects included painting, planting, weeding, general cleanup, conducting science experiments with elementary school children, and assisting senior citizens.
Sites this year included the Downtown Rescue Mission, CASA Community Garden, Alabama Constitution Village, Highland Elementary School, Huntsville Botanical Garden, Willow Run Towers, Habitat for Humanity, Morris Elementary School, and the U.S. Space and Rocket Center.
AGAPE Day was first launched in 2005 as an initiative between the Division of Academic Administration and the Freshmen Studies Department, and is now coordinated by the Office of Spiritual Life. Chaplain Kimberly Mann, AGAPE Day coordinator, shared that the day "was a blessing to both the individuals who rendered service, as well as to those who were beneficiaries. Community members and service recipients appreciate the way that Oakwood tangibly shows our commitment to the value of service."
You can search social media for AGAPE Day photos at #AgapeDay2k16 and #agapeday16.
Oakwood University | November 2016