BY Abby King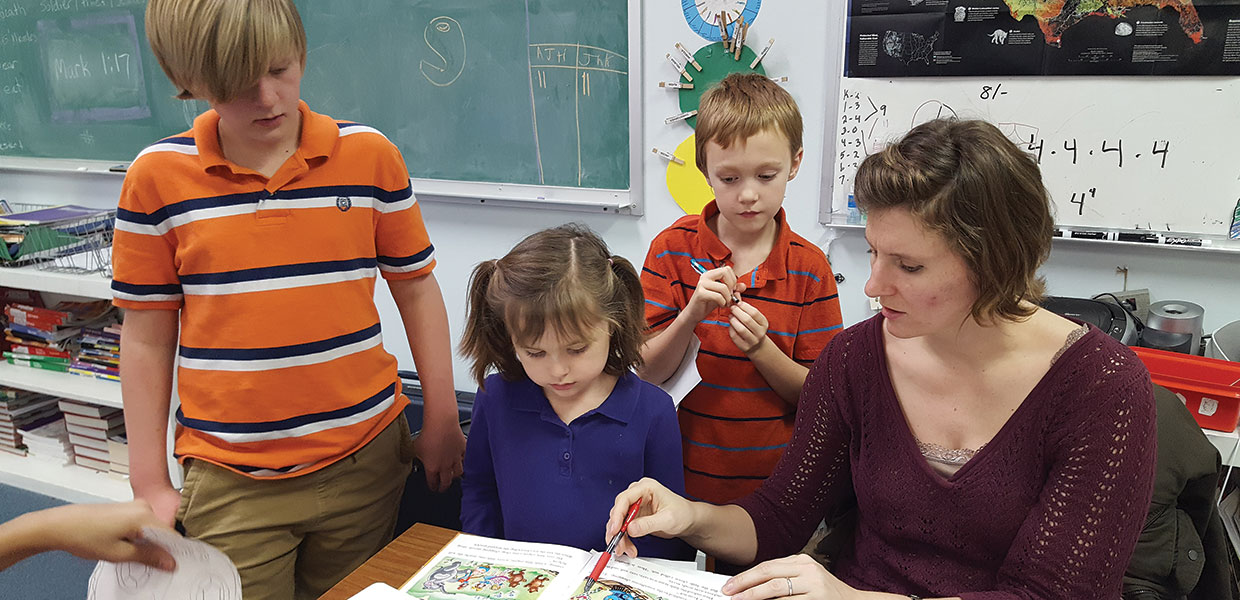 Misty Stein works with students on their reading skills.
Tiffany Bryant
During this past school year, the Carolina Conference opened three new schools: Blue Ridge Adventist Christian School in Waynesville, N.C.; Cornerstone Adventist Academy in Charlotte, N.C.; and Salisbury Adventist School in Salisbury, N.C. Each is a one-room school with a single teacher instructing all the students. The youth in each school are excited about the upcoming school year, and look forward to learning more as they progress through their educational experience.
Blue Ridge Adventist Christian School (BRACS) started with six students in first, third, fourth, and seventh grades. Under the guidance of their head teacher, Sue Dasher, the students enjoyed themselves and became like a family with God at the head. Throughout the year, they went on multiple field trips, including visits to an apple orchard, a bison farm, and a mechanic's garage. They also hosted several guest speakers who taught them how to cook, discussed the D.A.R.E. (Drug Abuse Resistance Education) program, and explained the importance of dental health. At their Christmas program, they raised money to support the families who suffered loss during the fire in Gatlinburg, Tenn., in late 2016. Next school year, BRACS is expecting eight to 10 students. They look forward to using exercise balls as chairs in the classroom, and using memory verse charts to track their progress.
Salisbury Adventist School had a great year, although there were challenges. Head teacher Misty Stein was confronted with the struggles that accompany re-opening a school. After being closed for six years, the school building needed to be cleaned and reorganized. After overcoming this challenge with grace, the school thrived with God's blessing, beginning the year with 14 students and ending with 19. Throughout the year, there were still several obstacles to hurdle, but God brought the little school through. As Stein gears up for next year, she is restructuring her program and planning to implement The Leader in Me program in her classroom, which helps children become more effective, goal oriented, and successful.
Cornerstone Adventist Academy (CAA) is also preparing for another exciting school year. Head teacher Sandra Greenleaf had 20 students in her classroom during this past school year. This was an incredible blessing from God, as this is the maximum number of students a single-teacher school can enroll. The students at CAA enjoyed getting to know each other through games and activities. A variety-show Christmas program was put on for the community, and a science fair was held in the spring. As this one-room school looks forward to next year, their parent church, Charlotte University City, is planning to build a family life center, which will provide classrooms, storage, and a gymnasium for the school.
As a new school year begins, it is important to keep all the students in prayer as they prepare to lead the church into a new era. Remember the teachers and administrators as they instruct the children, and teach them more about Jesus.
Carolina | November 2017