BY CYNTHIA WILLEY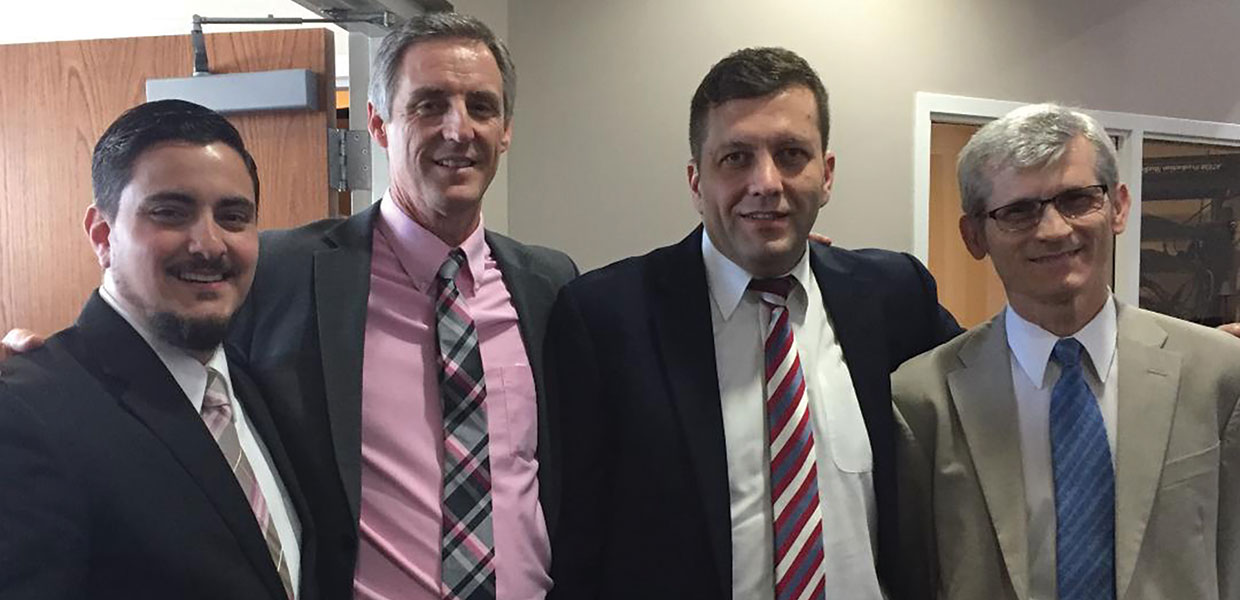 Bryan Banos (left), Carlis Clinton, Vadim Butov, and Pavel Goia
Pavel Goia, pastor of the Lexington, Ky., Church, announced that he would be leaving in October 2016, because he had accepted a position in the Ministerial Department at the General Conference. During the time that Goia was pastor, God blessed the congregation by doubled attendance, many baptisms and recommitments, an average of 200 Bible studies given each year, ownership of a radio tower that broadcasts 24/7, an active web page with numerous media download activity, live streaming of church services, an evangelistic campaign each year, and many other blessings. Goia taught the congregation that prayer and trust in God are vital.
Bryan Banos came to the Lexington Church in December 2016 to serve as the associate pastor, a plan already in the works before Goia's news of departure. Banos has a heart for evangelism, discipleship, small groups, and youth ministries. After a series of planning sessions, three charter groups began. A youth life group was also started and is led by Banos. At least eight small groups and life groups are anticipated to be operating by spring 2018.
An evangelistic series, Amazing Discoveries, began in May 2017. The speaker was Vadim Butov of Avondale College in Australia. The series was a tremendous blessing to the church, as approximately 70 guests attended along with a large number of church members. Six pastoral students from Andrews University seminary joined prior to the meetings to assist in preparations. These students completed their evangelism course, assisted in preparations for the meetings, and helped begin follow-up visits with guests following the series.
Carlis Clinton arrived as senior pastor in April 2017. Following the Amazing Discoveries series, Clinton led a series of four additional meetings, "Storacles," to help engage the meeting participants in additional studies. At the time of this writing, the church was beginning another evangelistic series, Revealing Revelation, with Clinton as the speaker. He has a heart for the Three Angels Message, and the truth that Adventists offer.
The Lexington Church has been blessed by many pastors. Each pastor has shown a focus area of ministry God has placed on their hearts. Whether it be trusting God and prayers of surrender; loving kindness and connecting with people through the avenues of small groups, evangelism, and discipleship opportunities; or a focus on the special role Adventists have in this time in history, know that when God is allowed to lead, He rewards beyond what could ever be imagined. Even in difficult times in a troubling world, no matter what is faced, the battle is already won!
Kentucky-Tennessee | April 2018