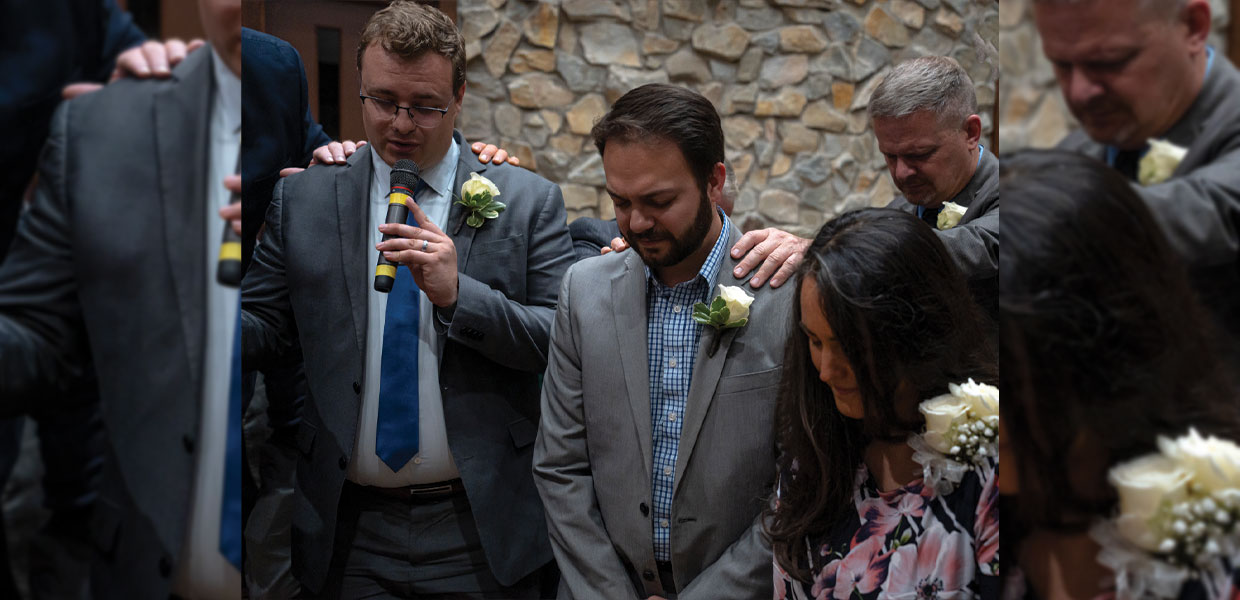 Jared Briggman (center) is dedicated during his ordination service at the annual Kentucky-Tennessee Camp Meeting. Briggman currently serves as the pastor of the Taylor Mill, Ky., Church.
Paola Mora Zepeda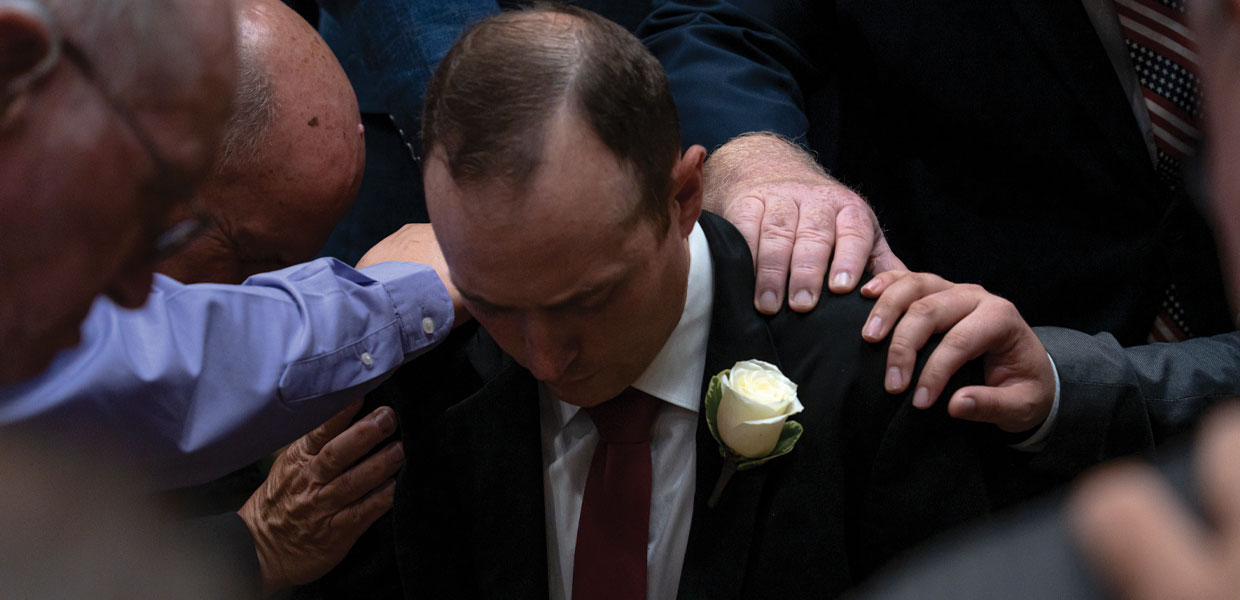 Pastors pray over Cody Floyd Harmon during his ordination service at the annual Kentucky-Tennessee Camp Meeting. Harmon currently serves as the pastor of the Columbia, Tenn., district.
Paola Mora Zepeda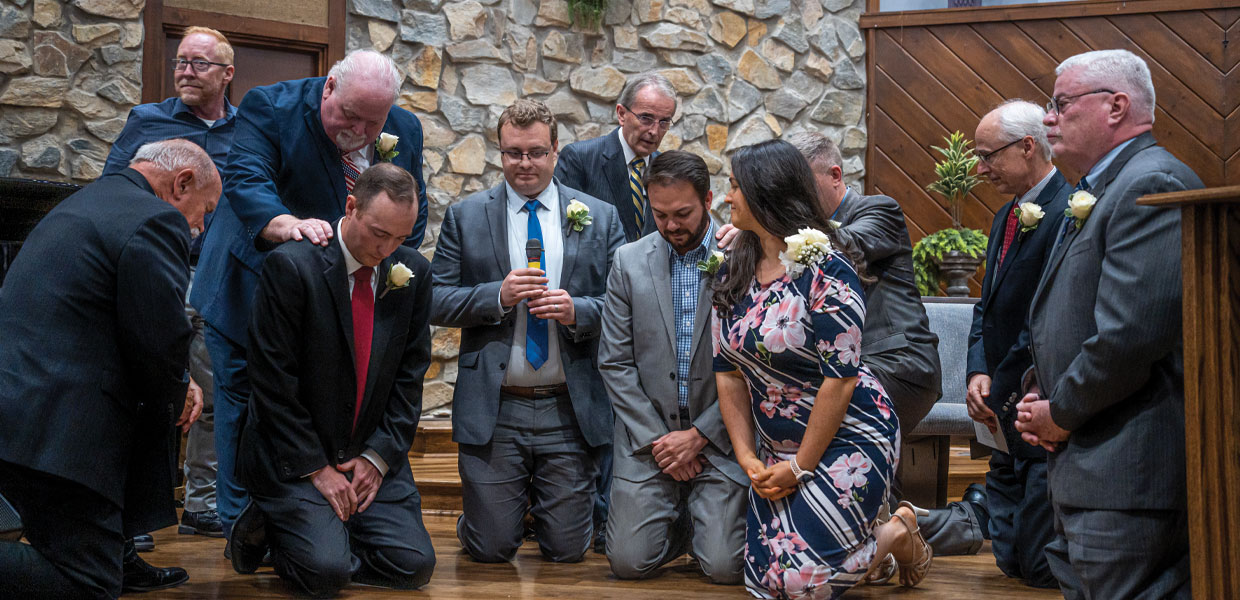 Pastors have dedicatory prayer for Cody Floyd Harmon and Jared Briggman during their ordination service.
Paola Mora Zepeda
During the Kentucky-Tennessee Conference annual Camp Meeting on Saturday, May 28, 2022, family and friends joined with Conference administrative officers at the Highland, Tenn., Church to commemorate the ordination of Jared Briggman and Floyd Harmon.
Jared Briggman
Jared Briggman was born in Colorado Springs, Colo., and grew up along the front range of the Rocky Mountains. During his four years at Campion Academy, he began to have a sense that God was calling him into ministry.
Being involved in two student-led evangelistic series, he gained an understanding of what sharing the Gospel would be like. But, for the better part of 12 years, Briggman ran from the call. Then, after losing almost everything except his family, his heart finally opened enough to hear God telling him to go back to school to become a pastor.
After finishing his bachelor of arts in religion through Andrews University, he received a call to the Mountain View Conference where he served both as a district pastor and a church planter. In August of 2021, Briggman received a call to his current church in Taylor Mill, Ky. In December of 2021, Briggman earned his master's in pastoral ministry, also from Andrews University. Briggman has been married to his wife, Ashley, for 17 years. They have two children, Andy, who is about ready to be a high schooler, and Jonny, who is going into sixth grade. Briggman enjoys cooking, baking, woodworking, and developing new and innovative ways to share the Gospel on social media.
Cody Floyd Harmon
Cody Floyd Harmon was born in Lexington County, S.C., and raised in Gilbert, S.C., by his parents, Joe and Charlene Harmon. His parents came from the United Methodist Church, where much of his family still faithfully attend.
Joe and Charlene Harmon came into the Adventist Church in the early '80s, and raised both of their boys within. Harmon felt the call to ministry briefly as an 11-year-old boy while his family prayed. They had just performed in a gospel concert at a Baptist church.
But, it was after four years in the Marine Corps that God brought him, albeit reluctantly, into the life of ministry by way of service, spiritual pillars, and remarkable encounters in his life. He attended Southern Adventist University and earned a B.A. in theology. He was later hired by Kentucky-Tennessee in 2015. He proceeded to pastor the Clarksville district for two years, and earned a master of divinity from Andrews University in May of 2020. He has been pastoring in the Columbia district of middle Tennessee ever since.
In his spare time, he enjoys gardening, carpentry, fishing, riding horses, and fitness. His favorite pastoral responsibilities are preaching, giving Bible studies, and visiting. He notes that without the invaluable and incessant positive influence, prayers, instruction, and support of his family, professors, and, most of all, God, he would not be able to stand in this calling.
Kentucky-Tennessee | July 2022