BY tyrone fisher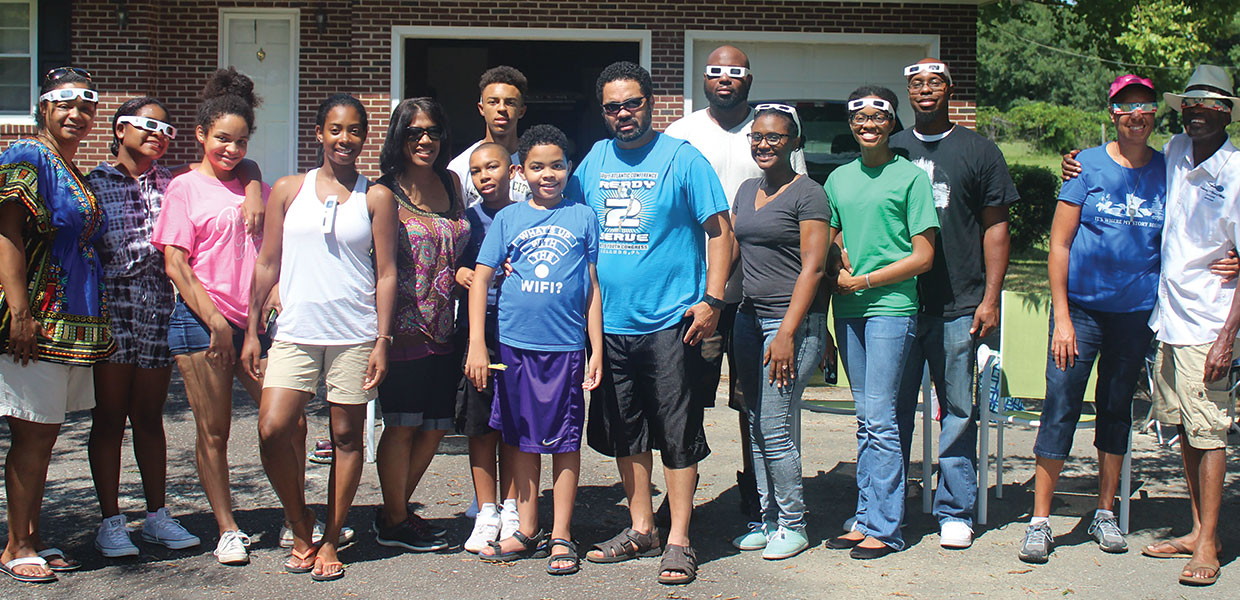 Tyrone Fisher (center), Gethsemane Pathfinder director, stands with the staff and Pathfinders from his club to the right; on his left are Oakwood University Pathfinder alumni from Florida; and to the far left are Lori and Larry Fullard, River Oaks Campground maintenance supervisor.
Gethsemane Cougars Pathfinders Club journeyed to River Oaks Campground in Orangeburg, S.C., from Raleigh, N.C., to view a once-in-a-lifetime event, the solar eclipse. Master Guide Ariel Fisher researched and discovered that Orangeburg was in the direct path of the eclipse, so she quickly coordinated the trip.
Pathfinders Lauryn Fisher (TLT), Ethan Fisher, Justin Kelly, Jamaal Kelly, and Yanni-Taylor Shaw, along with Pathfinder staff Tyrone Fisher, Maria Gabriel, and Ayana Joseph, participated in this miracle of God. The Cougars left Raleigh on Sunday afternoon, August 20, 2017, to beat traffic and arrive at the campground that evening.
The next morning they received an invitation from William Winston, South Atlantic president, to watch the phenomenon with him. They brought camping chairs, sleeping cots, blankets, and plenty of solar glasses to watch the eclipse. They were joined later by Oakwood University Pathfinder alumni from Florida, who came to witness the event, and the gathering turned into a mini block party at the president's house.
The eclipse started just after 1 p.m., and then the biggest cloud blocked the sun for the longest time. Everyone was worried about missing the eclipse, so a few prayers were shared, and then cloud passed. At exactly 2:43 p.m. EST, everyone witnessed the total solar eclipse! It was like closing the window blinds, and it got dark quickly. The streetlights came on, birds stopped singing, and the insects started chirping. Everyone looked to the sky and saw a circle of white light shining so bright, but leaving the Earth so dark. The miracle lasted about two minutes and 30 seconds. Everyone exhaled with a smile on their face because they knew not many were able to witness this, and they might never have this opportunity again.
There was a 100-mile traffic jam on the way back to North Carolina, so the group took a detour on the back roads for the last three hours of the trip. All thanked God for the opportunity to witness the phenomenom, and for providing safe traveling mercies.
South Atlantic | November 2017